Heads up! We're working hard to be accurate – but these are unusual times, so please always check before heading out.
The 20 best restaurants in Toronto
An influx of Middle Eastern and Latin American folks turns the best restaurants in Toronto into foodie destinations
This Canadian city loves discovering the culinary new: new flavors, new cooking styles, new chefs, new ingredients and, of course, new entries on our best restaurants in Toronto list.
It being the most multicultural city in the country, Toronto embraces foodie trends with open arms, from experiential pop-ups (which are some of the best things to do in town this year) to regional, specialty food halls and excitingly novel bar destinations. Which all leads to an amalgamation of flavors and techniques from different cultures rarely seen in a single city's restaurant landscape.
Expect Thai cuisine and Mexican street food to rub shoulders with Venezuelan arepas and Italian food. And the recent influx of Middle Eastern and Latin American folks has brought with it vibrant gastronomical flavors infusing the city's already rich culinary fabric with precious new spice blends. Bonus fact: tasting menus are back.
On the flip side, Toronto is also a town that embraces stalwarts with no intention of moving any time soon—yes, poutine is here to stay.
So, whether looking for the new or the traditional, the safe or the culinary adventurous, we've got you covered: the best restaurants in Toronto will truly delight your taste buds.
Best restaurants in Toronto
Photograph: Courtesy Yelp/Dia W.
What is it: When the elevator doors open to reveal a sleek bronze bar in a stunningly restored heritage building on Queen and Spadina, you'll swear you're in London or New York. Michelin-pedigreed chef Patrick Kriss's technically brilliant and creative tasting menus are expertly crafted. Also recommended: the on-site sommelier's perfect wine pairings from Canada and beyond.
Why go: Go if you're looking for a high-end dining experience that's ideal for a special occasion or a romantic night out. The dishes are as beautiful and as meticulous as the service and space. If you can't get a table (book in advance) or can't justify the splurge, try sister spot Aloette, conveniently located downstairs.
Price: Blowout
Photograph: Courtesy Yelp/Mo B.
What is it: An Eastern Mediterranean restaurant that embraces coastal influences with contemporary technique, on display within each family-style dish that comes out of the kitchen. Case in point: the whole grilled branzino with chermoula, saffron toum and watercress with an accompaniment of sweet jeweled barberry-flecked rice.
Why go: Downstairs is a more laid-back affair in a beautifully designed lounge space. Upstairs, a moodily lit, dark forest green dining room with quiet nooks here and there is ideal for couples looking for a romantic meal together.
Price: Pricey
Photograph: Courtesy Yelp/Anh T.
What is it: The husband-and-wife team behind Edulis makes eating at the King West locale feel like home. That is, if your family dinner table consisted of a seasonal, five or seven course tasting menu that could be customized to suit your tastes or dietary needs. Edulis strongly focuses on seafood, locally sourced ingredients and warm service – and succeeds at it all.
Why go: There's a reason why this restaurant keeps making it onto national best restaurant lists, and it's in part because Edulis promotes the tradition of cooking and feasting together. The menus may change with season, but the knack for hospitality is ever-present. As for libations, the wine and champagne menu is gloriously extensive.
Price: Pricey
Photograph: Courtesy Yelp/Min C.
What is it: Chef Nuit Regular's menu at Kiin focuses on dishes from across Thailand, including a few Royal Court treasures that feature ingredient-driven shareable plates packed with flavor, color and texture.
Why go: Head here when your standard pad Thai take-out just isn't cutting it. Kiin is a dining experience where you'll be served delicate, complex dishes inspired by the art of Royal Thai cuisine.
Price: Pricey
Photograph: Courtesy Yelp/Lee C.
What is it: Named after Jamaica's national lingo, Patois is best described by chef/owner Craig Wong as "Caribbean meets Asian soul food." It's like a beach party in the west end of the city, where the music's loud, the cocktails creative, the room colorful and the clientele ready for a good time.
Why go: Go for one of the juiciest jerk chickens around, stay for the I-can't-believe-that's-not-meat crispy fried cauliflower and Chinese "pineapple bun" burgers. Next-level delicious with a side of party atmosphere? We're in.
Price: Average
Photograph: Courtesy Yelp/Adela Z.
What is it: A Spanish tapas bar and restaurant with some of the best paella in the city, which you should order as soon as you walk in as they take about a half-hour to cook. While you wait, enjoy Spanish manzanillas, wines and a few terrific tapas.
Why go: Chef/co-owner Luis Valenzuela travels to Spain regularly on "research" missions to study the country's food culture. He uses local ingredients as well as Spanish ones to produce food that's both comforting and sophisticated in a beautifully welcoming, chic room.
Price: Average to pricey
Photograph: Courtesy TripAdvisor.com
What is it: A tried-and-true East side favorite French restaurant in the middle of Toronto's second Chinatown. For over a decade now, the friendly staff at Batifole has been serving on-point steak frites, perfect patés and other classic bistro fare in an intimate, cozy atmosphere.
Why go: Three words: soufflé grand marnier. But you might also want to check out this "best kept secret" for a relaxed dinner with friends, with your special someone or for a fabulous cocktail during their cinq-a-sept "happy hour."
Price: Average
Photograph: Courtesy Yelp/Echo Z.
What is it: A polished, elegant restaurant serving what owner and visionary Albino Silva calls "progressive Portuguese" cuisine. If you have an important meeting, a special occasion or simply long for beautifully prepared Portuguese food using top notch ingredients, this is the place for you.
Why go: Silva's team flies fresh fish in from the Azores daily, presenting them to diners on a platter for selection. And, while seafood is the forte, there are land-based dishes that are just as meticulously prepared. Make sure not to skip on dessert.
Price: Pricey
Photograph: Courtesy Yelp/Anh T.
What is it: A Spanish tapas bar serving a tantalizing array of conservas, jamón and pintxos alongside craft-made cocktails and fine spirits in a beautifully designed space that transports you to Barcelona's Raval neighborhood.
Why go: This is the perfect place to start or end a night discovering the College Street strip. You come for snacks with good drinks and stand up at the bar or around beer barrels to sip and savor before moving the fiesta along. If you're jonesing for a sit-down Spanish meal, try sister restaurant Bar Isabel down the road – just make sure to make a reservation.
Price: Average
Photograph: Courtesy Yelp/Sandi L.
10. Scaramouche Restaurant Pasta Bar & Grill
What is it: Located on the first floor of a posh condo building in midtown near Casa Loma, this entry really consists of two restaurants in one. One side features haute cuisine while the other side is a more casual pasta bar and grill. Both offer unbeatable views of the city with fabulous food – an often hard-to-find combination.
Why go: Under executive chef Keith Froggett's direction, Scaramouche consistently wins awards and accolades for its sophisticated yet accessible fare. Complimentary valet parking, expert service and a view of the city that's a knock-out are just some of the reasons why locals and visitors have been coming back for over three decades.

Price: Pricey
Courtesy Yelp/Min C.
What is it: Founded by three Israeli brothers, this West side, family-friendly eatery gets packed on the weekends. Known for producing their own line of artisanal sesame butters in-house, diners can watch fresh batches of tahini being made (don't miss the smoky or beet varieties) while wolfing down spicy shakshukas, beautifully composed chopped salads and killer coffees.
Why go: Go for authentic cuisine with a modern twist in an updated industrial space. From homemade sesame butters to herbs grown in the private indoor garden, Parallel is all about transparency and serving quality meals.
Price: Average
Photograph: Courtesy Yelp/J K.
What is it: This tiny taqueria in Kensington Market is renowned for its Mexican tacos, served with house-made salsas enveloped in double corn tortillas. You might also want to order a tostada with fresh ceviche, but be prepared to stand outside while scarfing down your order, because there's always a line here and, save for a table or two, nowhere to sit inside.
Why go: Fresh bursts of flavor and original taco combos make this a market favorite for those looking for a quick, filling bite. Stroll the market while you snack.
Price: Bargain
Photograph: Courtesy Yelp/Speducci Mercatto
What is it: A family-friendly Italian café, shop and market located in Toronto's design district where you can enjoy a classic lunch or early dinner. Another upside: you can buy house-made ragus, grassy green Italian olive oils and house-cured meat while here.
Why go: Award-winning chef Gabriele Paganelli's menu, featuring Italian classics such as hand-made pastas and sauces, grilled speducci and paninis, bring in families, business men and couples on dates. Go on Sunday and you'll swear you're at mamma's house for Sunday lunch!
Price: Average
Photograph: Courtesy Yelp/Debbie P.
What is it: The couple helming Fiorentina doesn't do the usual Greek fare popular on the Danforth strip (this is Greek town, after all). Instead, expect a locally-sourced, made-from-scratch, seasonal menu with a southern French accent. You'll be served lunch and dinner in a warm, casual setting perfect for unwinding.
Why go: Let's put it this way: even the humble egg dishes are made with the very best ingredients and, with the chef's impeccable technique, get a gourmet elevation. Hot tip: Don't skip the pastry case because the treats are worth the caloric splurge.

rice: Average
Photograph: Courtesy Yelp/Julie W.
What is it: A white-washed Greek taverna that leans more towards cool and funky than mom-and-pop kitschy. Full-flavored, fresh, contemporary takes on tavern classics make this a fun night out on the Ossington strip.
Why go: Forget lackluster souvlaki and dried-out lemon potatoes: the food, décor and music here reflect owner Thanos Tripi's memories and family recipes – it's the food he remembers eating as a kid and the fare he wants to share with guests. Lucky us.
Price: Average to pricey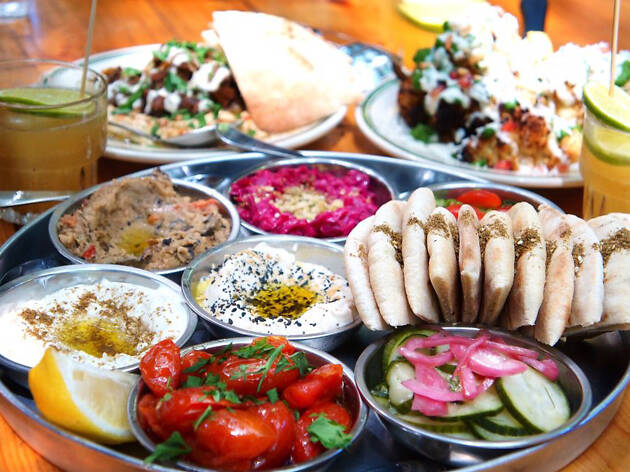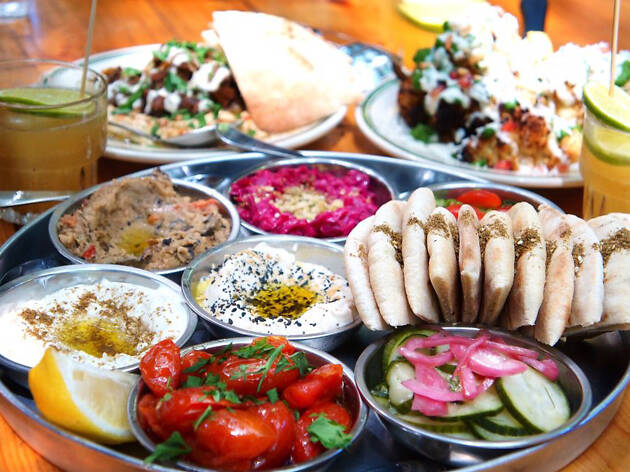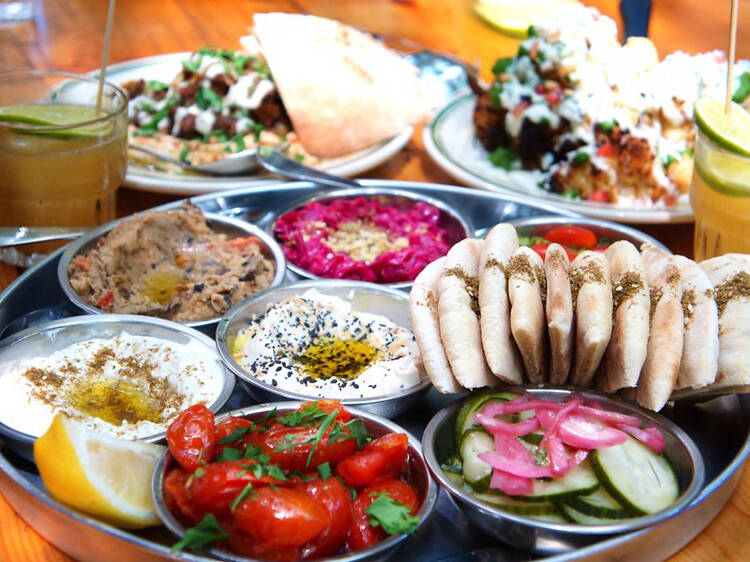 Photograph: Courtesy Yelp/Michelle S.
What is it: "Middle Eastern bubby food" is how one former food critic describes the tasty fare served at Fat Pasha. We'd add it's got that signature, updated Anthony Rose twist, the restaurant's owner/chef. Lively, fun and a great place to gather with friends who want to share bigger plates or order their own, you can't go wrong with the za'atar butter flank steak or the whole roasted cauliflower with tahini, halloumi and pomegranate seeds.
Why go: For comfort food with a middle Eastern/Jewish twist for lunch/brunch or dinner in a setting that feels like a home away from home. You'd be wise to check out any of Rose's other eateries: Big Crow for BBQ or Schmaltz Appetizing for comfort Jewish food like lox and bagels or "Schmaltzy" (chopped liver and egg with sour pickles, schmaltz and onions).
Price: Average

Photograph: Courtesy Yelp/Chris C.
What is it: Since 2004, this small shop has dedicated itself to making stellar, flavorful sandwiches. Located in upscale Rosedale, the concise menu is restrained but there's not a single letdown in the mix. There are a few small tables in the shop and they fill up fast. If the weather's cooperating, take a stroll across the street to the small park and enjoy lunch al fresco.
Why go: Five-day roasted brisket, one of the city's best BLTs, signature house-made sauces and mayos, quality sourced breads – just about everything at Black Camel is simple but spot-on delicious.
Price: Bargain

Photograph: Courtesy Yelp/Chris C.
What is it: If deciding on lunch or dinner isn't your forte, then head to Assembly Chef's Hall, a beacon of edible choices. At Toronto's chef-driven community market, there are options galore. Some of the city's most innovative chefs have outposts here, an ideal destination for those who want food in a convivial, funky hall-like setting.
Why go: Not only will you be met with menus from a bundle of Toronto's finest chefs and best restaurants, but you'll be able to sample everything from slippery noodles and crispy-crusted pizzas and omakase Japanese dishes. You'll be seriously spoilt for choice.
Price: Average
Photograph: Courtesy of The Arepa Republic
What is it: The Arepa Republic started as an award-winning food truck and recently expanded into a bricks and mortar location. The "couplepreneurs" behind the operation makes Venezuelan-style street food, including the venerable arepa stuffed with shredded skirt steak, chicken salad and a vegetarian avocado and cheese version, to name just a few standout dishes.
Why go: For a taste of Venezuela in the middle of Toronto, there's no better option. Pre or post fiesta, this is the way to go. Don't miss the molten cheese, deep fried taquenos with a side of cerveza.
Price: Bargain
Photograph: Courtesy Yelp/ Itanni B.
What is it: With three La Cubana locations scattered around the city, it's easy to get your pressed medianoche sandwich fix, no matter which neighborhood you're in. The diners' inviting spaces offer a Cuban-inspired menu that nods to Havana's pre-revolution years. Cap things off with a cortadito for a perfect way to end your Cuban comida.
Why go: La Cubana in Roncesvalles offers a family-friendly brunch and patio. The Ossington (hot tip: Bar Havana at the back of the eatery offers Cuban cocktails and a full menu) and Gerrard outposts have some slight menu differences, but boast the same hospitality, retro aesthetic and a refreshing cocktail to bookend a solid meal.
Price: Average
Looking for fun things to do?
Think of the best events in Toronto as your chance to sample a slice of life from faraway countries without actually travelling there. And, even though this Canadian destination rests under a thick layer of snow for a third of the year, worry not: the energy never dips. Join in on the fun.
Discover Time Out Market: the best of the city under one roof