The 20 best restaurants in Toronto
Taste your way through the city's diverse culinary scene with our guide to the best restaurants in Toronto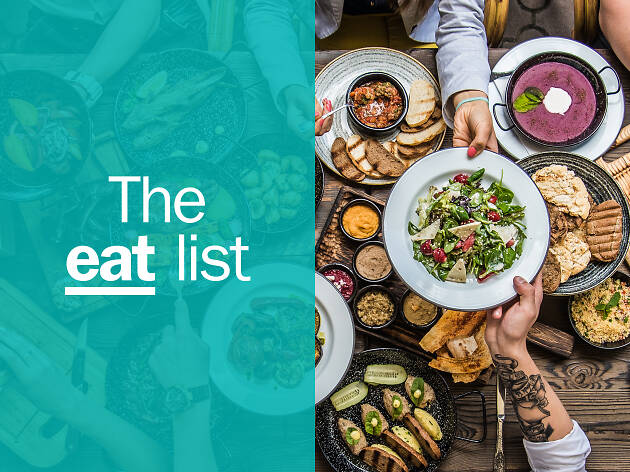 Toronto may be known for its impressive CN tower skyline, the everlasting fandom for the Leafs and of course, rap's current golden child, Drake. But this food savvy city is quickly becoming a tourist destination for culinary connoisseurs and thrifty gourmands alike. From high-end fine dinin, to hole in the wall locales, Toronto's vast options for eating out offer something for all appetites and budgets. So, if you're running through the 6ix looking to fuel up, here are 20 of the city's best places to grab a bite.
Best restaurants in Toronto
1
Photograph: Courtesy Yelp/Wendy L.
What is it? Set in a bewitchingly restored heritage building, this contemporary French restaurant offers multi-course tasting menus exquisitely paired with rare wines and focuses on the finest seasonal ingredients.
Why go? Go if you're looking for a high-end dining experience where the dishes are as beautiful and meticulous as the service and space. If you can't get a table (spots book up well in advance) or can't justify the splurge, try sister spot Aloette, conveniently located downstairs.
Price? Blowout
2
Photograph: Courtesy Yelp/Phanie G.
United Bakers Dairy Restaurant
What is it? A hub of Jewish culture in Toronto for over a hundred years, this family run business planted its roots as a bakery and coffee shop in 1912. Over the years, this institution has seen growth, and expansion but carries on the tradition of Jewish deli classics.
Why Go? Go when you're craving a mean bowl of matzah ball soup. Pick up some bagels to-go or enjoy a multi-generational meal with quality that's been perfected over a century.
Price? Bargain
3
Photograph: Courtesy Yelp/Donna S.
What is it? The folks at Edulis make eating at their King West locale feel like home. That is, if your family dinner table consisted of seasonal truffles and caviar. Edulis is strongly focused on seafood, seasonal ingredients and service with a big heart.
Why go? There's a reason why this restaurant keeps making it onto national Best Restaurant lists, and it's because Edulis promotes the tradition of cooking and feasting together. Their menus may change with season, but their knack for hospitality is ever present. As for libations, the wine and champagne menu is gloriously extensive.
Price? Pricey
4
Photograph: Courtesy Yelp/Johnson C.
What is it? Celebrating Canadian Indigenous heritage, Ku-Kum offers Toronto a unique dining experience. Chef Joseph Shawana sticks to a strict philosophy of using whole ingredients and marrying traditional recipes with contemporary, fine dining cooking techniques.
Why go? Not many restaurants in the city offer seal meat or play with the subtle flavors of pine needles and sweet grass. Translated from Cree, "Ku-Kum" means grandmother, and the dishes at Ku-Kum certainly showcase the ancestral respect for ingredients and their source, Mother Nature.
Price? Average
5
Photograph: Courtesy Yelp/Min C.
What is it? La Palma serves up sleek, sexy fare that combines California cool with Mediterranean classics in the hip west end borough of Trinity Bellwoods. The artistic spirit of the neighborhood is reflected in the restaurant's playful yet composed design aesthetic.
Why go? Whether you're looking for an afternoon grab-and-go option to enjoy in nearby Trinity Bellwoods Park or are looking for an elegant sit-down dinner, La Palma offers an all-day dining experience. Our advice? Sample the delicately brilliant baby gem and chicory salad as well as the 8oz flat-iron steak with fresh corn, garlic scape and piquant blue di frabosa cheese.
Price? Blowout
6
Photograph: Courtesy Yelp/Itanni B.
What is it? All hail the Schnitzel Queen! Serving cheap, tasty, home cooked meals for the past 25 years in the Moss Park area of Toronto. Diners beware of the inevitable food coma, or as the owners like to call it getting "Schnit-faced."
Why go? Go for a homey, casual dining experience that offers hearty schnitzel sandwiches and huge portions of authentic schnitzel plates. Wash it down with a cold beer and you'll be set for the day. Guten Apetit!
Price Bracket? Bargain
7
Photograph: Courtesy Yelp/Min C.
What is it? Tucked inside of a building at the top of
Bay Subway Station (Yorkville) there's a compact, intimate dining space that's reminiscent of a Wes Anderson flick. Brother's offers dishes that are rich and complex without being overcomplicated and leave you feeling satisfied.
Why Go? Sit at the long counter and feel the rumblings of the train underneath as you enjoy morning espresso or a deliciously cozy dinner.
Price? Average
8
Photograph: Courtesy Yelp/Ziqui Z.
What is it? Jenn Agg's witty wine bar-meets-restaurant is a nondescript gem in the heart of Kensington Market that makes up with its food and drink for what it lacks in curb appeal. Thoughtful dishes are accompanied with an extensive wine menu – and late night snacks are available for when you've gone too far into that extensive wine menu.
Why go? This bright, vibrant, slightly whimsical space lends itself as the perfect setting to any occasion. It's laid back without being too casual, fun without being too rowdy– and the food is delicious.
Price? Pricey
9
Photograph: Courtesy Yelp/Tiffany K.
What is it? Kensington Market offers hungry visitors a variety of multicultural eating destinations. If you're looking for quick, easy and super delicious Caribbean take out, Golden Patty Bakery is a good bet.
Why go? Go for reasonably priced, authentic Caribbean eats steps away from Kensington Park. Freshly baked beef patties, Trinidadian doubles and braised, fall off the bone ox-tail make for a perfect meal while exploring one of the city's most diverse neighborhoods.
Price? Bargain
10
Photograph: Courtesy Yelp/Alex L.
What is it? For over 20 years, Canoe has been setting the standard for high-end dining both literally (the restaurant is located on the 54th floor) and by using the finest seasonal ingredients available throughout the country. Canoe draws inspiration from the nation's heritage, landscape and culture to create modern Canadian cuisine.
Why go? Go if you've been binge watching Chef's Table and are craving a meal that's a work of art. The stunning views of the city are a bonus to an already impressive experience.
Price? Blowout
11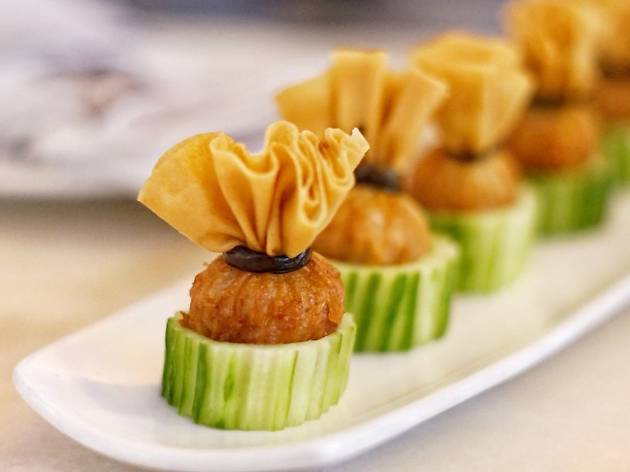 Photograph: Courtesy Yelp/Min C.
What is it? Beautiful, elevated dishes shed new light on Thai food. Chef Nuit's menu at the inspired Kiin focuses on dishes from all over Thailand and offers ingredient driven sharing plates that are packed with flavour, colour and texture.
Why go? Head here when your standard Pad Thai take out just isn't cutting it. Kiin is a dining experience, where you'll be served up delicate, complex dishes inspired by the art of Royal Thai cuisine. Special commendation goes to the colourful Khao Yum which you can easily share with a culinary-loving friend.
Price? Pricey
12
Photograph: Courtesy Yelp/Precilla C.
What is it? After 5 ½ years, Rose and Sons recently scrapped their all-day diner roots and revamped themselves into a proper Toronto-style deli. From chopped liver and onions, to seriously delicious hot pastrami sandwiches, Rose & Son's is a perfect meal option for a schmaltzy lunch or dinner.
Why go? Go for delicious deli eats in a cool flash-art covered space, plus a surprisingly intriguing selection of boozy and virgin drinks. The deli is conveniently located steps away from Casa Loma for an impromptu picnic.
Price? Average
13
Photograph: Courtesy Yelp/Itanni B.
What is it? Stuffed, Venezuelan-style, cornmeal sammies are all the rage at this Queen West eatery. Bustling lunch crowds line up for the café's name sake dish: Arepa. With a variety of meat, seafood and vegetarian options, this South American street food is ideal for local office workers and tourists on the go.
Why go? Café Arepa describes themselves as "Venezuelan Urbanity". This restaurant is the ultimate spot to learn about a different culture through cuisine.
Price? Bargain
14
Photograph: Courtesy Yelp/CheSooJung
What is it? If you haven't seen the fantastical Ziggy Stardust Disco Egg being enjoyed on Instagram, you've been living under a disco egg-shaped rock. La Banane is the baby of chef (and creator of aforementioned Disco Egg) Brandon Olsen and Sarah Keenlyside, specializing in French-inspired cuisine (the menu features seafood heavily) in a fun, elegant space.
Why go? Go for a refined menu, that's classic at heart but served with a side of disco pazazz. Great for date night, girl's night or after work drinks at the raw bar.
Price? Blowout
15
Photograph: Courtesy Yelp/Cin C.
What is it? With three La Cubana locations scattered around the city, it's easy to get your medianoche fix, no matter which neighborhood you're in. The diner's inviting space offers a Cuban inspired menu that nods to Havana's pre-revolution years.
Why go? La Cubana in Roncesvalles offers brunch and a patio. The Ossington and Gerrard outposts have some slight menu differences, but offer the same hospitality, retro aesthetic and can always guarantee a refreshing cocktail and solid meal.
Price? Average
16
Photograph: Courtesy Yelp/Nabila I.
What is it? If you find yourself around College Park looking for an alternative to the food court fast food that's overly abundant in this area, Colaba Junction is the place to hit up. Serving up delicious, affordable Indo-Iranian food in a millennial-centric locale inspired by Irani Café's that boomed in Mumbai during the 1960s.
Why go? Go for vibrant dishes that are packed with color and flavor and highlight a lesser-known aspect of Indian culture.
Price? Bargain
17
Photograph: Courtesy Yelp/Chris C.
What is it? If deciding on dinner isn't your forte, then the Assembly Chef's Hall is a shining beacon of edibles. At Canada's chef-driven, community market there are options galore. Think: a regular food court, but on steroids.
Why go? Not only will you be met with menus from a bundle of Toronto's finest chefs and best restaurants, but you'll be able to sample belly-shakingly delicious food from slippery noodles and crispy-based pizza to melt-in-the-mouth BBQ meats. Yep – you're going to be seriously spoilt for choice.
Price? Average
18
Photograph: Courtesy Yelp/Littlebavaria J.
What is it? Stroll east of Toronto and you'll encounter Little Bavaria. A German-style gem that provides Oktoberfest vibes all year round, you'll get to taste some of the most sumptuous Deutschland delectables.
Why Go? This restaurant specializes in Bavarian fare (aka the ultimate comfort food) so make sure you bring your comfiest, stretchiest trousers. Try the house-made spätzle, get a load of the goulash and nibble on a schnitzel amongst the charismatic and quintessentially German surroundings (you'll find a load of flags and knick-knacks here). If all that isn't enough to convince you, you should probably also know that Little Bavaria has been serving food since 1965, so rest assured that you're in for something superlecker (scrumptious) at this snug Scarborough spot.
Price Bracket: Average
19
Photograph: Courtesy Yelp/Allison L.
What is it? Steamy windows and dimly lit red paper lanterns serve as a beacon of Japanese street food for this quaint Charles St. eatery. Since 1978 U of T students, locals and nearby neighborhood workers have gathered at Okonomi House for a cheap and delicious meal.
Why go? Specializing in savory, stacked, Hiroshima-style pancakes, Okonomi House offers endless variations of their signature okonomiyaki. Filling portions, friendly service and a price point that won't break the bank mean customers always leave happy.
Price? Bargain
20
Photograph: Courtesy Yelp/Evelyn A.
What is it? A more recent addition to Toronto's Middle Eastern dining scene, Parallel is rising through the ranks. This restaurant and café produces their own line of artisanal sesame butters in house. Diners can watch fresh batches of tahini being made while scarfing down loaded falafel pitas.
Why go? Go for authentic cuisine, with a modern twist in an updated industrial space. From homemade sesame butters, to growing herbs in their indoor garden, Parallel is all about transparency and serving up quality meals.
Price? Bargain
Discover Time Out Market: the best of the city under one roof
More to explore