12 magnificent things to do in Mississauga
A special arcade, the Music Walk of Fame and a stunning conservancy are some of the best things to do in Mississauga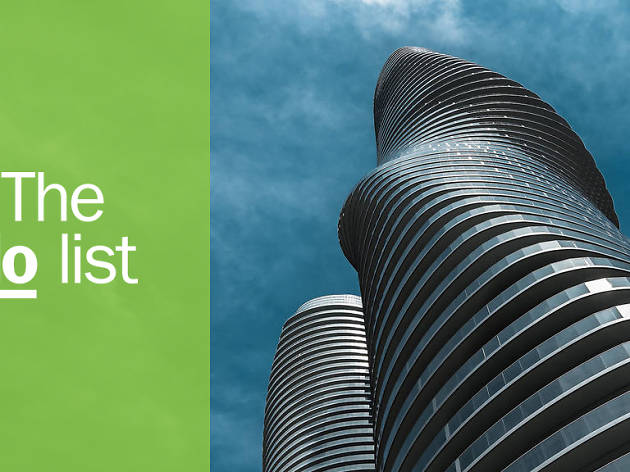 Not so long ago, Mississauga residents craving craft beer, wanting to catch a hockey game or itching to hit up a food festival needed to hop in a car to Toronto—that's no longer the case, as all that and more can be found within Mississauga's own borders. Despite an abundance of strip malls and other hallmarks of the suburbs, Canada's sixth biggest city offers plenty of play space for family outings, food crawls and natural greenery. From progressive art hubs to ultra-traditional afternoon tea and top-notch restaurant experiences, diversions that suit both hipsters and historians are ready for exploration. Here are the very best things to do in Mississauga.
Done something on this list and loved it? Share it with the hashtag #TimeOutDoList and tag @TimeOutEverywhere.
Find out more about how Time Out selects the very best things to do all over the world.
Best things to do in Mississauga
1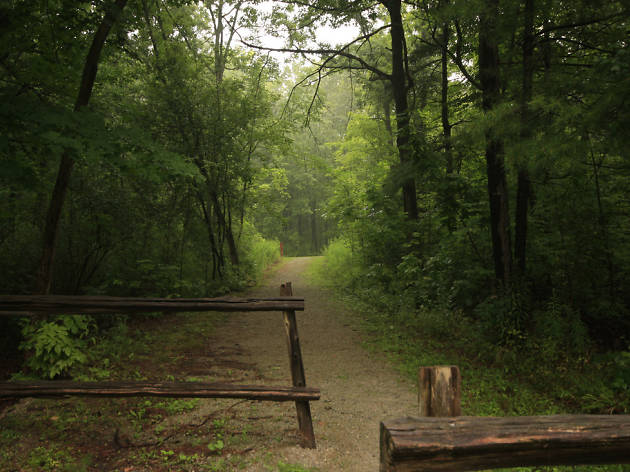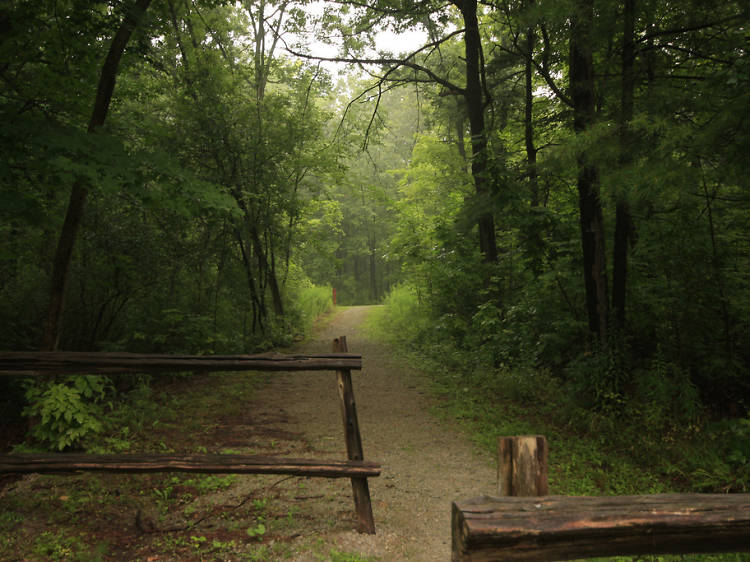 Photograph: Courtesy CC/Flickr/Nick de Guzman |nickg
What is it: Even some locals aren't aware of this 150 acre wood, tucked behind a Go Transit station, in the centre of Mississauga. In a city mainly traversed by car, this natural space is a green oasis for hiking or bird trekking.
Why go: There's lots to do at the colloquially named "lungs of Mississauga"—astronomy nights, painting or sketching classes through Visual Arts Mississauga or simply getting lost amidst the foliage, checking out local wildlife such as deer, osprey or even salamanders.
2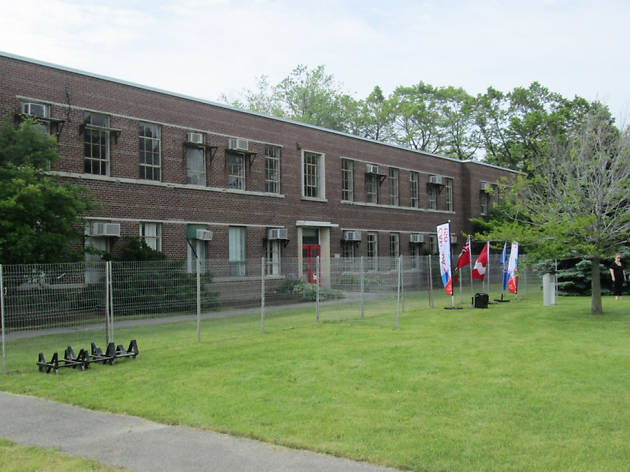 Photograph: Courtesy Yelp/Alex G.
What is it: This transformation of a historic WWII munitions site into a modern creative art space, filled with contributions from local schools and artists, couldn't be more Canadian.
Why go: With a "community living room" and garden, the hub is all about shared space. Check out three trees transplanted from Vimy Ridge, the In Situ art installations or a piece of history—the factory was staffed primarily by women during WWII and was named a heritage site in 2009.
3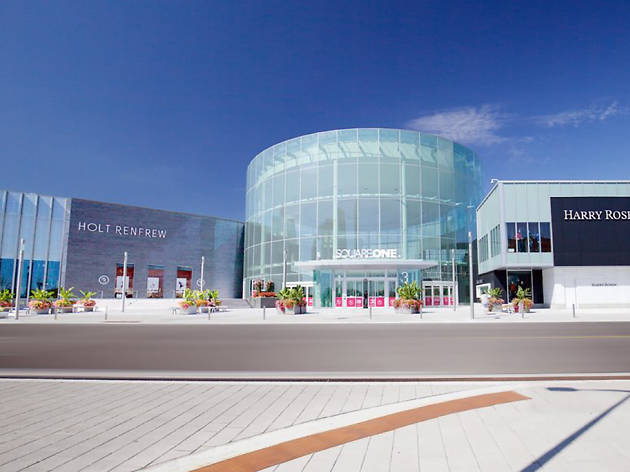 Photograph: Courtesy Yelp/Square One
What is it: Forget your teenage memories of lost hours at the mall. At just over two million square feet, Square One Shopping Centre houses a massive array of consumer covetables.
Why go: Delve into the country's homespun large-scale department stores, such as high-end Holt Renfrew, Can-con Hudson's Bay or the more experimental Simons. Food options are better than the average mall fare—grab a customizable gin and tonic at Red's Wine Tavern or a matcha soft serve at Tsujiri.
4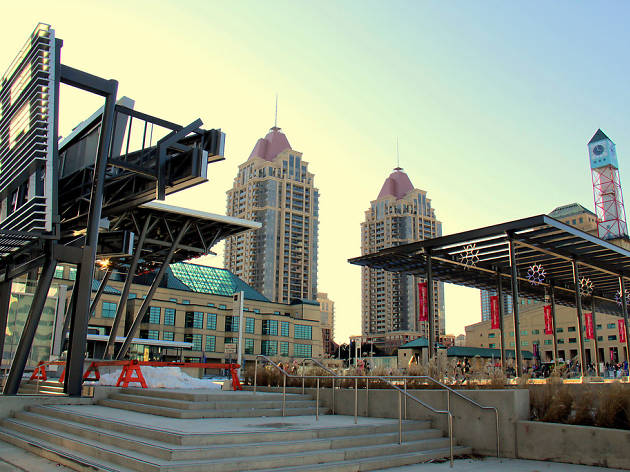 Photograph: Courtesy CC/Flickr/wyliepoon
What is it: In front of the somewhat divisive aesthetics of Mississauga's City Hall is a free outdoor entertainment space, with splash pads in the summer and skating rinks in the winter.
Why go: Mississauga is a city of many cultures and the free events in Celebration Square are a great way to learn something new about the food and heritage of countries like Egypt and Japan. Open air concerts and movies are a summer staple in the amphitheatre, complete with Jumbotrons.
5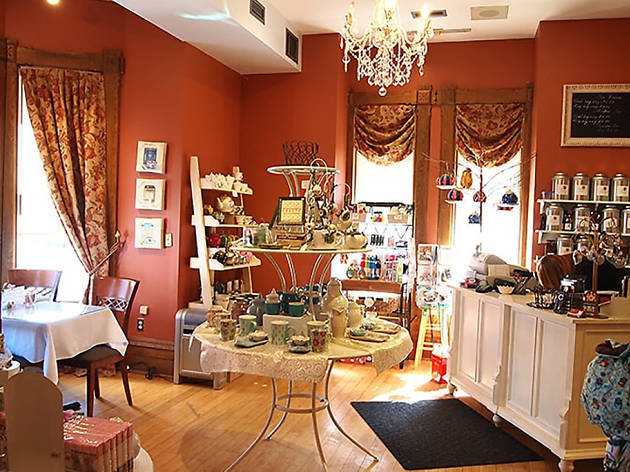 Photograph: Courtesy Yelp/Anndrea C.
The Tea Room at Robinson-Bray House
What is it: Catch a cuppa at this tiny tearoom in a century-plus historic home. Outside its doors, scenic Streetsville awaits for a leisurely postprandial stroll down its quaint main street.
Why go: Dainty sandwiches, devon cream and scones baked by former fine dining pastry chef and owner Melanie Howsam make for a savoury mouthful, washed down with Canadian cranberry or blueberry teas. For traditionalists, the Queen's own blend is available to hail Britannia.
6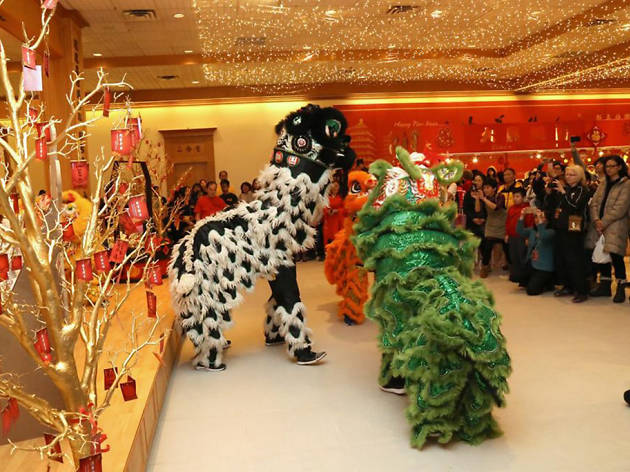 Photograph: Courtesy Yelp/May N.
Fo Guang Shan Temple of Toronto
What is it: Learn a bit about Buddhist philosophy, Chinese art and culture through a guided tour at Fo Guang Shan Temple of Toronto (but be respectful, as it is an actual house of worship).
Why go: After delving into Dharma, refresh your grumbling stomach with a steaming bowl of spicy-velvety laksa, fragrant herbal soups and fresh fruit tea from the Lotus Tea House (note: the temple recently implemented a membership fee due to the cafe's popular vegetarian eats).
7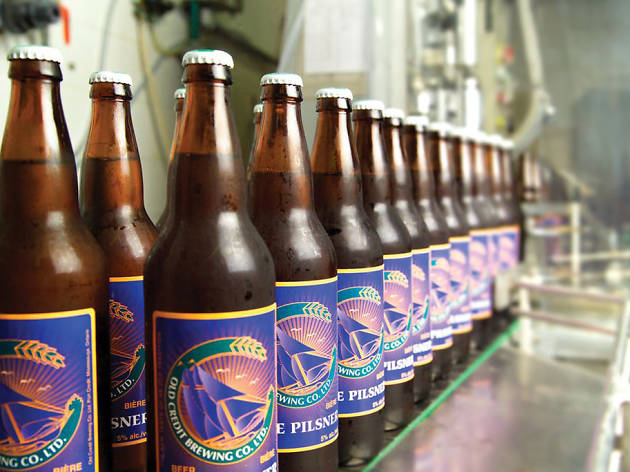 Photograph: Courtesy Yelp/Old Credit Brewing
What is it: No newcomer to the craft beer scene, this brewery has been around for over two decades, supplying local restaurants and selling its beer from a modest space in Port Credit.
Why go: Icewine is a well known Canadian specialty, but this craft brewery ice ages its beer for smoothness in its amber ales and pale pilsners. A seasonal holiday honey brings a bit of sweetness and light to the winter months.
8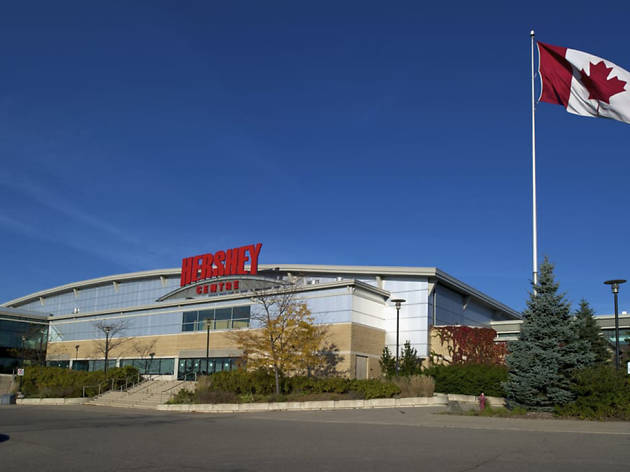 Photograph: Courtesy Yelp/Paramount Fine Foods Centre
Paramount Fine Foods Centre
What is it: The newly christened Paramount Fine Foods Centre was known as the Hershey Centre for two decades, but the arena's new moniker comes from a local success story: a Middle Eastern fast-casual restaurant that's now a global chain.
Why go: Seeing the Leafs and Raptors at Toronto's Air Canada Centre can add up to serious coin so, instead, check out some up and coming talent at a Mississauga Steelheads or Raptors 905 game at the Paramount (spend the rest on a branded toque or kitschy foam finger...we won't tell).
9
Photograph: Courtesy Yelp/Beverly A.
What is it: There are arcades, and then there's the Playdium—a much coveted birthday party outing amongst Mississauga dwellers of a certain age. With over 40,000 square feet of gaming goodness, from roller coaster simulators to a real life go kart track, you can let your inner child fly free.
Why go: Novices or gaming-challenged: don't fret about quarters. Playdium uses cards that can be set by credits or hour (a much better value, depending on your hand-eye coordination).
10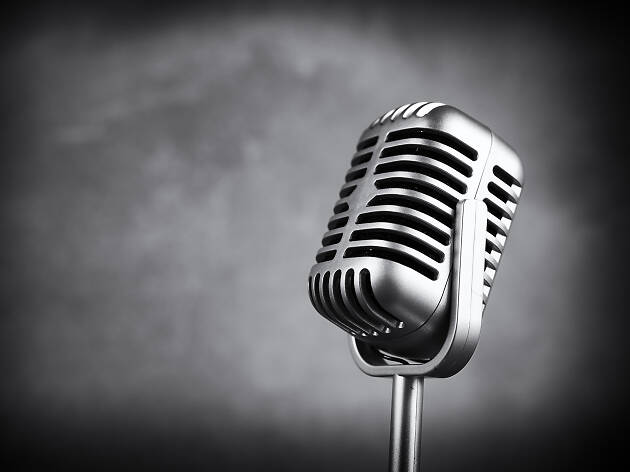 Photograph: Shutterstock
What is it: There's a small but growing number of stars at this testament to Mississauga's musical talent in Port Credit Memorial Park.
Why go: From Mississauga local legend and jazz pianist Oscar Peterson to transplant Ronnie Hawkins, who hosted John Lennon and Yoko Ono at his local farm in the '70s, you'll see some surprising names on this list. Streetsville band Billy Talent, blues guitarist Jeff Healey and The Mamas & The Papas singer Denny Doherty all claimed Mississauga as home during their careers.
11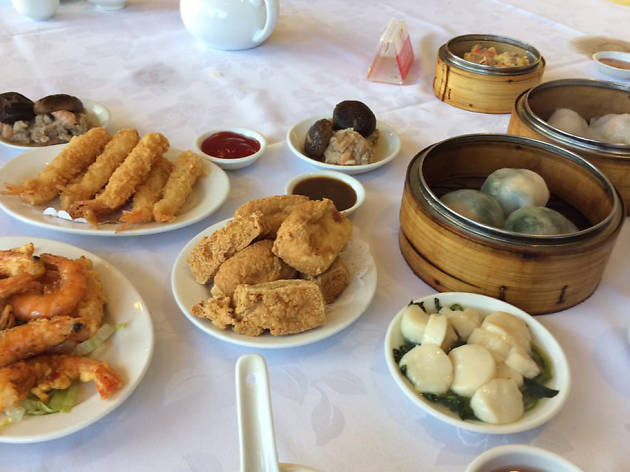 Photograph: Courtesy Yelp/Gerry T.
Emerald Chinese Restaurant
What is it: Although Markham remains the gold standard for GTA-area Chinese eats, you can find dependable standbys within Mississauga city limits. For dim sum, Emerald Chinese Restaurant offers variety and plenty of seating, although you'll probably still have to wait for a table on weekends.
Why go: Cart-style dim sum offers the thrill of the chase, hunting down your favourite cheung fun rolled noodles or har gow dumplings. Don't see what you want? Ask a server in a black vest to snag you some of your favorites from the kitchen.
12
Photograph: Courtesy Tripadvisor/baroom
What is it: Expect to walk through 165 years of living history at Benares Historic House, a Georgian-style abode in South Mississauga that has been home to four generations of families throughout the years.
Why go? Channel your inner Scarlett O'Hara and swan about on the veranda or hop centuries and genres with steampunk cosplay or Dixieland band performances—rotating events let you live out your inner debutante.
Hungry for the best restaurants in Mississauga?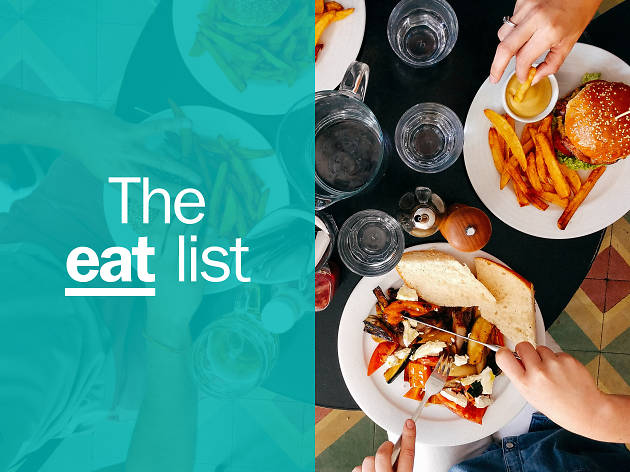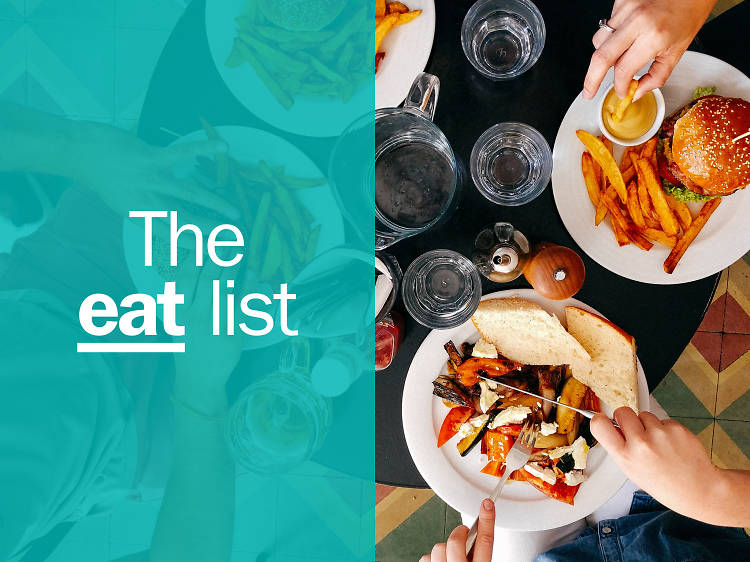 For delicious delights like chilli-laden, hand-pulled noodles and dreamy duck stone pot rice, visit the best restaurants in Mississauga.