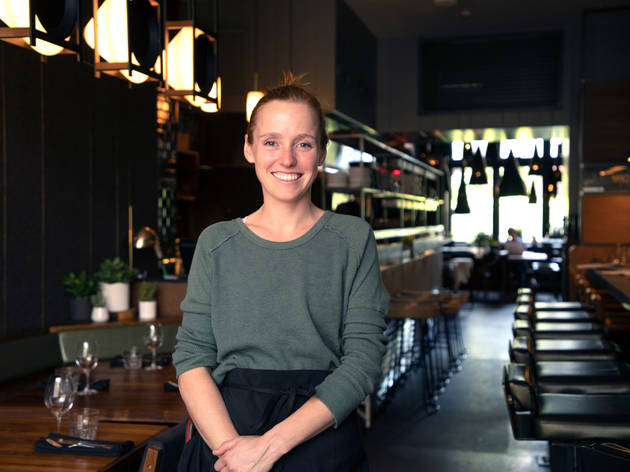 "My path has been a very fortunate one": In conversation with Chef Leigh Roper
Posted: Sunday March 8 2020, 2:56p.m.
There are good chefs in Montreal, and then there are great chefs in Montreal—we want to hear their stories. That's what you'll find in these interviews, a series where Time Out Montreal talks to the incredible women representing the best of this city's restaurant scene, all of whom can be found at Time Out Market Montréal. For our first interview, we spoke to chef Leigh Roper of the highly celebrated wood-fired Griffintown restaurant Foxy, about her career, her experiences with bro culture in kitchens and where she likes to eat in the city.
This interview has been edited and condensed for clarity.
The Wikipedia page for Saint-Lambert, Québec, lists, among its "Notable natives and residents," astronaut Steve MacLean and Arcade Fire's Régine Chassagne. Time will tell whether Leigh Roper will ascend to these kinds of heights, and while you could just edit her in now, time has already told that she's one of Montreal's best and brightest culinary talents. Her career wasn't fated in the stars, though: A "picky eater" as a kid, she fell into the life bit by bit over time, inspired as much by the great cooks she grew up around as by the five months she spent tasting her way around India when she was 19.
Let's begin at the beginning: Who are you, what do you do, and how long have you been doing it?
My name is Leigh Roper, and I'm a chef at Foxy. There's two chefs at Foxy, me and my colleague Vince [Vincent Russell], and we together run the kitchen at Time Out. I've been cooking, it's getting to ten years now that I've left school.
Where did you go to school?
ITHQ.
How and where did you start, and how did you get from there to here, from then to now?
While I was in cooking school I got a job as a weekend dishwasher at McKiernan—the old McKiernan, which is now the new McKiernan [Luncheonette]. I was dishwashing for brunches and they also got me a once-a-week job as a prep cook for the Au Pied de Cochon cabane à sucre on Sundays. When I got out of school, I called the people at Joe Beef and they were ready to give me a job—at Liverpool House originally, then they moved me to Joe Beef. I was the garde manger, pâtissier, whatever, and then I became the sous-chef there and eventually the chef de cuisine at Vin Papillon. I was in that family of restaurants for five years and I then I decided to leave to do something else. That's when Eric [Girard] and Dyan [Solomon] approached me about their new project. It was a long time before we decided that we were going to do all live fire cooking there and, in the end, it's a charcoal grill and a wood-fired oven on the line and it's really fun. Foxy has been open for four years and a bit, and I was there before the opening.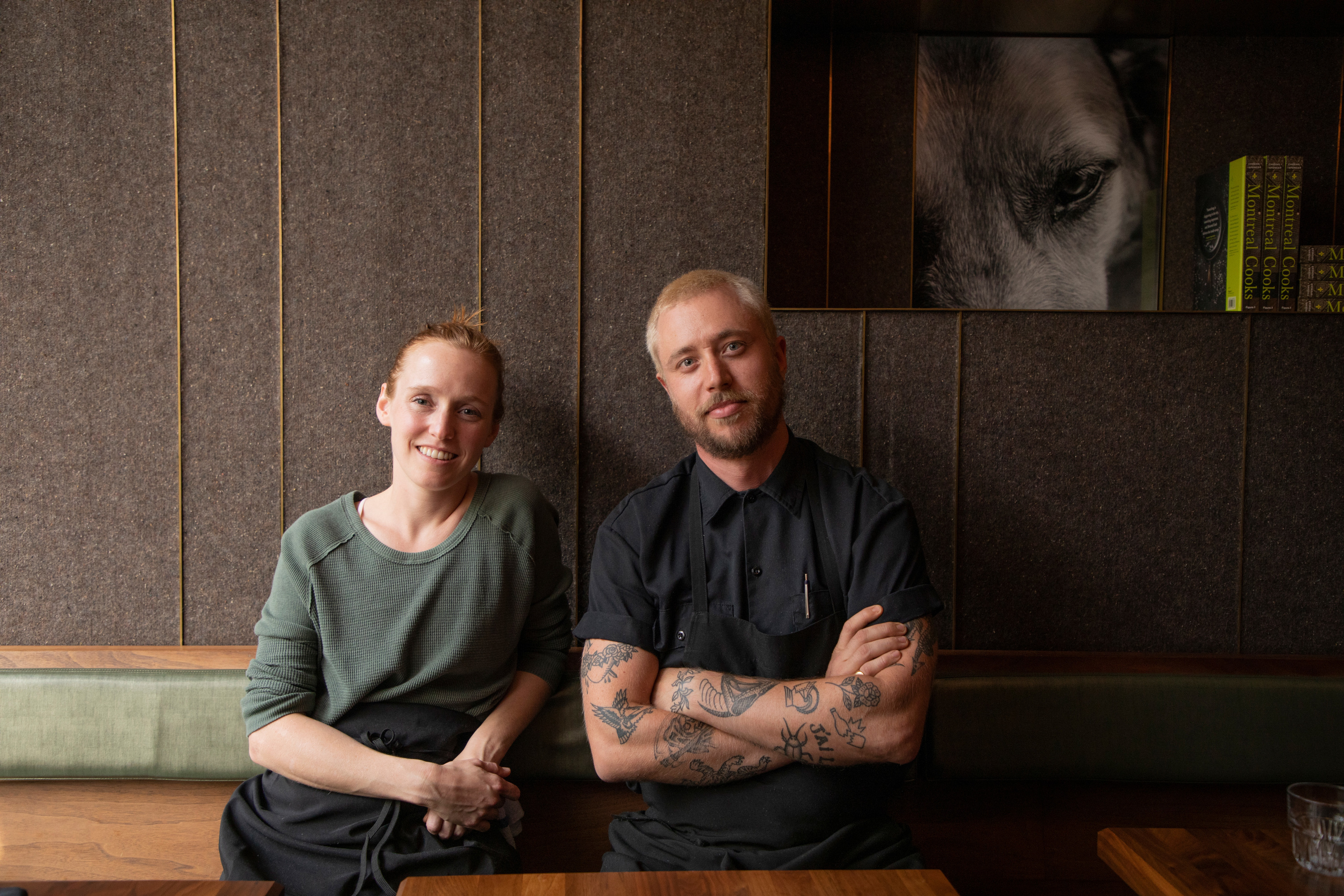 Did you have a lightbulb moment when you just knew this was what you were supposed to be doing?
No, there wasn't a moment. It was gradual. It was like, I realized what I was doing with my time, that I was just more focused on weekend suppers [than school]. I wasn't attached to the university thing.
What cooks or people influenced how you cook, and why?
Joe Beef, that's for sure the biggest influence that's happened for me, working with those people for five years. It's a very creative restaurant. I worked for Marc-Olivier Frappier, and we worked really closely together, and he probably is my biggest influence in how I cook. In terms of inspiration, I became kind of obsessed with Chez Panisse for a while. While I was in my Joe Beef days, and I staged all over the place, I did two days at Chez Panisse and it was awesome and as good as I thought it would be.
It's been said that a professional kitchen is a tough place for a woman, for reasons including virulent misogyny and the douchebag bro culture that has persisted. What's your experience been?
My path has been a very fortunate one. The bulk of my experience was at Joe Beef, and theoretically that place should be very bro-y, and I think it is in some ways, but the people at the top—Fred, Dave, and Marc-Olivier—had respect for me, and I never felt anything but welcome and equal. But that's definitely not the norm in kitchens. I had sort of an easy route. I'm also a strong personality. Some women go into kitchens and, to make it work, act bro-y. I don't act bro-y. Dyan and Eric have a strong vision of how they want their kitchens to be: A lot of women, a lot of people who identify all kinds of different ways. It's not bro-y in their kitchen; they set the tone. I don't like that [stuff] either and neither does Vince, so we kind of built it up in a way where there are unspoken and spoken rules of not doing these things. There have been incidents, and moments of the bro-dom showing up and us having to put our foot down. I've gotten through unscathed. It's hard for me to really talk about it because my way through has been so easy. I haven't suffered hugely.
You're not supposed to suffer. Stories of suffering, they're supposed to be the outliers.
I hope they are, but I do know it's a common thing. At the end of school I did a stage in France for the summer, and that was bro-y, and not pleasant, and I really didn't like it. I didn't like that aspect of it. If that were my first experience in my first kitchen I went to, I don't know if I would have gotten through it, or wanted to.
How did that make you feel?
Just unwelcome, uncomfortable, not included. I think that's one of the weird problems with the bro culture. As much as it's, like, yucky and you don't want anything to do with it, at the same time it's excluding you from the jokes and the things that make people get along and get ahead. When you have your buddy that you can crack all the dirty jokes with and whatever, he's the guy you're probably going to promote to your sous-chef position.
Does it still exist in Montreal? Kitchen bro culture?
Yes, it still exists.
With respect to that kind of culture and bad behaviour, but also day rates, insane hours and being overworked, has it gotten better here since you started?
Yes, and I think [cooks] are more aware. Maybe it's also an age thing for me. When you're 20 and you're working in kitchens, you're willing to work however many hours for no money and it's all good, and as you get older you're like "hang on, that's not so cool, why is this going on?"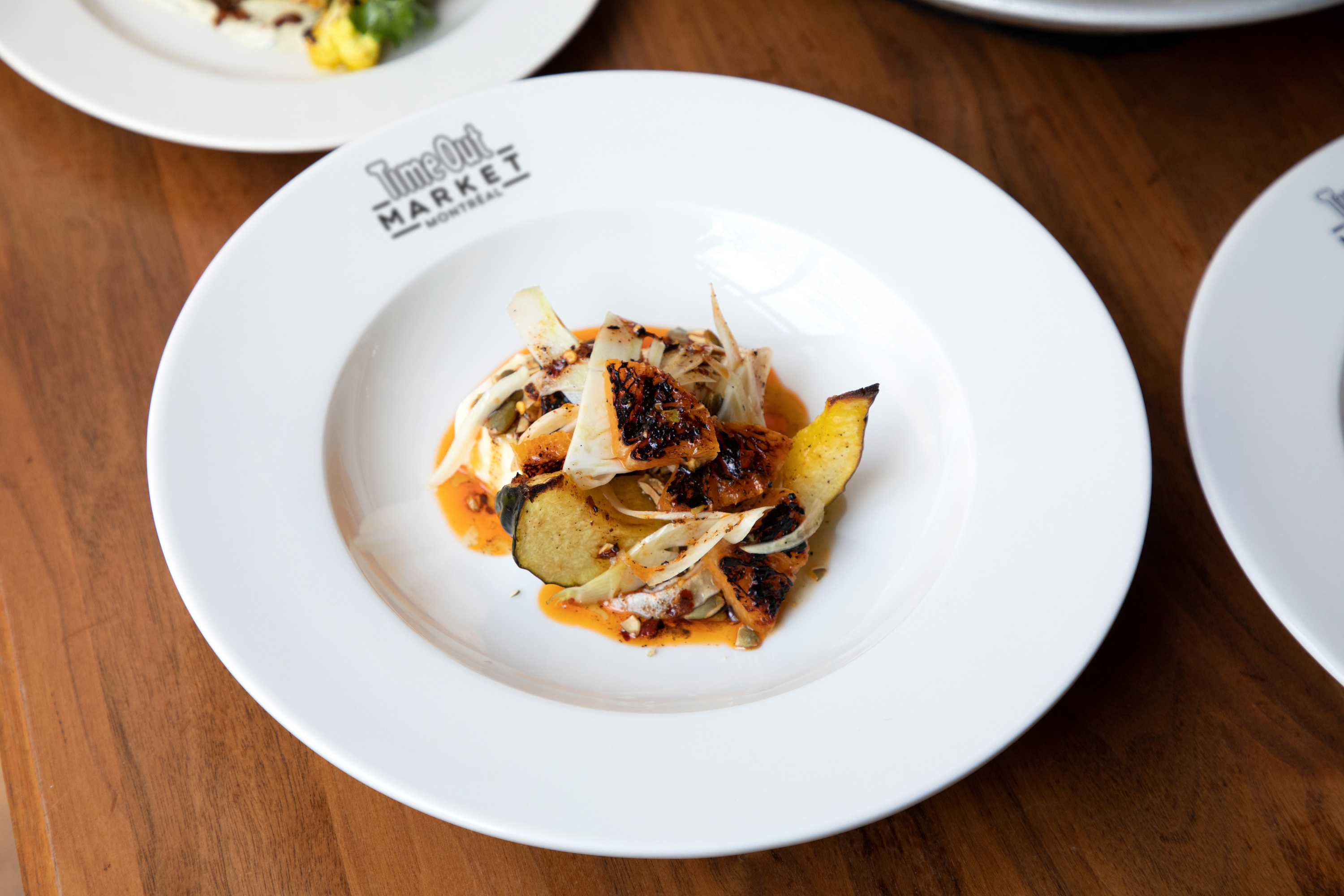 Where does Leigh Roper eat in Montreal?
I stick to the places that I know and love and aren't that expensive. It's tough to risk that $100! Pho Tay Ho, I go there anytime I can get there, it's one of my favourites. L'Express too. My boyfriend is also a chef so if we finish late and someone's looking after our baby, we'll go to L'Express and get a bottle of wine, too; I usually end up with the steak but I also really like their chicken liver parfait. Another place I go all the time? Dinette Triple Crown is one of those favourites.
Share the story