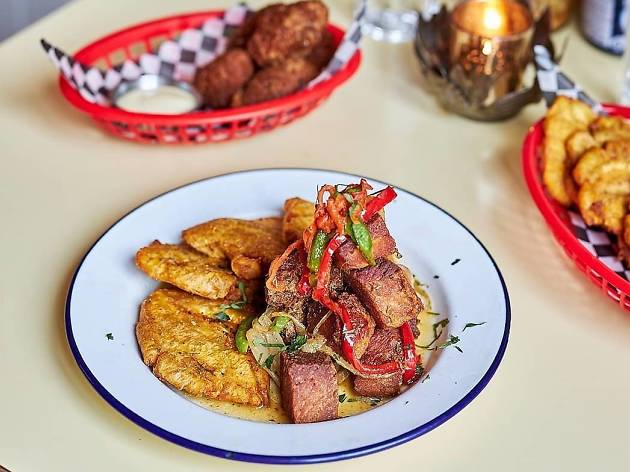 Find and support more than 50 black-owned Montreal restaurants with this spreadsheet
Dine on delicious eats and support black communities in Montreal
Posted: Wednesday June 3 2020, 1:48p.m.
There is no doubt that systemic racism and discrimination continues today; centuries of inequality leading up to events like the death of George Floyd at the hands of by Minneapolis police, Regis Korchinski-Paquet and Andrew Loku in Toronto, D'Andre Campbell in Brampton, and too many more across North America serve as a reminder that the black community needs more support than ever. If you're like us, you're wondering how you can show your support for black communities in Montreal, and one way to do it is with your wallet.
Yesterday, Montrealer Sophie Watts put together an ongoing Google spreadsheet that lists more than 50 black-owned restaurants in Montreal and counting. "The crisis of police violence against black men and women that has come to a boiling point this past week can feel absolutely overwhelming," Watts told Time Out Montreal in an interview. "I have seen many people posing that they just don't know what to do."
"I started messaging anyone I could think of and within about 5 hours we had a small team, about 50 restaurants and a post," she explained. "Over the past day countless others have provided factchecking, (making) suggestions and technical help... The reason this list was created is specifically to provide financial support to black run montreal restaurants. Don't just share, shop!"
View this post on Instagram
The list not only features the names of restaurants, but also their addresses, contact information and social handles. Each of these restaurants are open for delivery and takeout—if you want to support them further, consider asking while ordering if they sell gift cards or merchandise.
Restaurants on the list vary from casual counters and snack bars to high-end tasting menus. The lgrowing list of names runs the full gamut, from Haitian restaurants Agrikol with chef Paul Toussaint and Michael Lafaille's Kwizinn to the Congolese chicken of DJ Poulet, Jamaican eats from Boom J's Cuisine in Point-Saint-Charles, the new Afro-Québécois arrival Maquis Yasolo in Saint-Henri, the famed Caribbean eats of Lloydie's and Mr. Patty and the pan-African fine dining found at Le Virunga and Creole classics from Bistro Nolah in Dollard-des-Ormeaux.
One look, and it's clear: There are black-owned restaurants all across the island, and they all can use a show of support from hungry Montrealers. Watts' spreadsheet continues to gain traction online as it continues to be spread organically among supporters.
If you are a restaurant owner looking to be added to the list—or you know someone who should be—you can email the group at montrealblackownedrestaurants@gmail.com to be featured.
Want more news? Sign up here to stay in the know.
Most popular on Time Out
- 10 photos and videos of Montreal's humpback whale visitor this weekend

- When will Montreal reopen? Here's what you can and can't do right now

- Touk, a Cambodian street food pop-up, is cooking up a storm in Old Montreal
- Marijuana could prevent catching COVID-19, according to one Canadian university's studies
- Where to buy face masks in Montreal
Share the story