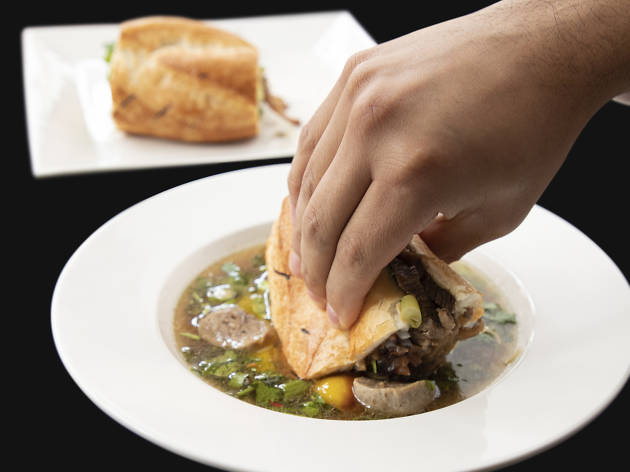 How Le Red Tiger is changing the Vietnamese game in Montreal
Posted: Tuesday November 19 2019, 12:10p.m.
Canada welcomed a huge number of Vietnamese immigrants during the late 1970s and early 1980. It's no wonder Montreal was one of their primary destinations, as Vietnam was, of course, colonized by the French. Since that commingling of culture, Montreal has formed a special relationship with its Vietnamese population and Vietnamese food. When Montrealers first tasted this version of Asian cuisine there was something quite familial—the French culinary influence which is still baked into dishes you'll find in any of the best Vietnamese restaurants in Montreal.
Take pho, for example, which is rumoured to have been created for colonials asking local chefs for pot au feu, or the banh mi, a sandwich with French ingredients like baguette, mayonnaise and pâté alongside Vietnemese ingredients like coriander, chilis, pickled carrots and daikon. This is the kind of fusion Montrealers love—it's like mama's cooking with heat.
Dishes like pho and banh mi are cornerstones in Vietnamese street food, having long since spread to take-out places across town, but it's restaurants like Le Red Tiger in the Gay Village—created by restaurateur Dan Pham and chef Phong Thach—that are pushing the Montreal Viet scene to new levels of refinement. Serving a Southern Vietnamese style of cuisine, they've kept all the classics intact but brought in clever variations like beef carpaccio with shrimp chips garnished with a quail egg or the French Dip Banh Mi, where the popular sandwich is served with a small bowl of pho broth for dipping; what started in Los Angeles has since spread here, a genius if somewhat decadent invention (we realize you could, of course, just order both dishes and DIY it, but it would make for a pretty big meal).
The opening of a brand-new Red Tiger eatery at Time Out Market Montreal is a tribute to a culture that took French cuisine, made it their own and has shared with us. Lucky us.
Time Out Market Montréal is now open to the public inside the Centre Eaton de Montréal (705 rue Sainte-Catherine Ouest, niveau 1). Hours: Monday to Wednesday 8am—9pm, Thursday to Friday 8am—midnight, Saturday 9am—midnight, Sunday 9am—9pm
Share the story