As the trend towards more drive-in experiences increases around the world, Montreal's first multipurpose drive-in theatre—the Royalmount Drive-In Event Theatre—opens this Sunday in the parking lot space of the Royalmount project (8315 Chemin Royden at the nexus of Décarie and Highway 40), an "eco-innovative neighbourhood" development in the northern end of Côte-des-Neiges. The centerpiece of the Royalmount is a 30-foot wide stage with a giant LED screen and audio that gets broadcasted to cars.
June 21 marks the beginning of the space's planned event, and more than a week's worth of movie screenings is planned with an inaugural screening of Footloose, followed by Mission Impossible: Fallout, Catch Me If You Can, Zoolander and others. DJs will perform beforehand before movies begin as well. General admission tickets are $40 per vehicle and $50 for "preferred parking", though the space's rules regarding the site states that it is "forbidden to reserve places." A portion of sales will be donated to the Montreal Children's Hospital Foundation.
As for food and drink during events, there will be window service available to avoid guests having to leave their vehicles provided by Java U and Lucille's (think sandwiches, lobster rolls and fish and chips and less oysters on the half-shell).
View this post on Instagram
The opening of the space marks the first fully convertible drive-in venue that not only is set to host movie nights, but a range of other activities as well, from live bands and comedy shows to graduations and streaming live sporting events. If that gets your attention, you can get a sense of the whole space with the following artist's rendition: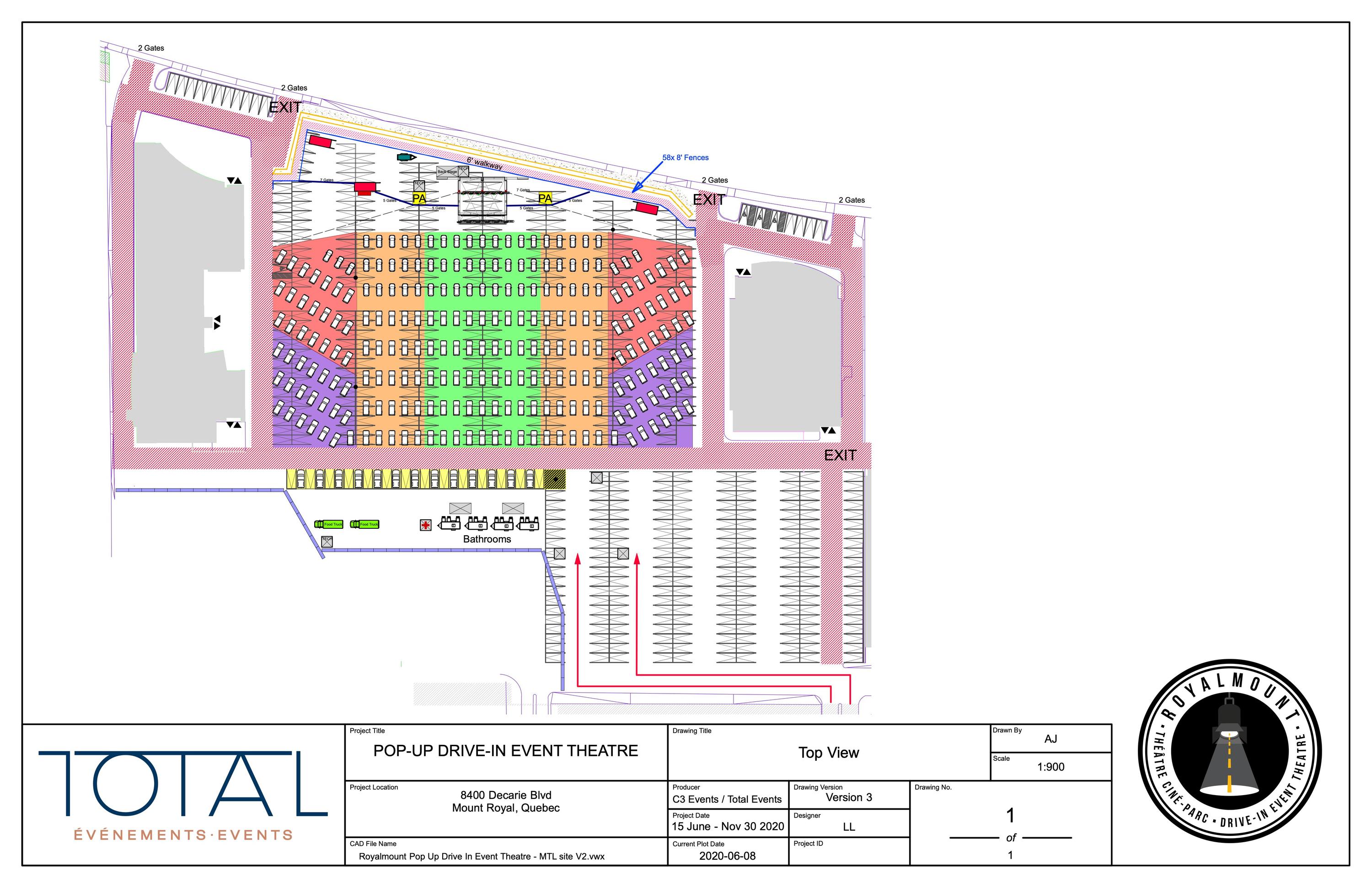 As for safety precautions, everyone who attends events at Royalmount will be asked to stay inside of the cars with the exception of bathroom use and seating outside of cars. While individual bathrooms will be provided with wash stations that will be maintained with a team to disinfect facilities after each use, personal chairs will be permitted n front of the vehicles so long as they remain two meters from the adjacent vehicles.
Most popular on Time Out
- Shopping malls reopen today throughout Montreal with new social-distancing measures

- Beat the heatwave with these maps of pools and air-conditioned spots in Montreal

- Montreal lands 11 bars in the rankings for Canada's 50 Best Bars 2020

- Here's how Montreal's restaurants ranked in the 2020 edition of Canada's 100 Best Restaurants
- When will Montreal reopen? Here's what you can and can't do right now