As of this morning, Cosmos Snack Bar—the legendary greasy spoon to rule all greasy spoons in Montreal—has gone up for sale.
The restaurant's listing from Centris puts a $75,000 price tag on the business, or $1,250 a month (both prices plus taxes). Located on Sherbrooke Street West in the western neighbourhood of Notre-Dame-de-Grâce, the restaurant has been commonly looked as one of the best diners in Montreal for over 50 years, serving classic mish-mash omelettes and creation breakfast sandwiches.
According to reporting by CTV News Montreal, the restaurant is currently closed due to the pandemic but will reopen for business once restrictions are lifted, running until it is sold (FYI, the MLS # is 12931790).
"I tried to talk them out of selling last year," the realtor Beverley Byford told Time Out Montreal, noting that her feelings for what she regards as an institution in its neighbourhood was too essential to go onto the market. "This was the place I'd go to see (one of the owners) Niki, to get leads as a realtor, and to be fed." Byford even emphasized not putting up a sign to avoid too many neighbours swarming the spot with questions.
"They're not sure if they want to sell the name yet," Byford adds, noting that "whoever buys this needs to have the right personality."
There's no beating around how a potential buyer would be receiving a small restaurant, and that's somewhat of an understatement: On the inside are eight stools around a formica countertop that holds the whole operation of a flattop grill, toasters and fridges. Most of all, what you are buying here is history. "It's not the size of the place, it's the size of your heart," Byford said.
Its founding proprietor Tony Koulakis (RIP) ran this hole-in-the-wall with no shortage of infamy. Having never taken a day off in the time that he began his artery-clogging operation, Koulakis and his family made a big name in the city from cooking up exceedingly cheap meals that would easily reach over 1,500 calories per menu item. After Koulakis' death, his children Niki and Nikos took over operations.
Few working-class diners in Montreal have received the adulation that this one has, as evidenced by the the documentary Man of Grease: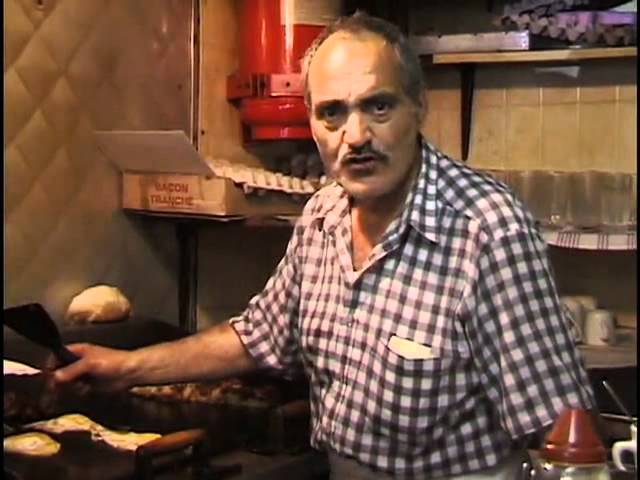 The stories don't stop there. While the mish-mash has been originally credited to Beauty's Luncheonette—with the matter of where credit was due resulting in a slight legal battle—some would say that Cosmos served the better mix of eggs, sausage rounds, tomato and chopped bacon.
Most popular on Time Out
- A $1 million fund has been created to support unemployed restaurant and hospitality workers
- Watch Justin Bieber, Avril Lavigne and more Canadian all-stars cover Bill Withers for charity
- Quebec will begin to reopen businesses, schools in May

- Here's a human rainbow exploring Montreal and it's giving us the moment of zen we need
- #ÇaVaBienAller: 25 photos of Montreal in rainbows and messages of hope