Heads up! We're working hard to be accurate – but these are unusual times, so please always check before heading out.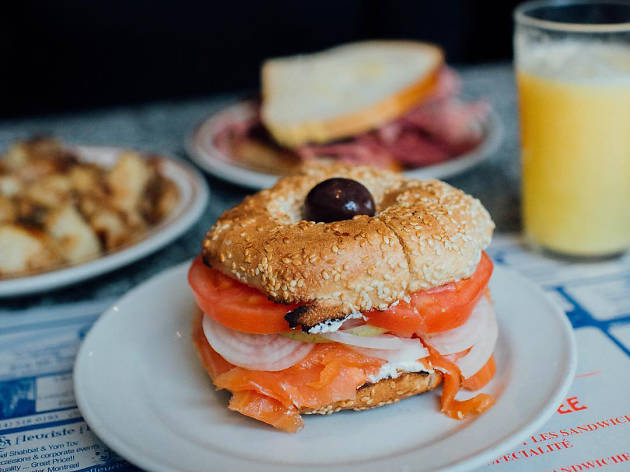 The best diners in Montreal with amazing greasy eats
You'll find the glorious greasy spoons, luscious luncheonettes and casse-croûte champions among the best diners in Montreal
Diners and snack bars—or casse-croûtes as they're better known by francophones—in Montreal are so beloved that it's hard to say what came first: The "Belle Province" nickname or the fast-food chain of the same name. Regardless, diners have held a strong foothold over the years in this city where the words "open since" carry as much weight as a celebrity chef de cuisine or a foie gras-embellished menu. Beloved for the wide range of cheap eats that includes (but is far from limited to) Montreal's best poutine, burgers and hot dogs, each one has its own mythology, rules, and regulars.
RECOMMENDED: Full guide to the best restaurants in Montreal
The best diners in Montreal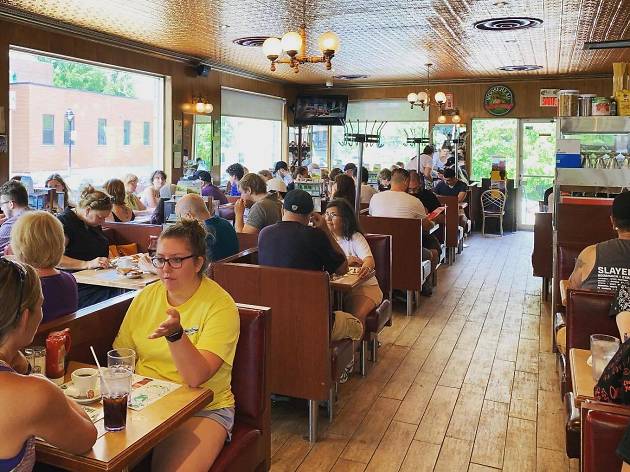 Photograph: Greenspot / @GreenSpot1947
Since 1947, the Greenspot has been the Saint-Henri hotspot for greasy grub. At any given hour—breakfast, brunch, lunch, or dinner—veteran waitstaff can be found hustling between old-style booths, dishing small talk and replenishing coffees. After sliding across a ruby-red banquette, tinkering with the tabletop jukebox—they're broken, you can who's a newbie by who tries to play with one—and catching the game's score, ease into the menu which reads like a complete compendium of comfort food. Don't let the poutine list get lost in the shuffle—with more than 25 options, it's so long it had to be printed on a separate insert.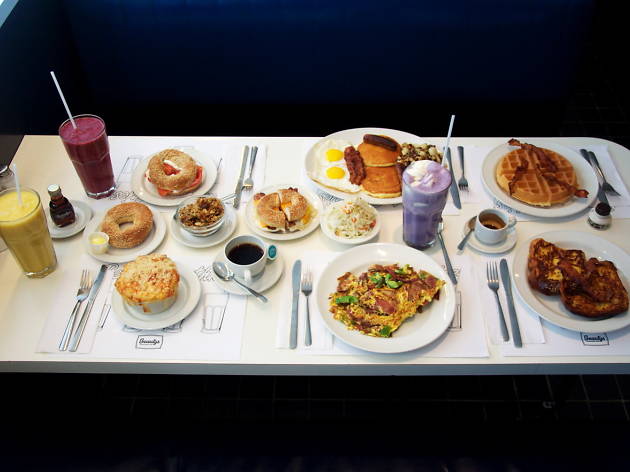 Photograph: Beauty's Luncheonette / @beautysmtl
This Mont Royal mainstay got its start in 1942 when newlyweds Hymie and Freda Shkolnick (RIP) took over Bancroft Snack Bar across from what once was a hockey rink. Word about Freda's mish-mash omelette and Hymie's bowling nickname "Beauty" quickly spread, and the rest is history. Nowadays it's hard to come by a blue booth or counter stool without a short lineup, but the wait is nothing that a Beauty's Special—a bagel sandwich with lox, red onion, capers and cream cheese—can't make better. Milkshakes are sweet and heavy, but the cookies-and-cream in particular is something to write home about; even more convenient, there are free postcards to grab on the way out.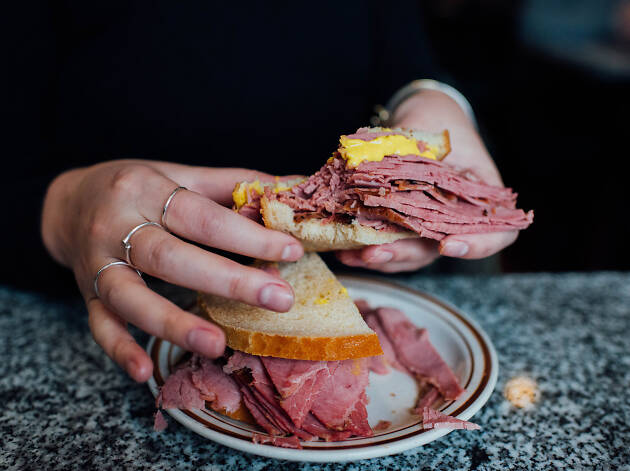 Photograph: Alison Slattery
Things are still all in the family at this post-war noshery off of Decarie in the Côte-des-Neiges neighbourhood. As a deli-cum-diner, Snowdon rivals the likes of Schwartz's for the best smoked meat sandwich in the city, and has that delicatessen beat when it comes to range. Potato knish, latkes, and varenikes are sold to-go the dozen, but breakfast dishes like the smoked salmon or swiss cheese and sour cream latke benny are worth sitting down for. Wash things down with a coffee or a cherry soda and be sure to grab some goodies at the counter on the way out.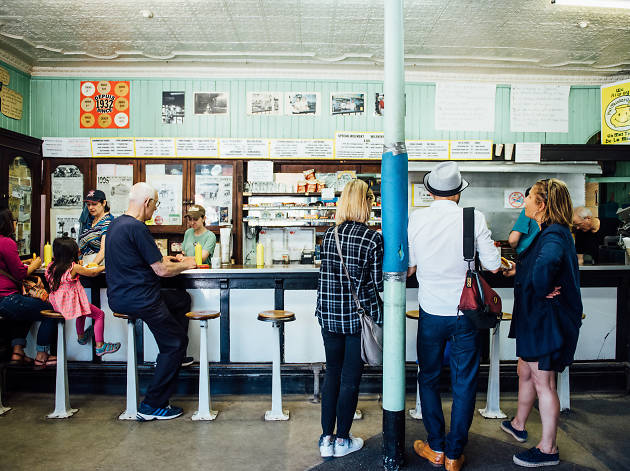 Photograph: Alison Slattery
4. Wilensky's Light Lunch
This Mile End casse-croûte, immortalized by Mordecai Richler in The Apprenticeship of Duddy Kravitz, is as old school as they come. Sidle up to the legendary lunch counter where rolls are pressed on 70-some-year-old grills, drinks are mixed with a vintage soda fountain, and bills are settled on a ring-up register. Noshes include hot dogs and beef karnatzels, but the real draw is the Wilensky Special—a flat bologna and salami sandwich served with a set of rules: Patrons can add swiss or Kraft cheese, but may be levied a fee for going mustard-free. Why? As the handwritten poem on the wall explains: "This is the way that it's been done since 1932." Oh, and never, ever ask to have your sandwich cut—they'll refuse to do so.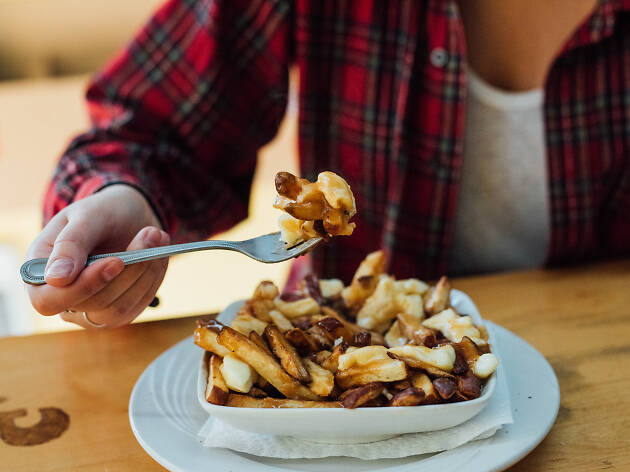 Photograph: Alison Slattery
Keep your eyes peeled for the giant bean posted above this itty bitty beanery near the busy intersection of Saint-Denis and Rachel—new digs since their previous address a few blocks over they'd occupied for 80 years. This canteen excels in traditional French-Canadian cuisine, which translates to meatball stews (ragoût de boulettes), meat pies (tourtière), and of course, baked beans (fèves au lard). Other hearty hallmarks from downtrodden days of the Depression include pudding chômeur, a poor man's rice pudding. Breakfasts include the likes of a chummy club, blood sausage, and more, all served with homemade cretons (the Quebec equivalent of paté made from salty minced pork).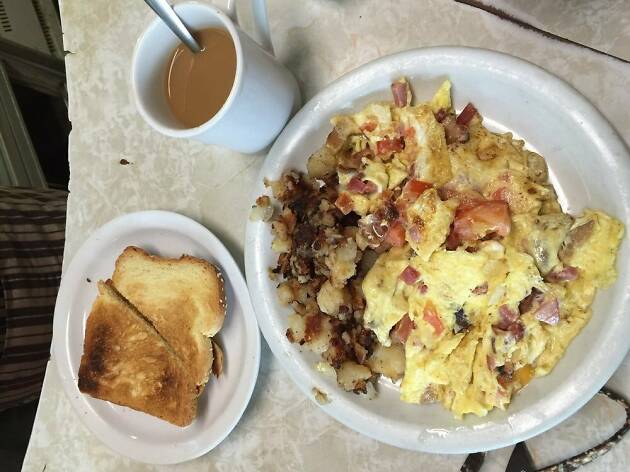 Photograph: Courtesy Yelp/Katie Z.
A framed portrait of Tony Koulakis, remembered by locals as the "man of grease" and "god of the potatoes" still watches over the grills at this 50-something-year-old NDG hole in the wall. Rub shoulders with regulars at the elbow-worn counter and answer the "what'll it be today" question with the immaculate Creation sandwich, a melty BLT made for breaky with its fillings of egg, salami and a slice of Kraft cheese. Another good response is the mish-mash omelette, which comes in at an artery-clogging 1,900 calories.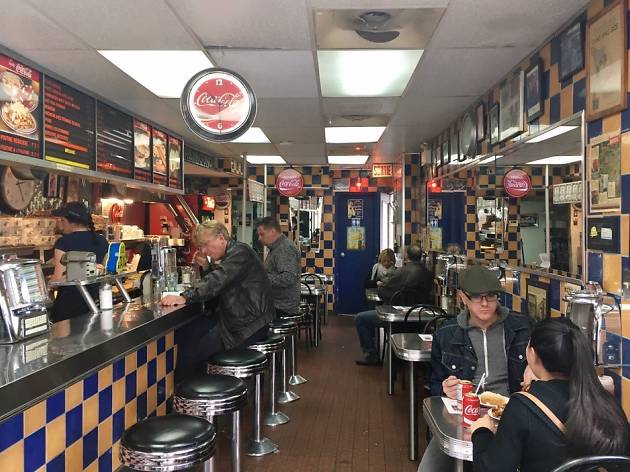 Photograph: Courtesy Yelp/A L.
Come for the fries and stay for the old-fashioned Emile Bertrand spruce beer at this neighbourhood snack bar that's been serving Pointe Saint-Charles since 1958. The beloved non-alcoholic bevy (well, it's likely around 1-2% due to the fermentation involved) is brewed in-house with water, sugar, yeast, and spruce oil, resulting in a distinctively Quebecois soda. Potatoes and "Canadian kombucha" aren't' this retro dive's only claim to fame: Its checkered walls, titanium bar stools, and neon-lit interiors made it the diner du jour on the popular Quebecois TV series Taxi 0-22 starring Patrick Huard as a fast-talking curmudgeon of a taxi driver.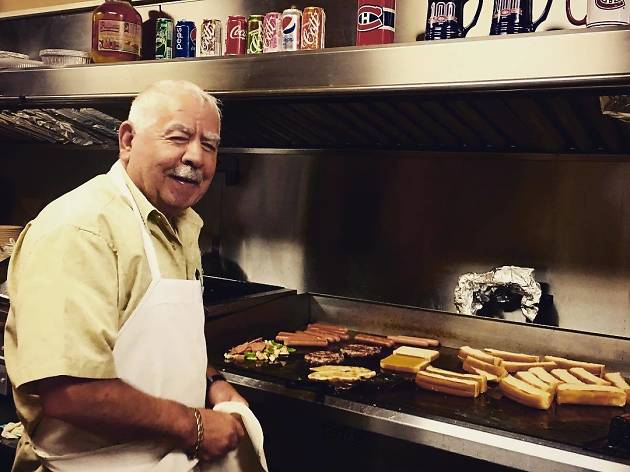 Photograph: @mightyoswag
Not to be mistaken for the other A.A., this Double A joint is the place in Saint-Henri to ride the late-night gravy train into the early morning hours. With its open sign up everyday until 5am, it's never too late to dive into a plate of crispy golden fries smothered in squeaky cheese and pools of homemade brown sauce. Its devotees claim that the diner's eponymous founder, André Annoussos, dishes the best poutine in town, but the burgers and hot dogs (served steamé by day or toasté by night) earn a double A+, too.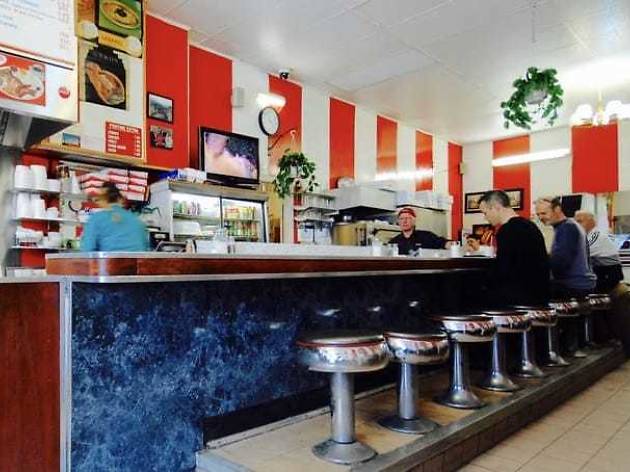 Photograph: Courtesy Yelp/Globeater M.
Orange and white-striped walls, jukeboxes, and retro sixties décor sets the scene for bacon and eggs at this Rosemont staple. Trios are the best way to consume the specialties, from souvlaki platters to subs, burgers, or two Michigan dogs smothered in meat sauce. A side of fries for any combo can be upgraded to a poutine, but save room for a slice of whatever sweet treat is in the fridge, especially if it's coconut pie.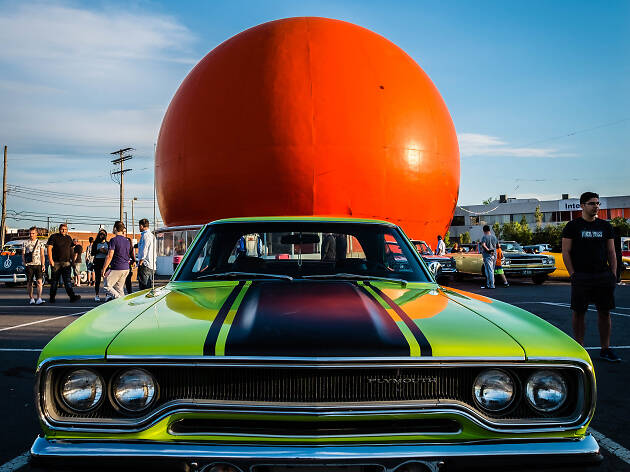 Photograph: Courtesy CC/Flickr/Hubert Figuière
The Orange Julep may not have the classic trappings of a diner, but that's part of the appeal of this roadside drive-in. Instead, patrons walk up to a counter tucked into the underbelly of a three-story orange that's forty feet in diameter. All your casse-crôute essentials like burgers, hot dogs, and poutines round out a menu that's centered on the mysterious orange drink that has a creamsicle quality thanks to powdered egg whites—as rumour has it, anyway. You won't see rollerskating waiters these days, but Wednesday Cruise Nights throw things back as hot rods, kustoms, and classic cars turn out in droves to hang out around the orange globe.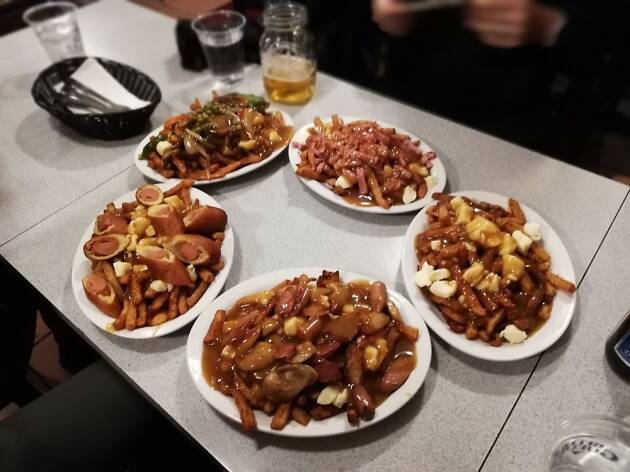 Photograph: Courtesy Yelp/Vicola A.
This Plateau-based hideaway is open breakfast through dinner, but it's best known by night owls, especially the last-call crowd at Bar Laurier across the street. Most skip straight to the heaping plates of poutines, of which there are more than 20 choices, including the green peas and chicken covered Galvaude and the decadent Cabane poutine that adds maple, beans, bacon, ham and sausage on top of the classic fixings. Don't ignore the other half of the menu however, which provides a hearty roundup of traditional Quebecois fare from pâte chinois to meat tourtière.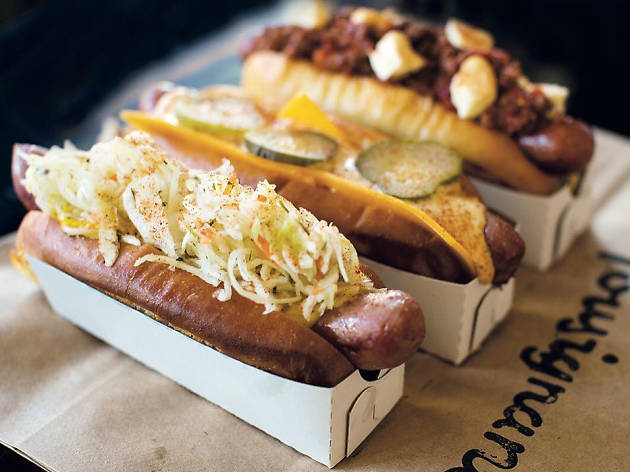 Photograph: Chez Tousignant / @cheztousignant
A relative newcomer to Montréal's casse-crôute scene, this fast food joint opened in 2015 with a simple mission: To make the perfect hot dog. If demand is any indication—the 100% local beef chuck dogs are now wrapped and sold by the half dozen, the enterprise led by Impasto chef Yann Turcotte has been a success. Everything including the hamburger and hot dog potato buns is made-from-scratch and made-to-order in the retro-chic resto. Even the sodas and spices are served under the "Tousi" label, all of which is named in homage to Turcotte's mother.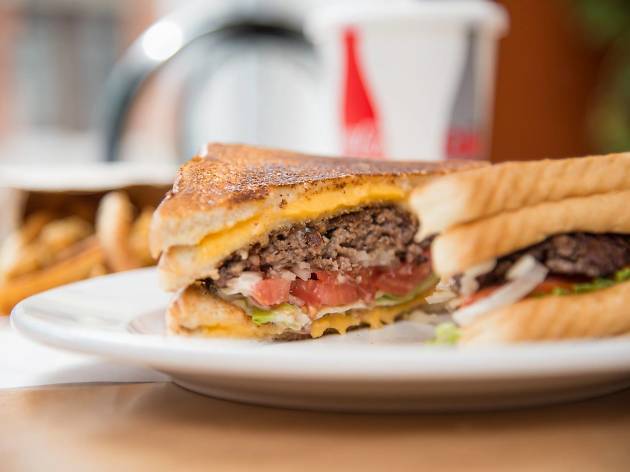 Photograph: Pataterie Chez Philippe
13. Pataterie Chez Philippe
Not much on the menu has changed at this family-run dive since it first opened its doors in the Gay Village more than 55 years ago. Fries are still cut by hand, beef sourced from the steak specialists at Boucherie des Érables is still ground into thin patties daily, and the Michigan sauce—sold by the tub—is still made with a 40-something-year-old recipe. Save for "Le Zeke", a burger and fixings sandwiched between two grilled cheeses, expect mastery of the classics over faddish frills. Swap out fries for a cheeseburger-poutine combo, one of the best one-two punches in the city.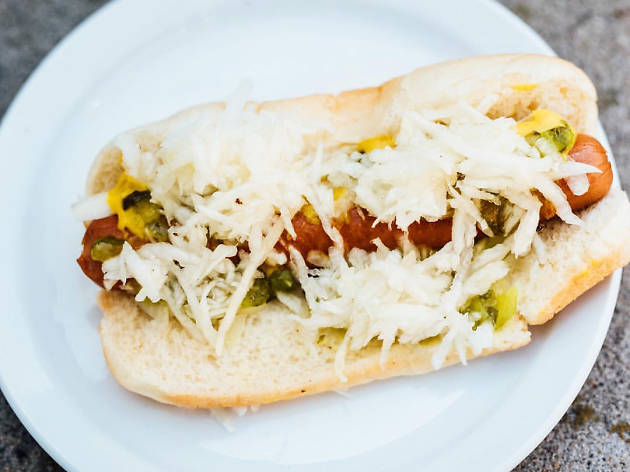 Photograph: Two Food Photographers
Serving Montreal's north-end Ahuntsic neighbourhood 24/7 for over 40 years, this friendly casse-crôute is best known for its over-the-top breakfasts and squeaky-cheese-guaranteed poutines. Take the decadent Extreme Oreo waffles, layered in bananas and cookie crumble and drizzled with nutella and English cream. Then there's the Burger Extreme poutine, a spicy mess of fries, peppers, onions, and mushrooms, with a full burger plopped in the middle. Head to the counter or swing by the window—but keep your plastic in your wallet. Cash is the only currency tendered in these parts.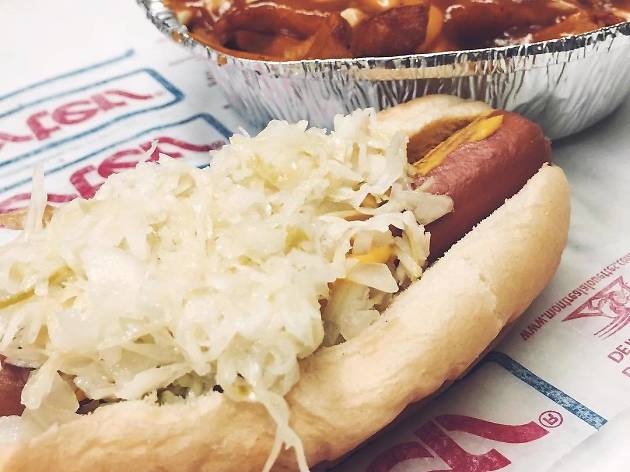 Photograph: @4korners
This family-run hole-in-the-wall may have "hot dog" in its name, but it's the heaping side of crispy golden fries that have Montrealers trekking to Cote-Vertu at the end of the Orange Line. With only eight stools lining the counter, it's often standing room only inside except when warm weather invites patrons to spill out onto a tiny terrasse. In its 50+ years in business, a collection of stickers has accumulated on the fryer hood, beside which hangs an obligatory Montreal Canadiens flag and hand-painted yellow menus that offer steamed chien chaud for a dollar seventy-five.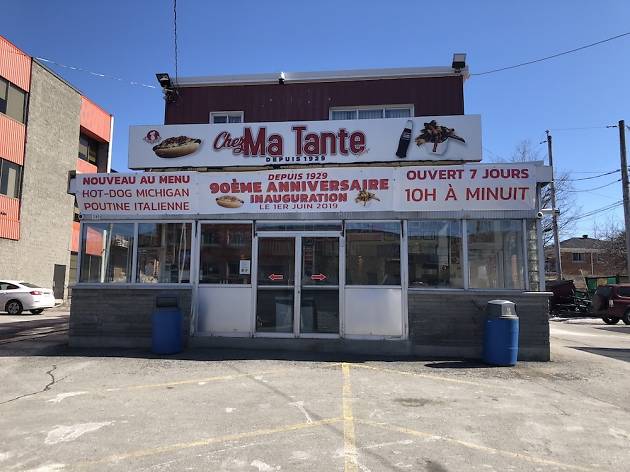 Photograph: Chez Ma Tante / @chezmatantepatatesfrites
This 90-year-old Montréal-Nord landmark first started out as an old-fashioned meals-on-wheels, serving fries and hot dogs from a horse-drawn carriage before upgrading to a campervan in the 50s and eventually setting up its current brick-and-mortar shop. Its founder Aunt Marguerite may no longer be in the picture, but her legacy lives on through the signature 100-percent beef sausages, steamed and served in 13 different dressings. Options range from ketchup and mayo (#6) to meat sauce and cheese curds (#12), but the fan favourite is #8, topped in mustard, onions, and a "slaw that surprises your jaw."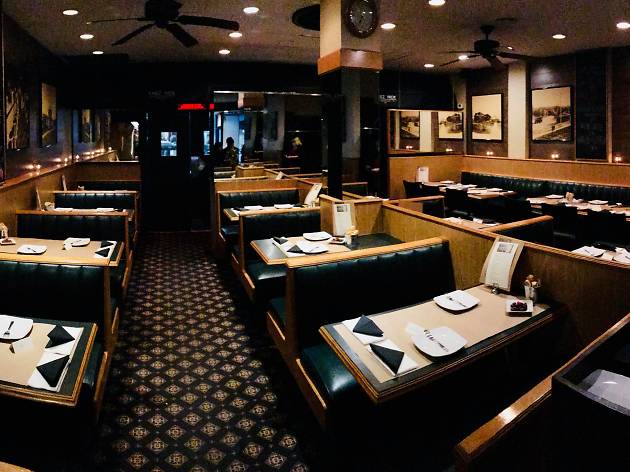 Photograph: Chez Nick / @ChezNick
Most greasy spoons aren't known for salads, but Nick's "Greens on the Avenue" portion of the menu is just as popular as its all-day breakfast, from-the-grill, and "Calorie" dessert sections. This balanced approach could be the secret to this Westmount institution's longevity—it celebrates its centennial in 2020, making it the oldest diner in Montréal—but the warm service, quality coffee, and retinue of regulars can't be overlooked either. Save room for the apple pie, served hot or cold. Finally, take it from us: They also make the best damn Reuben sandwich in the city.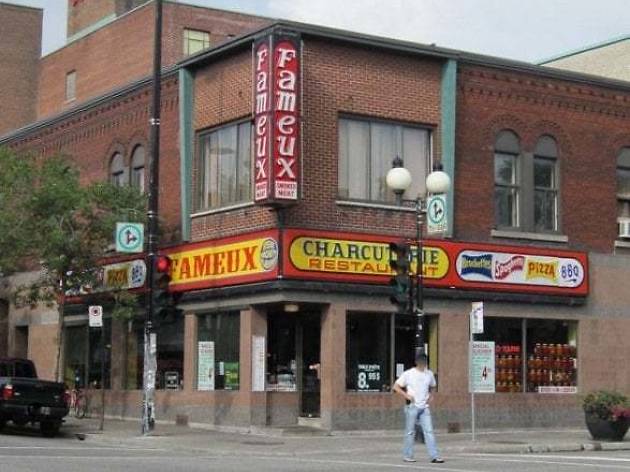 Photograph: Courtesy Yelp/Dave L.
18. Fameux Viande Fumée et Charcuterie
The claim to fame at this corner Plateau diner is smoked meat, and as such it's the favoured topping on just about everything, from smoked meat mac and cheese to smoked meat pizza and poutine—they don't go easy with it either and tend to heap it on. Just as noteworthy is the Greek family influence, which has kept stalwarts like spanakopita, souvlaki and other recipes on the menu for some 60+ years. Breakfast specials are good all day, especially Fridays and Saturdays when the reliable late-night spot stays open all 24 hours.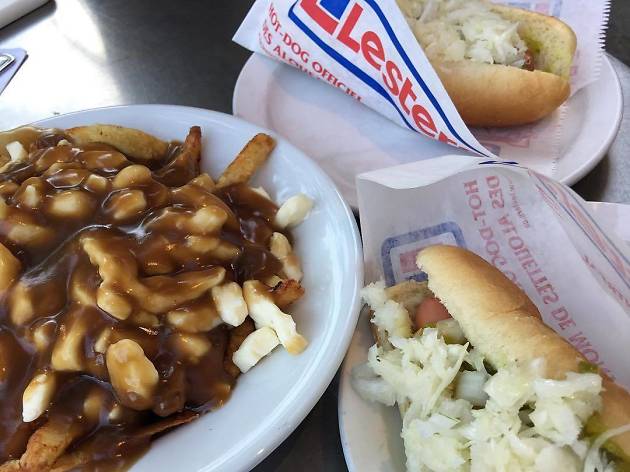 Photograph: @boblechef
Open late every night, this Plateau diner is a dependable pit stop for those in need of a midnight snack. A vast menu is capable of satisfying just about any craving, with all the usual greasy suspects accounted for—hot dogs, burgers, breakfast, and poutines—in addition to seafood, steak, wings, pizza, pasta, and the crossbred pizza-ghetti, a peculiar Montreal dish we're apprehensive to call a delicacy. Old signage hangs facedown from the ceilings over wooden booths, and in the rear an old garage door opens out onto a petit patio come summer.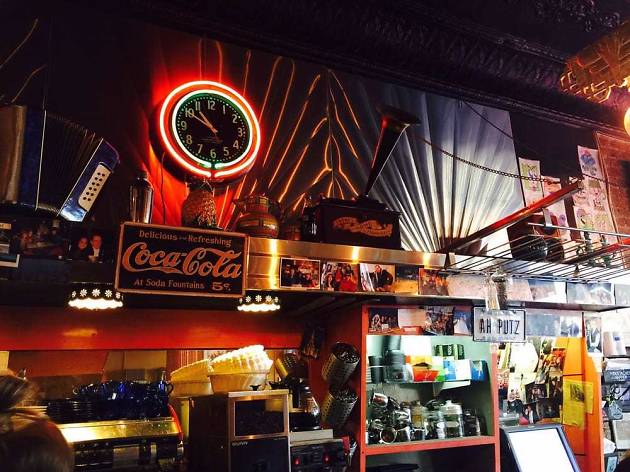 Photograph: Courtesy Yelp/Doris Z.
Once frequented by Leonard Cohen, who lived across The Main near Parc du Portugal, this brunch spot has long been a local haunt, serving bagels and miscellany since the 1980s. Open brick walls are ornamented with a sign that reads "Restaurant Cookies" and vintage kitsch, most of which pays homage to bygone tenants. Apart from the odd multigrain, bagels come in one variety—Fairmount sesame—and are served as open-face sandwiches dressed in everything from huevos to hollandaise. Spice things up by asking about the collection of hot sauce.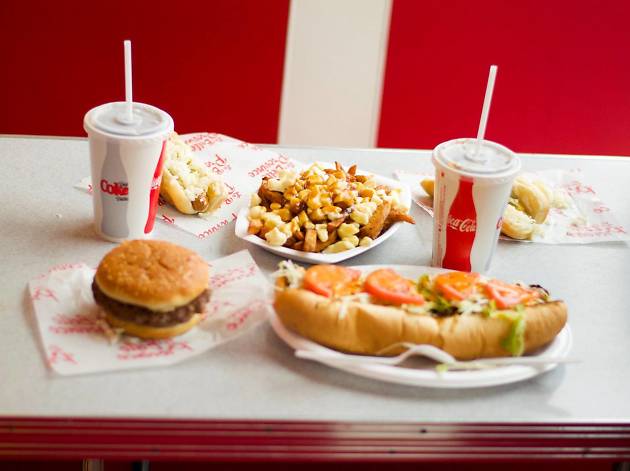 Photograph: La Belle Province / @restolbp
From modest diner to fast-food empire, this franchise started out on Sainte-Catherine in 1967 with no more than six items on the menu—hot dogs, fries, and a smoked meat sammie among them. Now the chain counts more than 125 restaurants with trademark red-leather banquettes across the province, the bulk of which can be found in the greater Montréal area. The menu has expanded, too, featuring everything from gyros and souvlaki pitas—nods to its Greek founders—to smoked-meat spaghetti, grilled hot dogs, and poutines.
More classic restaurants in Montreal