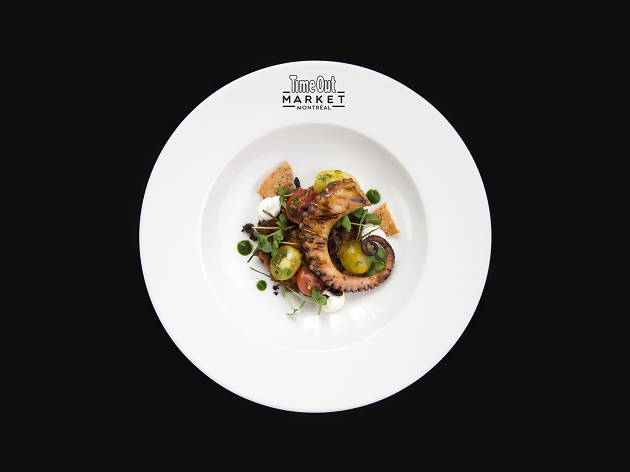 This is where you want to go for fine French food in Montréal
Posted: Tuesday November 12 2019, 10:27a.m.
Montreal's culinary identity has always been a hybrid affair: half Anglo, half French; half New World, half European; half sophisticated and half down-to-earth. The city is undeniably one of the most cosmopolitan places in Canada (the most, we like to think), but its history, geography and relatively remote—and rather polar—location gives it a distinctly rugged and rustic side. While there's no better New World city for fine French dining (sorry New York—we still really like your pizza), Montreal never strays too far from lumberjack plaid, chalet lake-fishing weekends and deer-hunting trophies.
Le Club Chasse et Pêche encapsulates this dual identity with, on the one hand, its discreetly chic Old Montreal setting and refined haute-cuisine approach, and on the other hand, its carnivorous menu which evokes the spoils of the hunt every bit as much as the restaurant's name. Bistronomie standards like fois gras poêlé, pintade, magret de canard and seared scallops are made unique by this restaurant's masterful use of the Québec terroir's palette of flavours: fennel, salsify, juniper, sea-buckthorn and romanesco. Few addresses in town have been so instrumental in bringing game meats and locally sourced seafood to the fore, and venison and Gaspé Arctic char are now on obligatory rotation on the chalkboard menus of Montreal French fine dining.
The culinary reputation of Montreal may lately come from its huge portions and bold flavours, but there's still room for French dining—Montreal-style—as is evident with exquisite restaurants like Le Club. With their new location at Time Out Market Montreal, Le Club Chasse et Pêche brings with them their high-end techniques and flavours, something you don't see every day in markets and food halls. Reputed chefs Claude Pelletier and Mélanie Blouin have put together a menu including marinated grilled octopus with paprika, espuma and fingerlings potatoes and other renditions of classic bistro fare in a fast-paced, casual-yet-elegant space in the Centre Eaton in the heart of downtown Montreal.
Time Out Market Montréal will be open to the public on November 14th inside the Centre Eaton de Montréal (705 rue Sainte-Catherine Ouest, niveau 1). Hours: Monday to Wednesday 8am—9pm, Thursday to Friday 8am—midnight, Saturday 9am—midnight, Sunday 9am—9pm
Share the story