The best French restaurants in Montreal right now
The storied and accomplished facets of a foundational cuisine are no secret in the best French restaurants in Montreal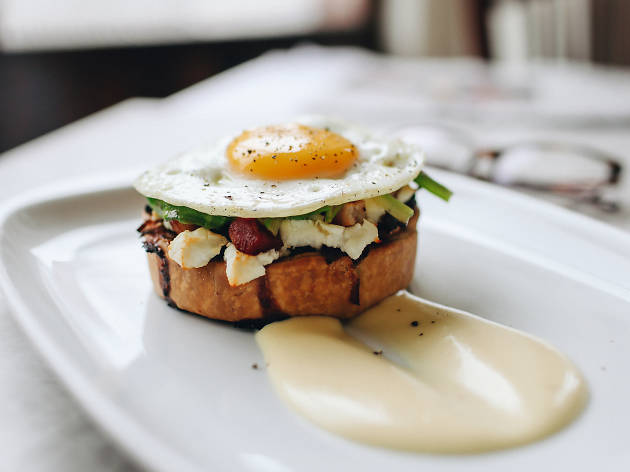 Montreal's French connection in nearly every facet of city life, but the restaurants are one of the places where that connection shines brightest. Sure, subtle influences can be found in features like art nouveau interiors in the hottest nightlife spots in town, the quaint Parisian-style awnings studding the fronts of the city's best bakeries or the zinc counter tops in high-end wine bars, but nowhere is the influence more apparent than in how we as a city approach food and the experience of restaurant dining. Montreal is renowned for its Michelin star-calibre restaurants and the following French restaurants, among which are bar none.
RECOMMENDED: Full guide to the best restaurants in Montreal
French fine dining we love so much that we welcomed it into Time Out Market
Le Chasse et Pêche is a venerable temple to French gastronomy. Expertly helmed by local chef legends Claude Pelletier and Mélanie Blouin, they've brought their fine dining menus to Time Out Market Montréal. From braised pork-knuckle risotto to marinated octopus off the grill or a tantalizing brioche bun sandwich of sweetbreads and lobster, enjoy luxuriating in every dish here, all crafted with amazing elegance.
Where to find the best French restaurants in Montreal
1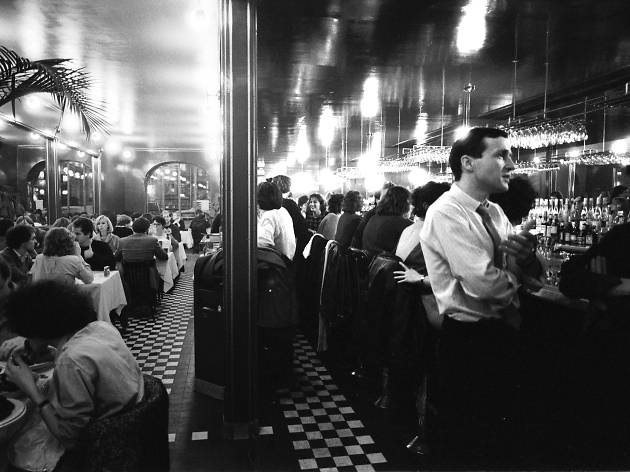 Photograph: André Cornellier
L'Express is a prominent fixture in Montreal's French restaurant scene. Its quality is evident even when peeping through the window from the exterior: Its pristine black and white tile flooring, vibrant lighting and white linen tablecloths are all emblems of classicism that support a menu heavy on foie gras, quiche, confit duck and jars upon jars of cornichons. In fact, the dishes here have hardly changed for 30 years—not for lack of creativity, but for the simple fact that they had it right all along.
2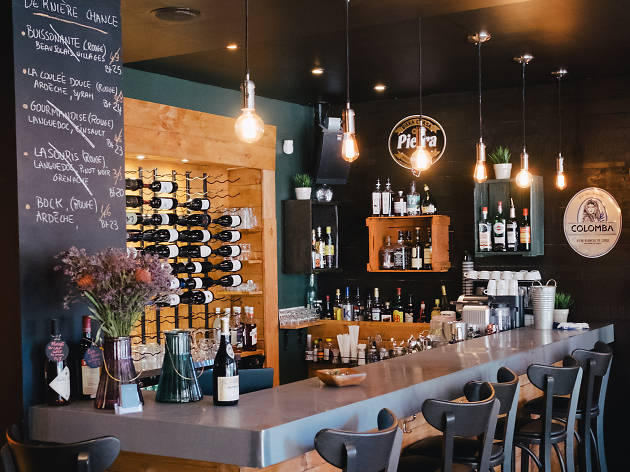 Photograph: Plein Sud
This cozy Mont Royal Avenue refuge plays with the flavours and atmosphere of the Southern Mediterranean regions of France—particularly of Nice and Corsica—and as such can make for a welcome change to the reliable but omnipresent Parisian brasserie style. The restaurant is devoted to nourishing, aromatic tapas and a constantly evolving rota of wines with which to wash them down. Santé indeed.
3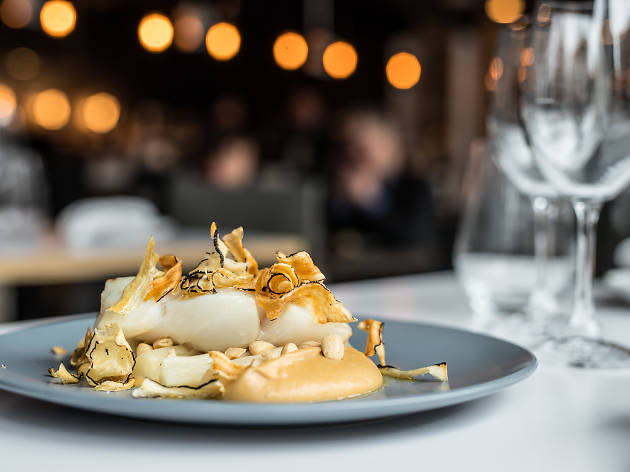 Photograph: Éric Carrière / Accords Bar à vin et Resto
The team at Accords Bistro are specialists in casual wine by the glass and have made a concerted effort to modernize their kitchen in light of recent shifts in the food world, pushing both vegetarian and gluten free options while keeping true to the original flavours and techniques of French cuisine. These efforts—in addition to its sizeable terrace and location in the heart of the Quartier des Spectacles—are sure to please even newcomers to the cuisine and want to dip their toes in.
4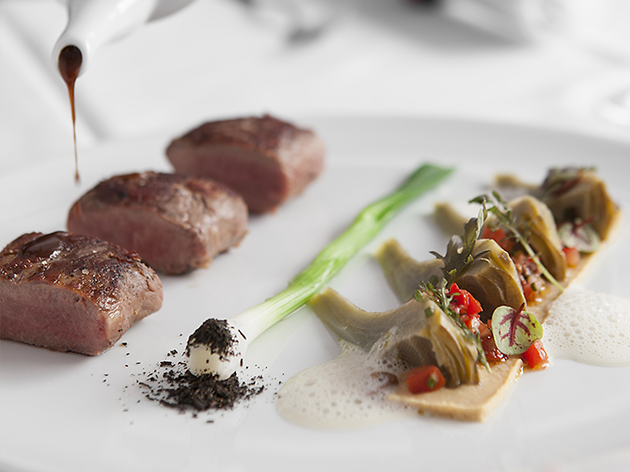 Courtesy La Chronique
This restaurant's approach is one of easy luxury and impeccable service, only making a few slight deviations to the French restaurant schema: The décor looks more Nordic-austere than of French bistro at first glance, but on being seated, the passionate sommelier and waitstaff team affirm a true-blue French pedigree. The menu features small, thoughtful detours from the most typical of ingredients, but while you may find the odd shimeji mushroom on the menu, the dishes are classics at their heart and overwhelmingly French in their execution.
5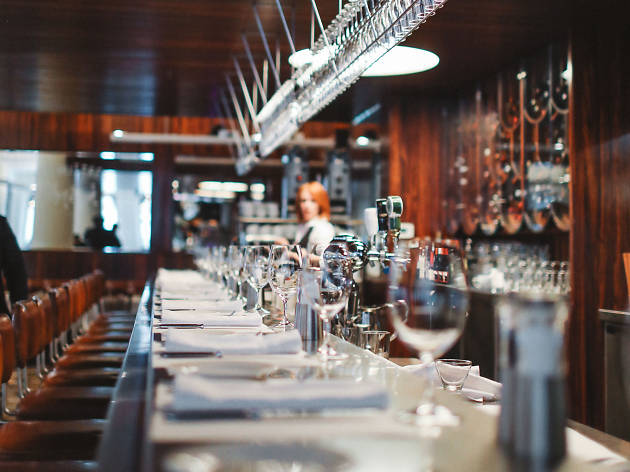 Photograph: Jade Wulfraat
A stately establishment on the recently revamped Laurier Avenue, this technically traditional French bistro dishes the likes of homemade boudin, cabillaud and onglet steak frites while making allowances for the inclusion of a range of Quebec cheeses and creative desserts. Also of note: Leméac's inexpensive table d'hôte menus aimed at the late-night crowd, nightly from 10pm 'til close.
6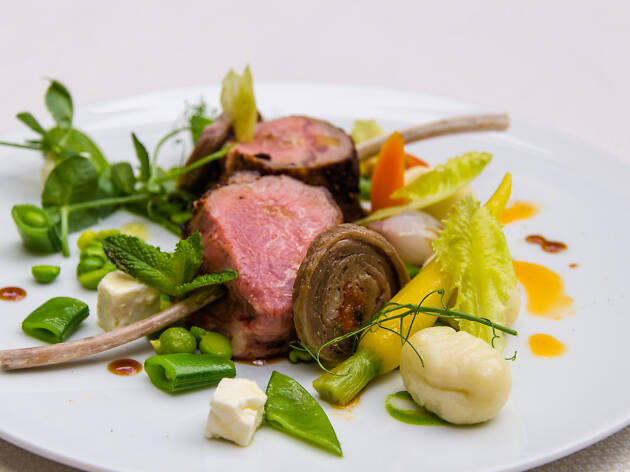 Photograph: Alexandre Parent/Maison Boulud
The name Ritz-Carlton is synonymous with high-end French cuisine. Fun fact: That's owing to the legendary early 20th century collaboration between famed hotelier César Ritz and the father of modern French cuisine Auguste Escoffier. Today, the hotel company's dedication to exceptional French cuisine is alive and well, and Montreal's Maison Boulud doesn't stray from that pack. It serves traditional French breakfasts, lunches and dinners in the luxe environs of the grand Sherbrooke Street-based hotel.
7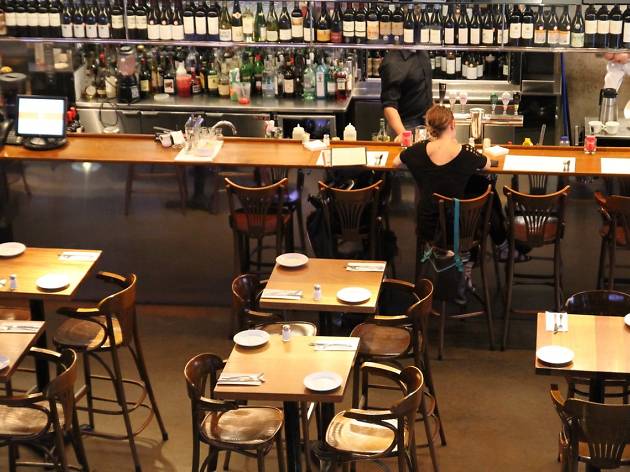 Photograph: Café du Nouveau Monde
The Café du Nouveau Monde is the resident French bistro joined at the hip to Montreal's Théâtre du Nouveau Monde, a theater company founded in 1951 that has played a central role in the cultural landscape of what is now known as the Quartier des Spectacles, Montreal's arts and culture hub. In addition to theater-goers, the restaurant has fostered a loyal following among the business lunch crowd and its streetside terrace is an excellent spot to roost for a 5 à 7 on a summer evening.
8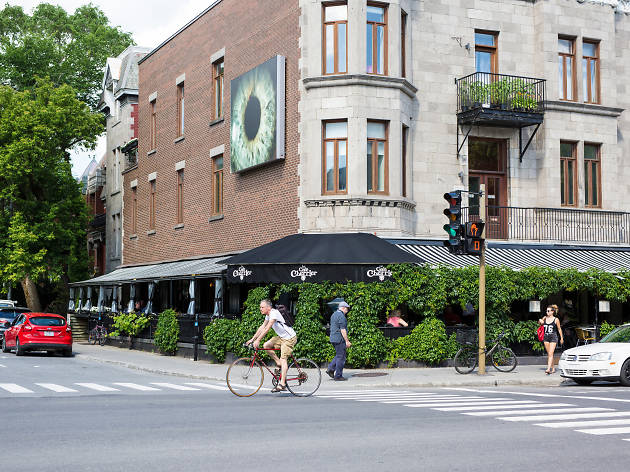 Photograph: Tourisme Montréal / Marie Deschene
Yes, there's L'Express, but places like Café Cherrier that also help Montreal's Plateau neighborhood known for providing consistent, unadorned treatments of traditional French dishes. We're talking the likes of tarte tatin, onion soup, steak tartare and foie de veau. Although often overlooked in a city of trendsetting avant-garde restaurants, a meal in the café's calmative espresso-hued retro dining room or stunning wrap-around terrace is always a solid bet.
9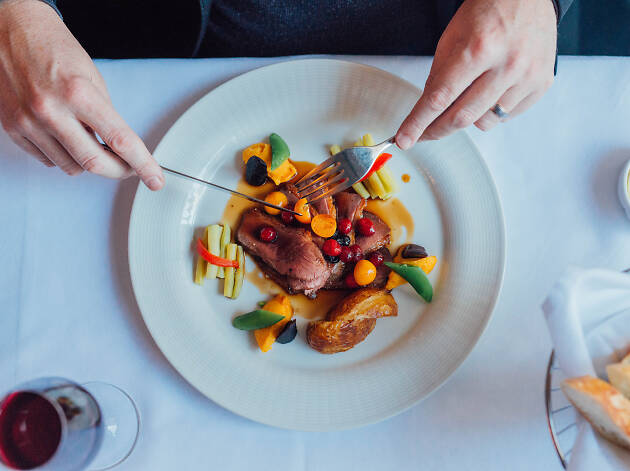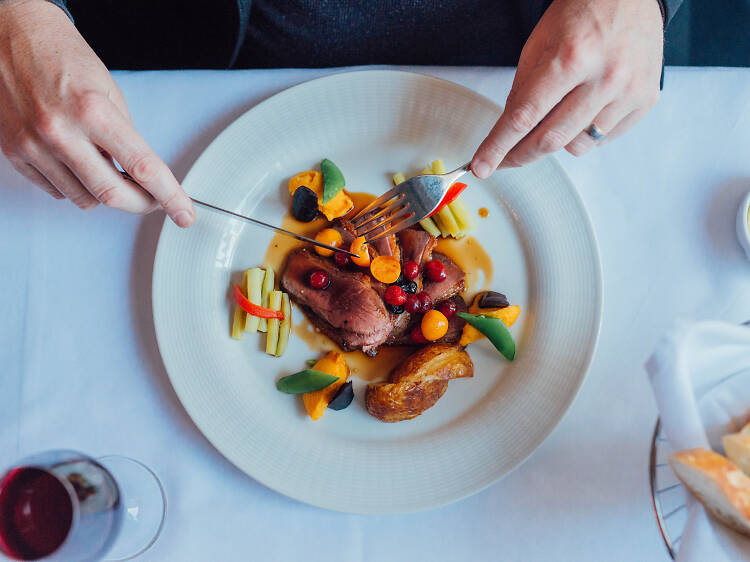 Photograph: Alison Slattery
As if the name left any room for doubt, this Old Montreal restaurant nestled in an enduring historical edifice is as French as can be. Napoleon Bonaparte references aside, the establishment's small romantic alcoves, regal touches and charmingly stubborn insistence on a slower, more thoughtful and comfortable classical approach have made it a favourite for local gastronomes in the know. Trust that any and all menu items here get an sabre rattle from us.
10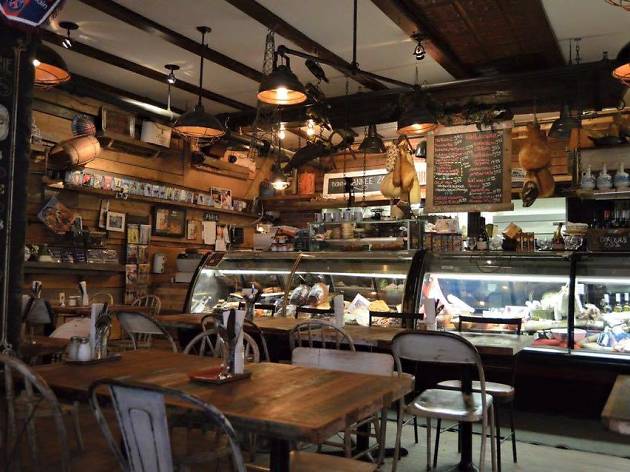 Photograph: Marché de la Villette
It's easy to imagine Le Marché de la Villette was once a typical corner cafe in Paris' Latin Quarter, shipped piece by piece and meticulously reconstructed in Old Montreal. Although this certainly isn't the case, one could hardly be blamed for believing it: From the cobblestone entrance to the cramped but homey interior replete with hanging cured meats, various bric-a-brac and chalkboard menus, the illusion here's almost perfect. Definitely one of the easiest ways to have a very French lunch without leaving the island.
11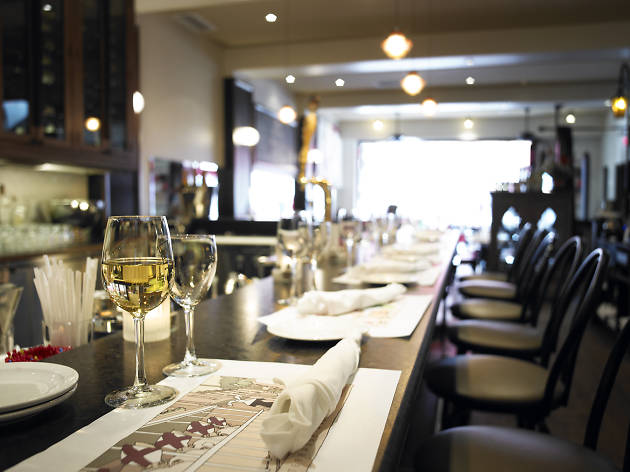 Photograph: Chez Lévêque
Chez Lévêque takes a lighthearted approach to the authentic Parisian brasserie with a tongue and cheek nod to Quebec's parochial history. Spot it in the recurring visual motif of hungry Catholic clergy members running amok through the restaurant (we're not joking). As blithe as the décor is, the kitchen's dedication to fresh, simple preparations of unpretentious traditional French dishes is deadly serious. That makes for a true delight of a menu.
12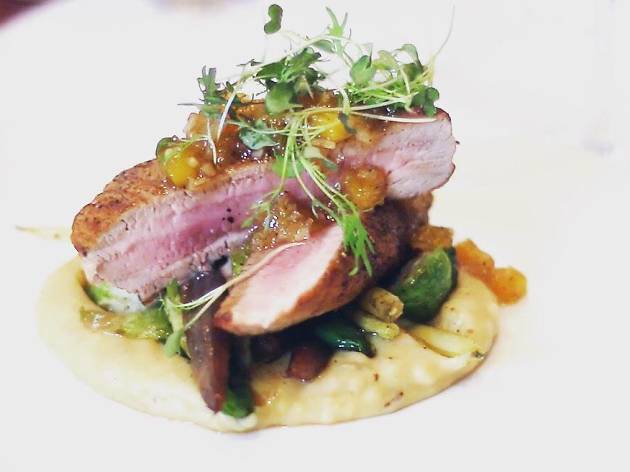 Photograph: Le Pégase
Camouflaged in a solidly residential side street in the Plateau neighborhood, Le Pegase is a thoroughly straightforward French restaurant that features affable, professional service and particularly meaty treatments of classic dishes. It's also unique in its status as a bring your own wine restaurant, offering patrons the option of bringing bottles of their choosing from nearby SAQs to be enjoyed on premises. Handily enough, their website even makes a few suggestions in a handy dandy right-hand column.
13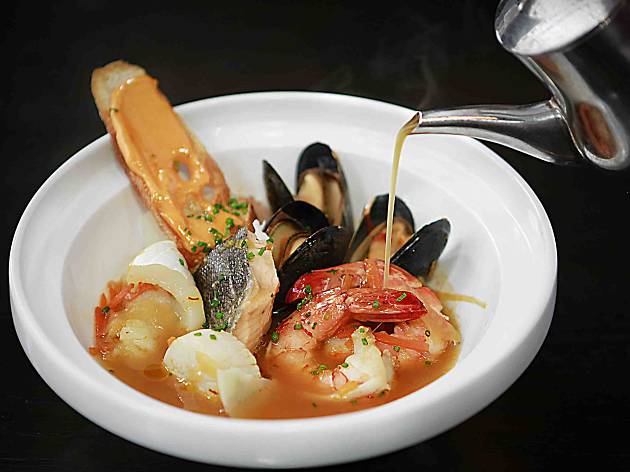 Photograph: Le Pois Penché
We'll concede that we overlooked this restaurant far too often. The central downtown location, the cute name, the so-authentic-it-hurts décor of a Parisian brasserie—we thought it was the gaping maw of a tourist trap best left avoided. But everyone makes mistakes. Owner and sommelier Imad Nabwani's efforts to recreate a truly Parisian experience merits more than one visit, first for an express lunch with house pastas and silky tartares, then for a late night prix-fixe dinner that'll check all the boxes of French essentials.
14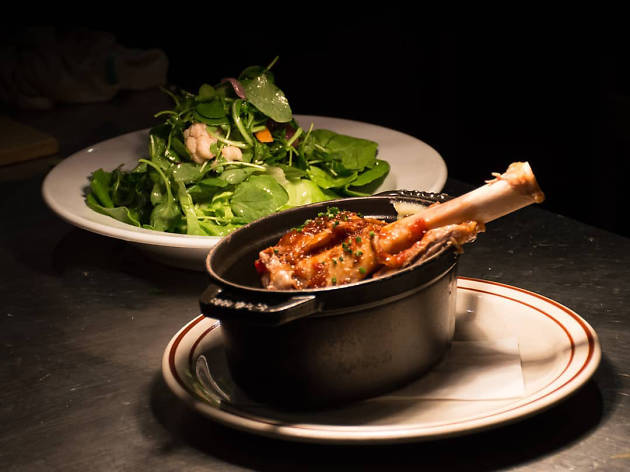 Photograph: Les Deux Gamins
A casual bistro burrowed between its neighbours offering seasonal fare on a pedestrian-only stretch of Prince Arthur Street that runs from the charming Saint-Louis Square Park to Saint-Laurent Boulevard. The terrasse (that's "patio" to you anglophone visitors out there) is particularly Parisian and perfect for crowd watching with its handful of small café tables and rattan chairs set only meters from an endearing street center water fountain. That's the looks; as for the food, poached fish and confit birds feel just as adequately classic as they are well-executed. Go for what's unique to the season to really feel the strengths of the kitchen.
15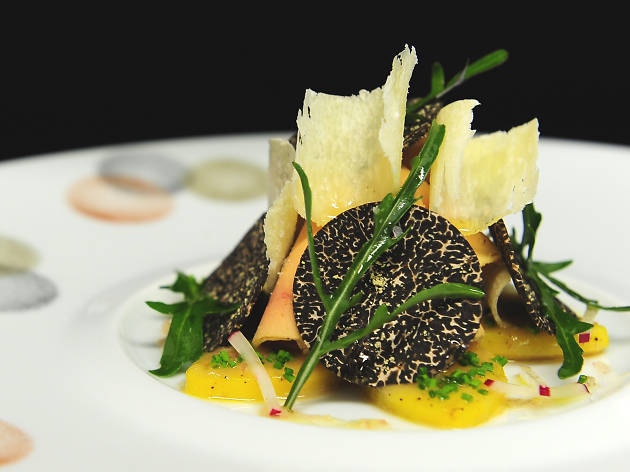 Photograph: L'Atelier de Joël Robuchon (Casino de Montréal)
L'Atelier Joël Robuchon Montréal
The former French pavilion at Expo '67 turned Montreal Casino also happens to be home the home of concept restaurant L'Atelier Joël Robuchon, first opened by the illustrious Joël Robuchon (winner of 32 accumulated Michelin stars!). Although Robuchon passed away in 2018, the restaurant has only continued to grow in stature. For a special occasion, it's hard to beat the accomplished finesse that comes standard at L'Atelier Joël Robuchon. It's also one of the priciest with its $200 price tag, and while locals may grumble about the cost, even they'll also grudingly admit that yes, the food was very good.
16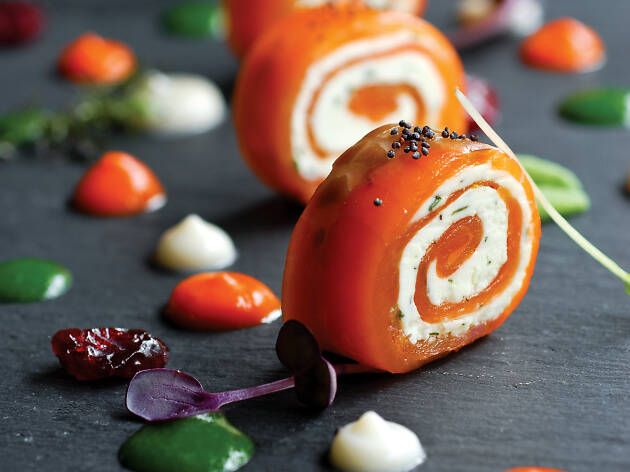 Photograph: Restaurant Europea
Restaurant Jérôme Ferrer – Europea
This restaurant takes the plush opulence frequently associated with French gastronomy and turns it up to 11: A far cry from the more casual proletarian bistro approach, chef Jérôme Ferrer sources the best (and often most expensive) ingredients to be found and presents them in surprisingly modern—but always thoroughly French—manner. The restaurant is frequently found at the top of best restaurant lists in the country, and for many this address is a paragon of what you'd expect in a lovingly fancy French restaurant.
17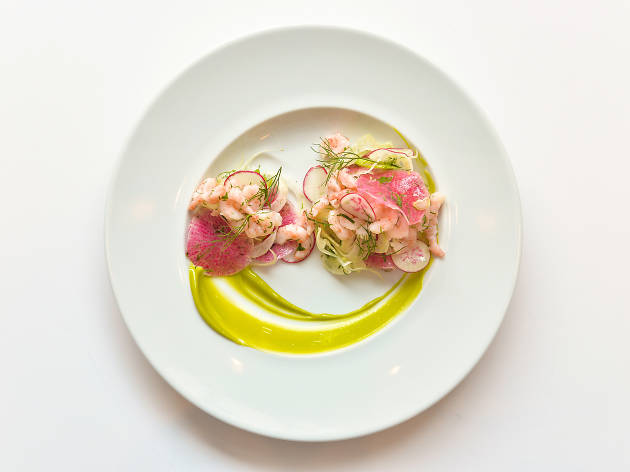 Photograph: Restaurant de L'ITHQ
L'ITHQ, the famed Quebec institute of higher learning dedicated to training future generations of cooks, waiters, bartenders, sommeliers and managers in the tourism, hotel and restaurant industry gets special mention for its not so secret sun-soaked ground floor restaurant across from Saint-Louis Square. The restaurant is fully staffed by up-and-coming students nearing the end of their studies, all showboating under the expert guidance of chef Jonathan Lapierre-Réhayem. Its continued existence ensures future generations of industry workers have an innate knowledge and appreciation for classic French fare, and the mix of who's-cooking-what keeps the menus constantly refreshed.
18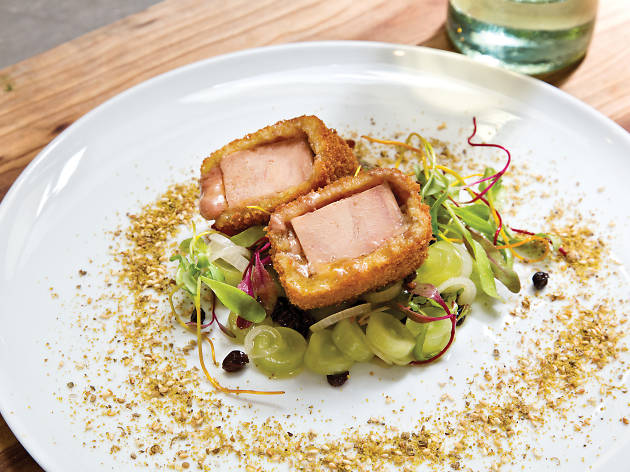 Photograph: Rodolf Noël / LMGCOM
The lovely old-world art deco dining room at Au Petit Extra flutters with loyal devotees from all walks of life. These clients return time and time again for the restaurant's lack of pretension, its accessible wine list, its versatile atmosphere—one that strikes an effortless balance between chic and casual—and of course, its affordable and ever-evolving menu of comforting traditional plates from chef Louis-Philippe Daoust.
19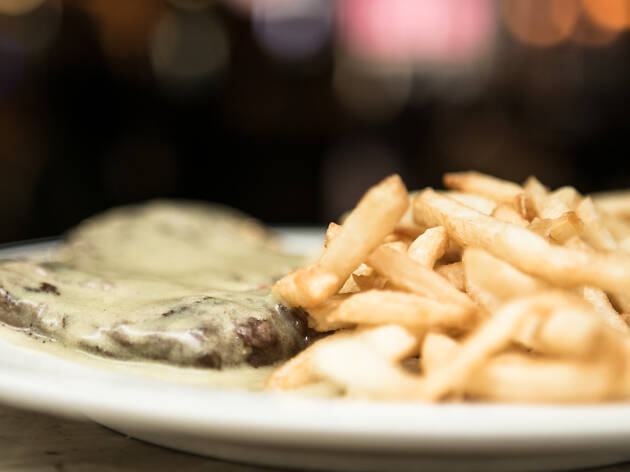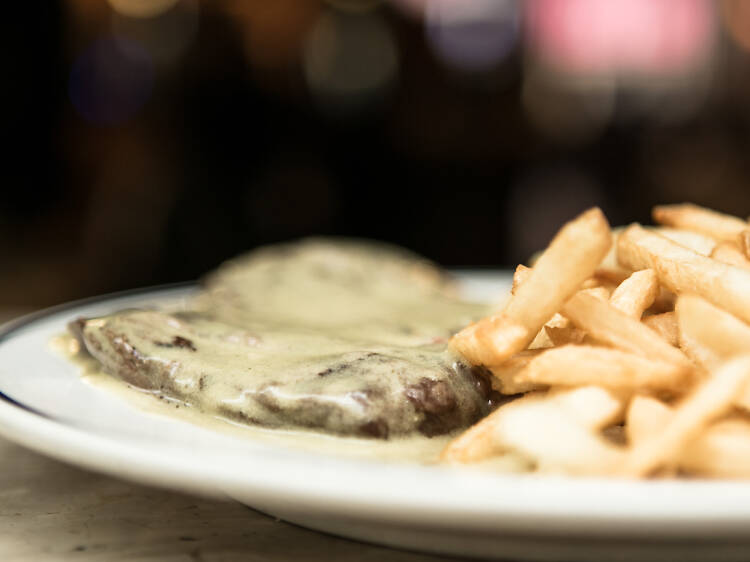 Photograph: Courtesy L'Entrecôte Saint-Jean
L'Entrecôte Saint-Jean is an unabashed shrine to that undeniably mouthwatering French bistro staple of steak frites. So ardent is their devotion that it exists as the sole entrée on their menu. They've got a point: Any restaurant that can get by with a single entrée must be doing something right, and L'Entrecôte Saint-Jean does not disappoint. This steakhouse's perfectly grilled ribeye steaks, home fries, addictive house sauce and famous chocolate covered profiteroles are guaranteed to win you over in the end. Gluttons should take note that they've got all-you-can-eat mussels and fries on Wednesdays.
20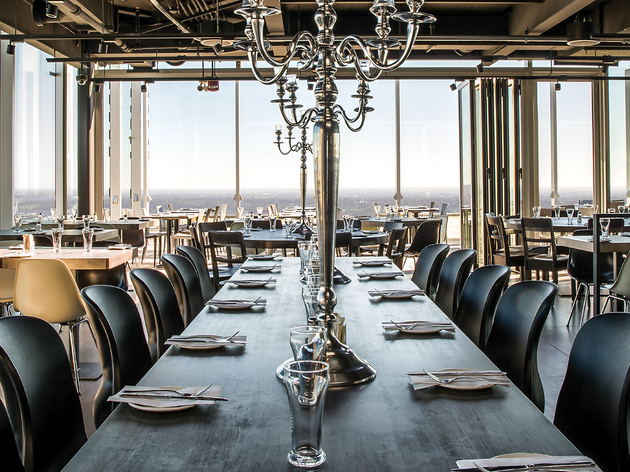 Photograph: Les Enfants Terribles
This small local chain of French restaurants holds a total of five separate locations, surely a testament both to the quality of Les Enfants Terribles' concept and the almost limitless capacity for Montreal to support French restaurants. The menus are shared between locations and consistently tasty, but for a real treat, visit their location on the upper floors of Place Ville Marie for an unbeatable 360-degree view of the city and its surroundings. If you're afraid of heights, there are other locations as well.
More of the best restaurants in Montreal