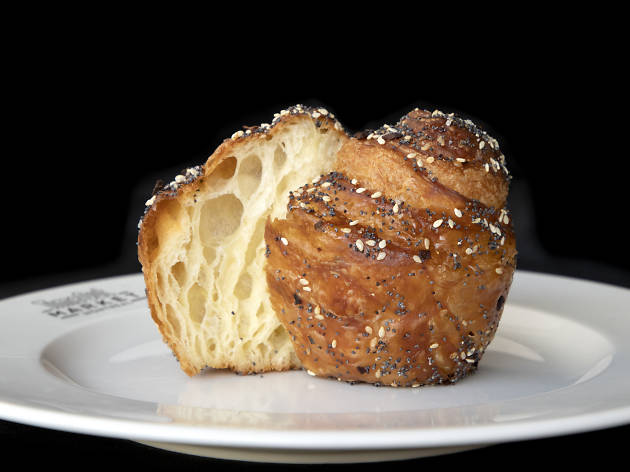 Would you like your croissant all-dressed?
Posted: Monday November 11 2019, 10:01a.m.
There was a time, several decades ago, when Montreal's bakery scene heavily featured Jewish and Eastern European breads, a time when the Main below Rachel was chockablock with Jewish, Hungarian and Polish businesses—the continuing popularity of our famous bagels is an obvious vestige of that era. Other specialties, like challah, rye breads and poppy-seed cake have, in recent years, been less visible on the scene, as Eastern Europeans have moved to more suburban area and successive influxes of Portuguese and French immigrants have taken over their old Plateau haunts.
In the past twenty years, the baked goods scene in this town has been dominated by a new wave of artisanal French breads; baguettes and croissants now reign supreme in Montreal and, admittedly, they've never been better. That's what's so remarkable about Hof Kelsten: Jeffrey Finkelstein's lovechild has single-handedly put the spotlight back on Montreal's rich Jewish bakery tradition by artfully blending it with the very best high-end French boulangerie and patisserie techniques. His shop at the corner of Saint-Laurent and Mont-Royal, a few blocks from the long-closed Saint Lawrence Bakery location (which older Montrealers will remember from the Main's Hebraic heyday), has received universal praise for its contemporary takes on forgotten classics like challah and rye, and its top-notch renditions of sourdough and baguette.
Hof Kelsten's success has spread quickly, filling restaurant bread baskets and café sandwich displays across town. They've also diversified their menu, with Suyin Wong's exceptional pastry programme. Their latest venture at Time Out Market Montreal is all about this sweeter side of things. Hof SuCrée will feature Jewish childhood favourites like chocolate babka as well as typically Montreal inventions like the croissant all-dressed, which combines the ubiquitous French viennoiserie with—what we consider to be—the best bagel seasoning. There's never been a better way to get your Hof fix on the go.
Time Out Market Montréal will be open to the public on November 14th inside the Centre Eaton de Montréal (705 rue Sainte-Catherine Ouest, niveau 1). Hours: Monday to Wednesday 8am—9pm, Thursday to Friday 8am—midnight, Saturday 9am—midnight, Sunday 9am—9pm
Share the story