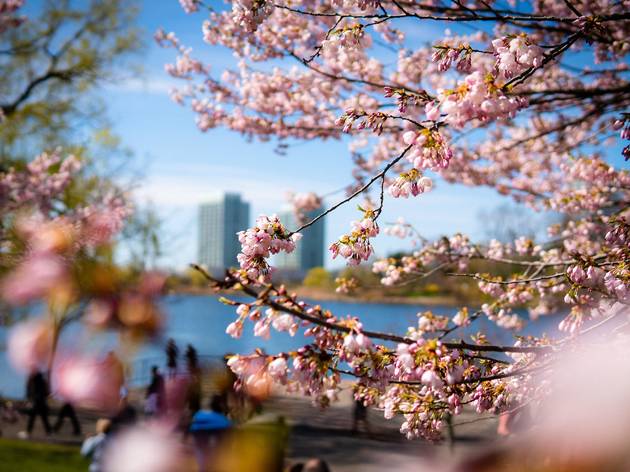 You can now watch a livestream of Toronto's annual Sakura cherry blossom bloom
Feast your eyes on 24 hours of live cam feeds and a virtual tour of High Park's cherry blossom trees
Posted: Thursday April 30 2020, 1:17p.m.
There's no better sign of spring than a view of cherry blossoms blooming, and the City of Toronto's got a live cam feed set up to watch the flowery action.
As of today, the 6ix's famous High Park—the second-largest municipal park in Toronto—has been closed off to encourage people from gathering there, as they often do every year to watch the Sakura trees slowly reveal flowers and achieve 'kaika' or 'mankai'. After the bloom is completed, the park will reopen.
It only lasts anywhere from four to ten days to as long as a week to a week and a half, so it's best to enjoy now while you can. As you'll see in the feed below, some trees have already started to bloom:
Part of the Sakura project, the first Japanese Somei-Yoshino Cherry Tree was planted in Toronto in 1959, a present from the citizens of Tokyo—a breed which are the generally the first to bloom fluffy pink and white flowers—that was followed by another 34 cherry trees being gifted to High Park, while others trees can be found throughout the city.
On top of the stream you can view above, Toronto will be broadcasting its parks staff holding a virtual tour of the Sakura tree grounds that includes the history of the park's cherry blossoms, as well as a land acknowledgement from the Indigenous Knowledge Keeper André Morrisseau.
Our advice? Pack a picnic with some hot green tea and simple sandwiches, set up a blanket on your living room floor, and put the feed on full screen alongside side some calming music like this Japanese folk song about the cherry blossoms' annual bloom.
Most popular on Time Out
- A $1 million fund has been created to support unemployed restaurant and hospitality workers
- Watch Justin Bieber, Avril Lavigne and more Canadian all-stars cover Bill Withers for charity
- Quebec will begin to reopen businesses, schools in May

- Here's a human rainbow exploring Montreal and it's giving us the moment of zen we need
- #ÇaVaBienAller: 25 photos of Montreal in rainbows and messages of hope
Share the story