Vegan food continues to snowball in popularity in Montreal, as evidenced by the next opening from the team behind Montreal's cult classic restaurant Sushi Momo: Casa Kaizen, a vegan restaurant focusing on fusion tapas that work with Asian and Mexican flavours, will be open in the Plateau as of today.
Located in the space previously occupied by June Rose—a long-defunct Chinese buffet restaurant opened by Big in Japan—Casa Kaizen holds some prime property at the corner of Pine Avenue and Saint-Boulevard in the heart of the Plateau.
View this post on Instagram
Fans of Sushi Momo will find some reognizable options on the menu like sashimi and tataki, but the Japanese tendencies Momo is known for gets a few new Japanese classics like ramen with a tomato and black bean broth or 'nacho gyoza'; that last bit's important, as it's indicative of Mexican flavors either stand alone or blend with the more Japanese offerings.
Take the nori infladita for example, a street food recipe which swaps "puffed up" Mexican corn flour dough with a sheet of nori topped with a sauce of jack fruit, miso and axiote paste, or the Imperial flautas stuffed with vegan chorizo and potato and served with a salsa verde aïoli and black garlic emulsion. Then there's also some vegan takes on calamari and fried chicken, where the protein has been replaced by mushrooms; new avenues for the vegan restaurant group.
There's also a steady supply of cocktails and mocktails, red and white wine, as well as a small but luxuriant sake selection: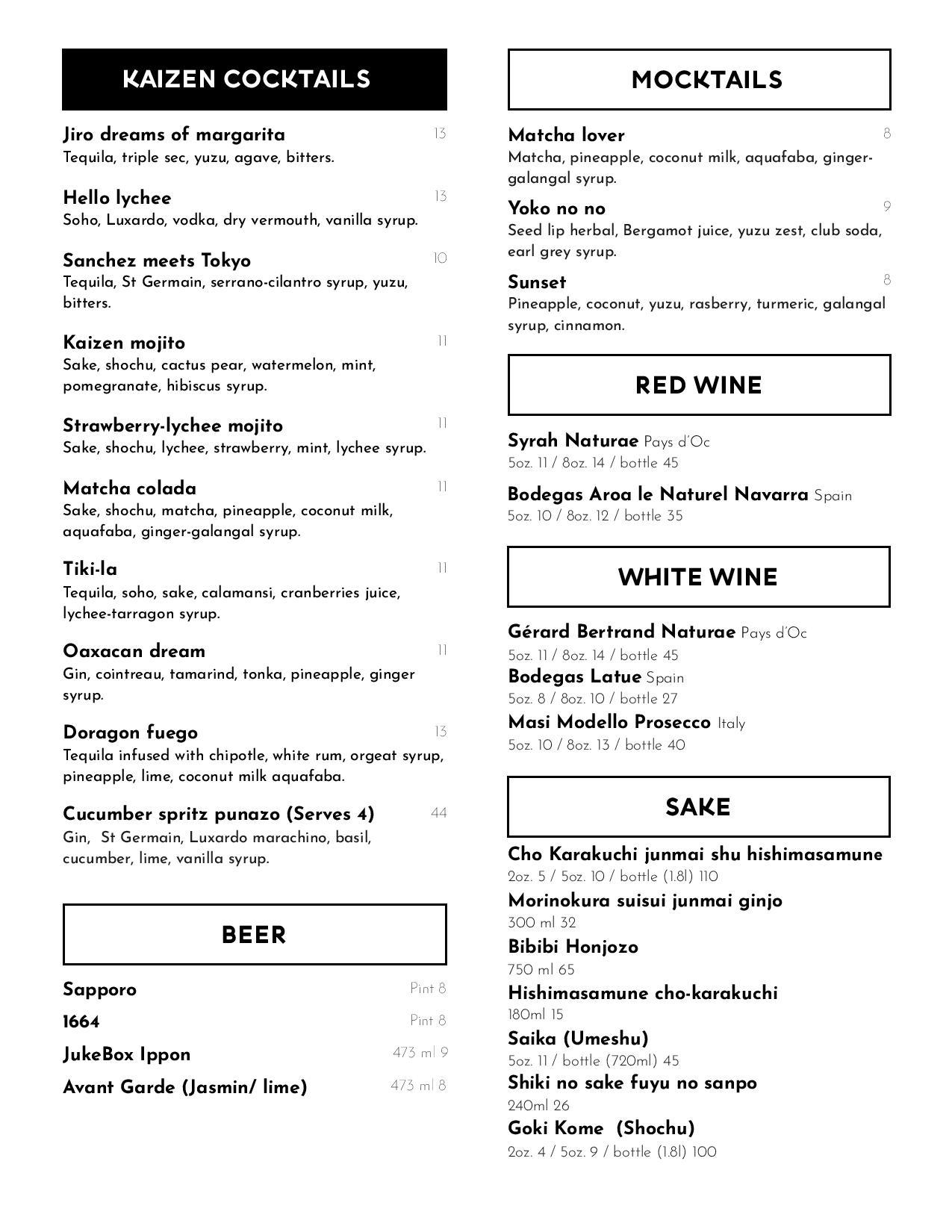 Growing hype for the restaurant isn't unwarranted. After opening in 2014, Sushi Momo has gone on to become one of the top destinations for vegan twists on traditional proteins with its recipes; instead of always wrapping raw vegetables in nori and frying it in tempura, chef Christian Manual Ventura has gained siginificant notoriety in vegan circles for performing feats like turning tomato with a balsamic glaze into a convincing replica of tuna.
View this post on Instagram
Since Sushi Momo, the restaurant group had paired up with Dominic Bujold of LOV to create Bloom Sushi, an Old Montreal restaurant following a similar formula to that of Momo, but offered in a slightly swankier setting with a greater focus on cocktails and Instagrammability.
The new restaurant resembles a slow but steady shift from the restaurant group's Japanese leanings; despite the current realities facing restaurants in Montreal right now, this new place holds promise by holding one of the more trafficked parts of the Plateau.
Casa Kaizen is located at 16 Avenue des Pins Est, open on Wednesdays and Thursdays from 5PM to 10PM, Fridays and Saturdays from 5PM to 10:30PM and Sundays from 9AM to 9:30PM; closed on Mondays and Tuesdays.
Most popular on Time Out
- Montreal's annual Pride Festival goes online in August with a full week-long program

- Pizza Toni's arrival proves New York-style pizza is all the rage in Montreal right now

- Montreal's Boustan is doing vegan shish taouk plates and pita wraps now (yes, the garlic sauce too)

- These fried and stuffed Korean pancake sandwiches from Le Diplomate are absolutely amazing

- Grab beers and go rock-climbing between skyscrapers on Café Bloc's new rooftop terrasse