Since late June this summer, crowds have been flocking to Saint-Henri's Sir George-Étienne Cartier Square every Sunday from 5pm to 10pm to watch musicians hitting an impromptu stage. The source? The organizers of Bar de Courcelle's open mic series Frisco Lee and Erik Fines have been forced out of doors and onto the green.
By putting the event out in the open, locals have been invited to show up with socially-distanced picnics (BYOB, provided food's involved) to watch the show, and they have: Families, emerging artists, dogs howling along, groups of friends—you name it. The event's never been bigger—most recently numbering in at 200 people—and it's already got the organizers thinking about making it even bigger and even better next year.
It's clear from the reception of the event that the city was hungering for these kinds of events. "When quarantine hit, there was nothing going on," Lee explains. They started live-streaming the performances through Bar de Courcelle's community. "At first we had about 60 to 70 people per stream, and then as the weather was getting nicer, there wasn't as much as a demand for it, so we realized we should be doing this outside."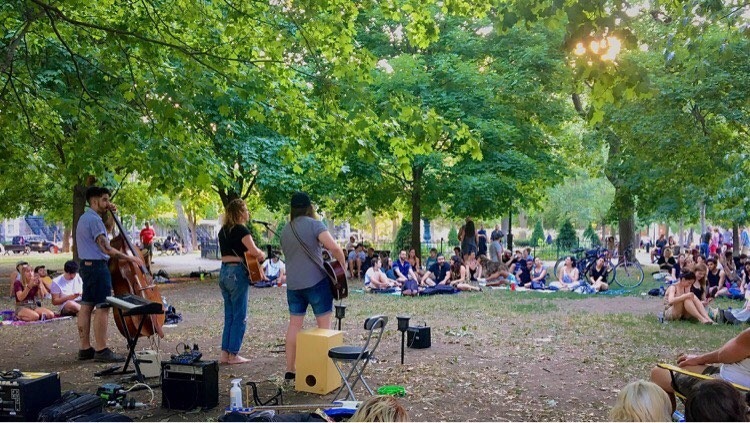 It's all no-stress, exceedingly chill, and it's helping to give nearly two dozen musicians a place to do what they do best on a weekly basis: Short acoustic sessions. "Not that it's religious, but we like to think of it as a church of good times," Fines explains. "It's refreshing. After your week, you've got that community, that music... It's a great time."
"It's more than just ceremonial, people need this," Lee adds. "I've spoken to people who say they literally need this live music, and to them it's a necessity."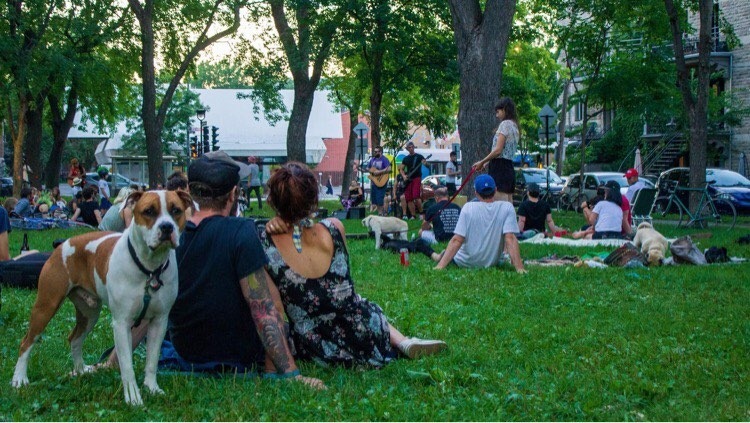 It's a massive community effort. The organizers and musicians are part of the community, but locals and neighbours have been chipping in too. "The sound setup just evolved progressively. One guy brought nice lights one time—it looked amazing—and someone else brought an industrial extension cord, and with friends right across the street with an outlet... now it's fully powered," says Fines.
"You need to be in touch with your community," Lee adds, saying that anyone can do a similar event so long as they're working together. "You'll need to have a core circle of people to help you put something like this together, the technical aspects, to branch out to artists and musicians. If you build it, they will come."
Done occasionally on a pay-what-you-can basis to cover some costs—like helping one musician's travel costs when transporting a keyboard in an Uber across town, for example—the event still doesn't cost the audience a thing and the musicians are eager.
"Most people are like, 'absolutely, I can't wait to play,'" Fines says.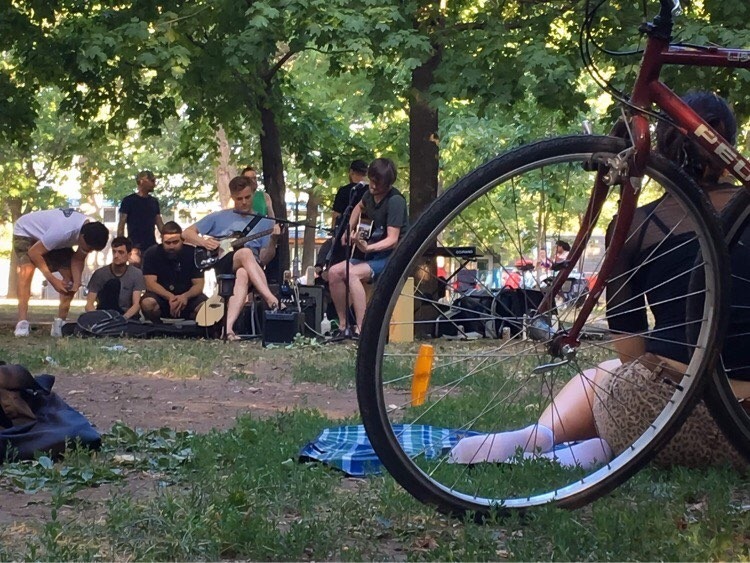 How long is it going to last? So as the weather provides for both the crowds and the musicians. "You enter into the territory of frozen fingers," says Lee, noting that harsher weather means harsher conditions for everyone. "The winds could be sharper, stuff could fall over..." But until colder temperatures prevent further shows, it doesn't take away from how the open mic sessions have become a resounding success.
As for the parameters around gatherings like this? If Montrealers think about it twice, it's no different from a park like La Fontaine getting flooded with bodies on the weekend. "We've had a couple interactions with the police over the six to seven weeks we've been doing this, and they were all very positive, very nonchalant," explains Lee. "They just wanted to know when we'd be done, they love what we're doing."
"They know we can't have live entertainment the way we want it indoors. So long as it's kept at a reasonable volume and everyone's behaving—sitting down, no dancing—they just though 'this is cool.'"
Future open mics can be found under the name of 'The Epic Outdoor Open Mic Show' or via Bar de Courcelle's Facebook page. Provided the sun is shining, open mics will take place at Sir George-Étienne Cartier Square every Sunday from 5pm to 10pm.
Most popular on Time Out
- Plan the perfect Labour Day weekend picnic with these dishes from Time Out Market Montréal

- A free outdoor open-air art gallery pop-up is setting up in a downtown park next week

- Experience mind-bending music and interactive art galleries during the MUTEK festival next week

- This weekend's your last chance to trip out in this 360-degree spherical projection room

- Time for a cocktail crawl, Montreal: Invasion Cocktail's huge mixology festival starts next week