You can officially say 'adieu' to the brunch line-ups over at the main restaurant of Le Passé Composé in the Village, Montreal: An all-day menu of greatest hits—we're talking about tartines, panko French toast fries, seared foie gras on poached eggs and more—from chef Arnaud Glay and his team is now available at Time Out Market Montréal as of today.
Who says you can't have brunch past, well, time for brunch? We're calling it: Eggs are a perfectly acceptable dish to dine on at any time of day, esepcially when they're made by one of the best restaurants in town.
From open 'til close, you can now grab plates that range from a fresh croissant sandwich stuffed with roasted white Gaspor ham, a sunny side goose egg, aged cheddar and baby spinach to a Saint-Viateur bagel filled to burst with smoked salmon, a panko-crusted and fried avocado, and basil cream cheese with a side of jalapeño Greek yogurt. Maybe some French toast 'fries' for dessert, washed down with some freshly-sqeezed juice or a smoothie.
Here's the full menu:
Foie Gras Poached Egg
Brioche bread, pan-seared foie gras, prosciutto chips, black beer and onion compote, poached goose egg, creamy foie gras sauce, poppy seeds, arugula sprouts
Tartine "De Chez Nous"
Slice of country-style bread, roasted chorizo, sweet potato purée, confit peppers, poached goose egg, Manchego shavings, coriander sprouts
Passé Composé Bagel
Saint-Viateur bagel, artisinal smoked salmon, panko-crusted and fried avocado, basil cream cheese, red onion, chives, stuffed and fried jalapeño, jalapeño Greek yogurt, coriander sprouts, lime zest
BLT Composé
Brioche bread, glazed Gaspor lard, panko-fried aged cheddar, mayonnaise, old-style mustard, sunnyside goose egg, niçoise, cherry tomato salad, aigrelette sauce
Croissant "Our Style"
Fresh croissant, roasted white Gaspor ham, sunnyside goose egg, cream of leek, aged cheddar, baby spinach
House crumble
Toasted baguette with ricotta and fresh vanilla bean, coconut yogurt, rum and raisin crumble, maple-infused pineapple salsa, coconut flakes, mango and passion fruit coulis, edible flowers
Panko French Toast
Panko-fried French Toast sticks, lime yogurt, berries, maple syrup, icing sugar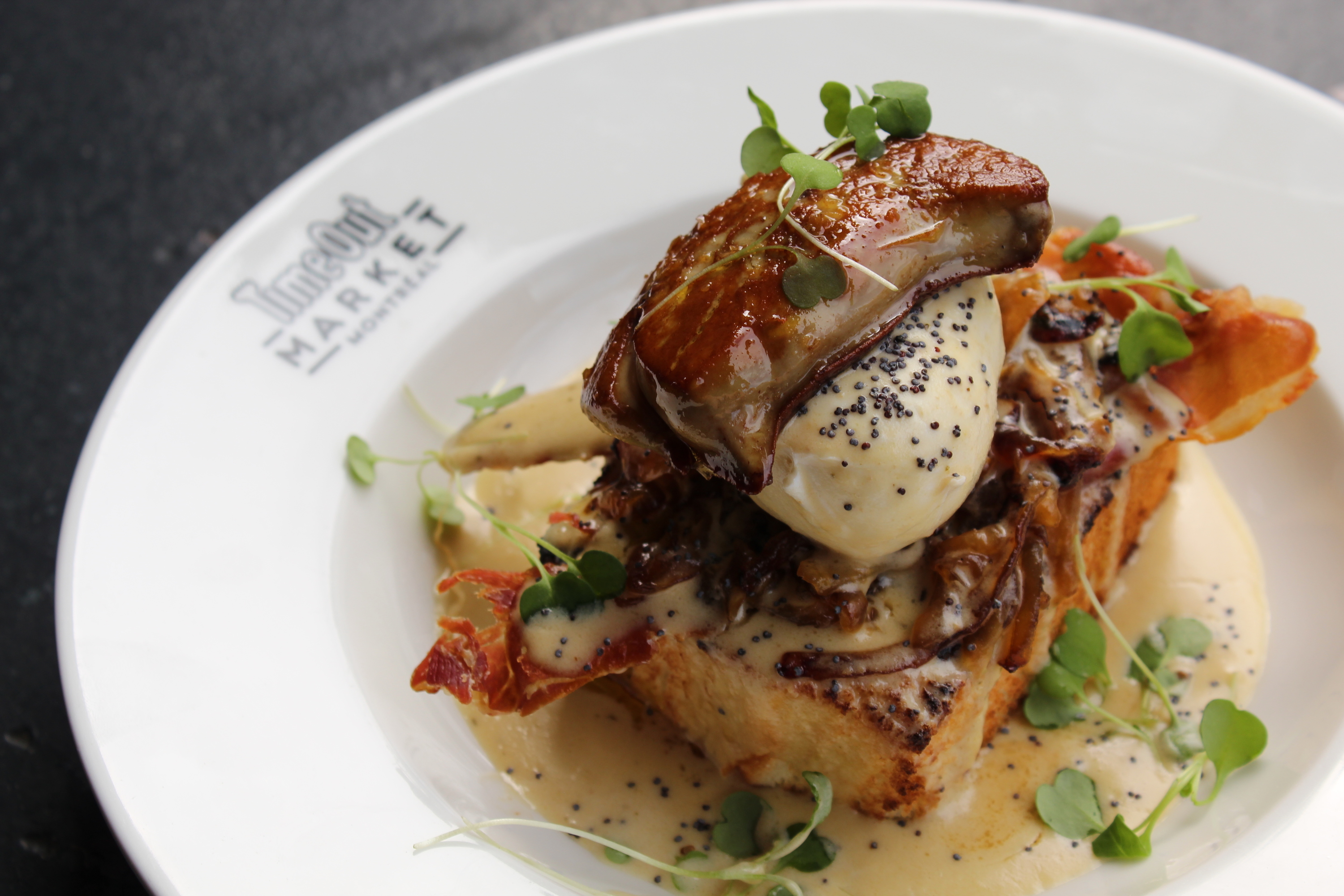 Le Passé Composé is now open at Time Out Market Montréal every day of the week from noon to 8 p.m.