Everyone in Montreal's got their favourite sandwich spot, from corner delis and butchers to neighbourhood restaurants, but this new menu item from the small plate-focused restaurant Le Diplomate stands out: It's worth travelling for.
They are essentially stuffed hottoek (Korean pancake) sandwiches, fried bread that's flavorful, crisp on the outside and with a chew to it that's similar to a fresh pita or naan. It gets better, as the restaurant's been filling them with options like steak and cheddar, grilled vegetables and black garlic, a 'club sandwich' with duck, tempeh with an asada marinade, and fish with 'nduja. While several of them come with meat, there are vegan options as well.
In short: The sandwiches are like nothing you've ever had in Montreal.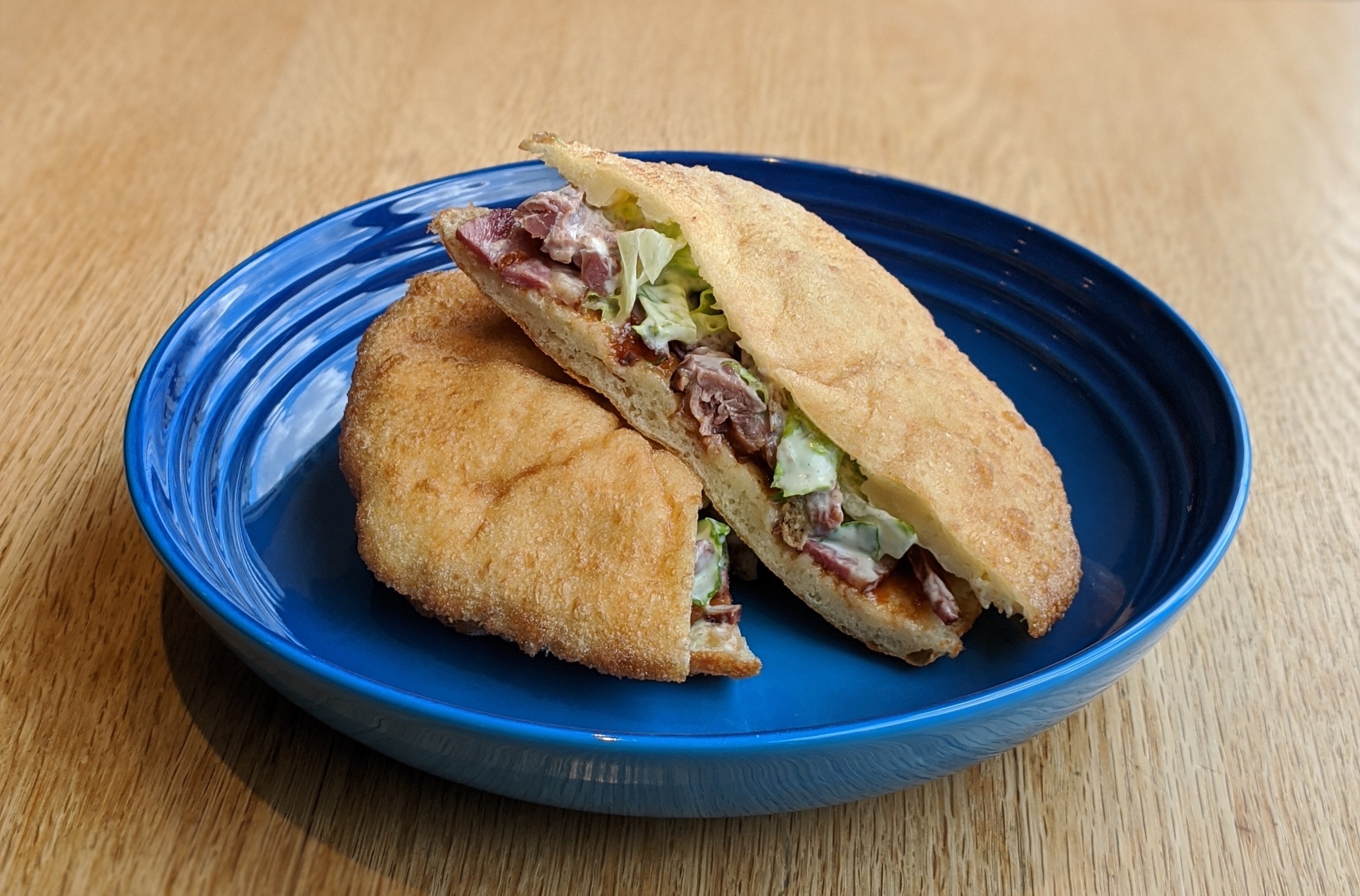 "We knew very quickly that it would be hard to do small sharing plates during a lockdown, so we had to pivot into an individual plate format as many restaurants had to," explain chef Aaron Langille. "We had been discussing a lunch service for years, and at some point stumbled upon a recipe for Korean Hodok (or Hottoek) and thought that the sweet fried dough would be a great medium for sandwiches."
Langille's turn towards casual, grab-and-go options is one that many restaurants have had to wrangle with now that the seating capacity in restaurants has been diminished. In Le Diplomate's case, they still haven't opened up their dining room which clocks in at only 24 seats. While there is a private dining room that continues to be open in the back of the restaurant, this new takeout-only format was a necessity that's resulted in a lot of innovation.
Using both white and rice flour, coconut milk and the bread basics of water, salt, sugar, and yeast, Langille and his team have created an awesome sandwich base. "It's incredibly flavorful with a good crisp and chew to it," says Langille, and we're inclined to agree.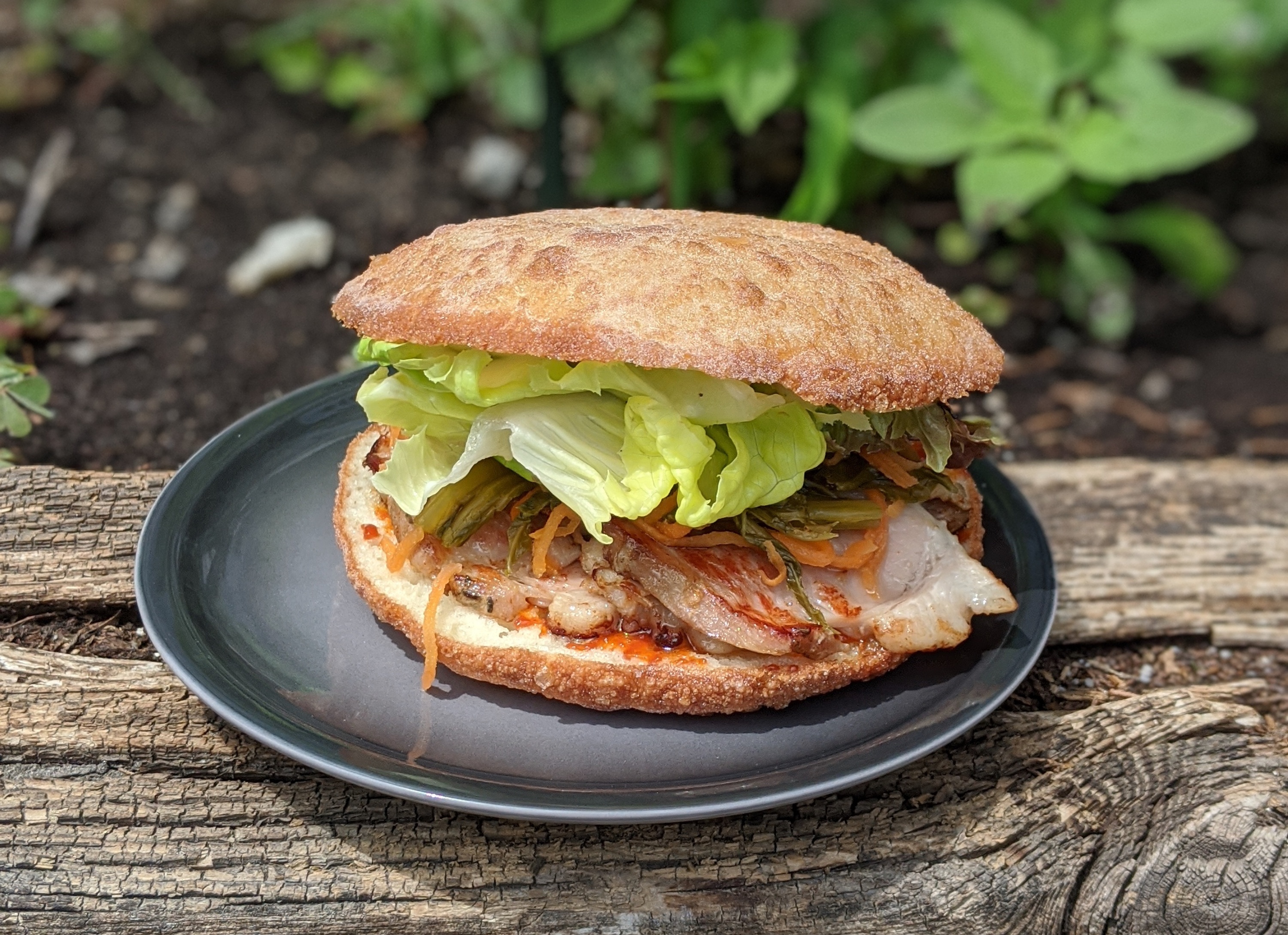 In addition to these sandwiches, Le Diplomate continues to boast one of the better wine cellars in the city. "We have an incredible wine list of over 100 references with a lean towards natural and biodynamic wines. Without doing any research on the matter, I dare say that we might have the largest selection of orange wine in the city," says Langille, noting that he's selling cases of six wines or more at 25% off.
"It's all importation privé, the lines are shorter than at a SAQ, and fewer people have touched the bottles. As we like to fill our sandwiches with flavourful and sometimes fermented things, I would recommend pairing our food with orange wines, weird whites, or light and chuggable reds."
Most popular on Time Out
- Grab beers and go rock-climbing between skyscrapers on Café Bloc's new rooftop terrasse

- Air Canada's new summer schedule has direct flights to some beautiful (unlocked) destinations

- Hockey's back: The Montreal Canadians are playing the Toronto Maple Leafs tonight, plus more matches to come

- Order up: Time Out Market Montréal is doing delivery now

- Foresta Lumina & Tonga Lumina: You need to experience these trippy night hikes this summer