On August 4, two massive explosions hit the port of Beirut. The explosions followed the ignition of an estimated 2,750 tons of ignited ammonium nitrate that had been left unsecured for six years in a warehouse, according to Lebanon's prime minister Hassan Diab.
The chemical disaster killed at least 78 people and injured thousands more with an enormous blast wave that shattered windows, blew down doors and caused buildings to shake.
The explosion wasn't felt as far away as Canada, but Montrealers have been taking to online platforms like Facebook and Reddit to mock up what the blast radius would look like if it happened in the Port of Montreal.
Comparatif de l'explosion du port de Beyrouth avec le port de Montréal from r/montreal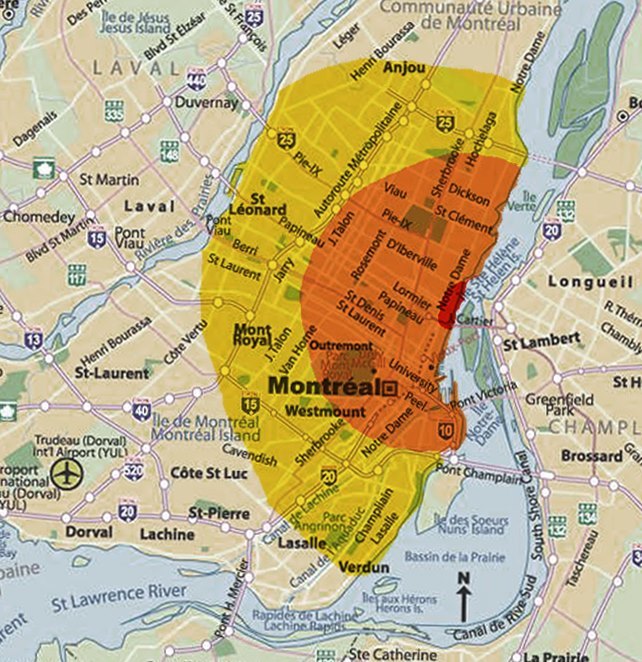 The images put the magnitude of the event in grim perspective; were it to happen in Montreal, nearly two-thirds of the immediate island would be affected with the blast reaching as far as TMR and Saint-Leonard.
"(This is) to give an idea of the extent of the damage caused by the explosions in Beirut," wrote Réal Godbout in a post on Facebook, pictured above. "I transposed the affected areas (on the Island of Montreal only) on a map of Montreal: in red, total destruction, orange , significant damage and yellow, observable damage."
Anyone who wishes to help the victims of the Beirut explosion are encouraged to donate to the Lebanese Red Cross; the Lebanese Food Bank; the food, medical and housing cost supporter Beit el Baraka; the health and psychological service provider Amel Association; and Impact Lebanon, which raises money for the Lebanese diaspora whose homes were destroyed in the blast.
Most popular on Time Out
- Grumman '78 is doing Drag-Thru brunch services in Saint-Henri and they are FAB-U-LOUS

- WATCH: The Arcade Fire marked the 10th anniversary of The Suburbs with a surprise performance

- Forget Netflix exists this month: Fantasia Film Festival is going to be the best watch party of 2020

- The Planetarium is hosting meteor shower watch parties at the Montreal Botanical Garden next week
- Check out footage and photos of the four immense thunderstorms that struck Montreal on Sunday