10 of the best hotels in Morocco
For a splash of luxury or somewhere to kick back at the end of a dusty day, here's our list of Morocco's best hotels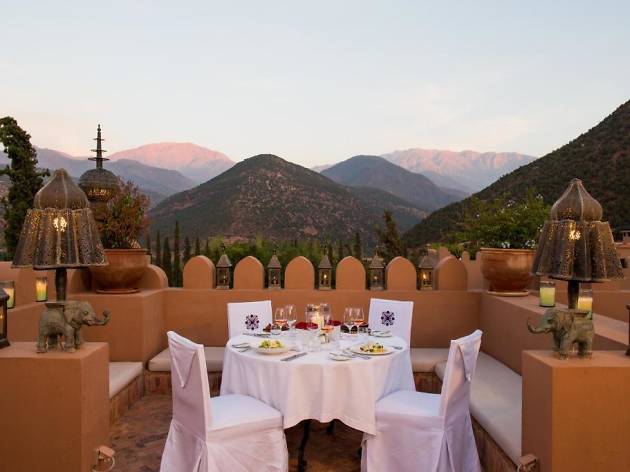 As the writer Paul Bowles, who wrote most of The Sheltering Sky here back in the 1940s, knows, Morocco offers an endless supply of experiences. In Bowles's case it was supposedly copious quantities of drugs that fuelled the sense of alienation his novel deals with, but these days the North African country offers a far less troubling experience, the smells, colours, tastes and, of course, sunshine combining to create a memorable vacation whether you're looking to rummage through the souk, trek through the Sahara or splash about in the Atlantic surf. But be warned, as in Bowles's day, it's still a place that can be seriously frenetic or magically peaceful, which means that booking somewhere to relax at the end of a baking, dusty day is paramount.
Accommodation here varies from opulent international chains to basic backpacker digs, from mountain-top kasbahs to enchanting city riads and laidback beach belles to wellness retreats - with prices, especially at the mid and lower end, that are a steal compared to Europe. Here's our selection of the best places to stay throughout the country.
Best hotels in Morocco
1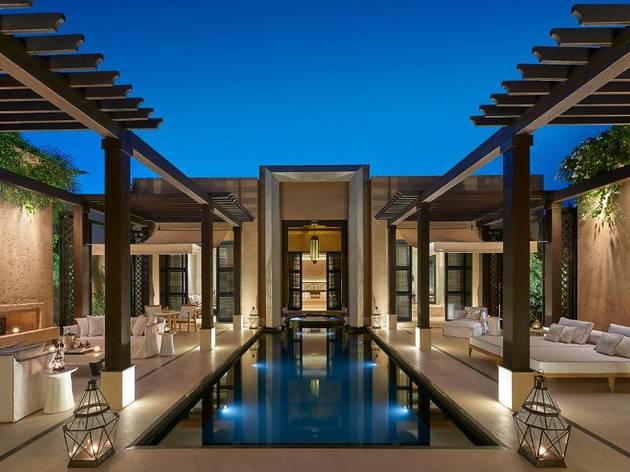 Booking.com
Mandarin Oriental, Marrakech
Given how many there are, it's not easy to pick a favourite five-star hotel in Marrakech. Most are outside the medina (the walled city) and so have the luxury of space, and the Mandarin Oriental is no exception. Sitting in 50 acres of manicured gardens fit for a king, its 54 villas come with private outdoor showers as well as their own hammams, though there's also a colossal spa on site too, as well as two golf courses and three restaurants. These surroundings and the hundreds of staff that look after them don't come cheap: rooms start at over £700 a night – and that's in low season.
2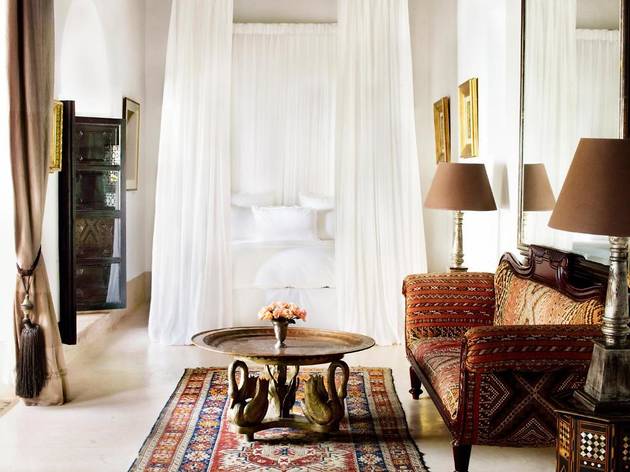 Booking.com
For something more intimate (and central), try Jasper Conran's riad, which is a short stroll from the Koutoubia Mosque and Marrakech's main square, Jemaa El Fna, and so perfect for soaking up the atmosphere of the medina, albeit in refined environs. It has just five suites as well as a small pool surrounded by orange and lemon trees and, up top, a roof terrace for enjoying a mint tea while the sun sinks behind the mountains. Unsurprisingly, given the owner, decor is key here: think understated crisp white walls, Egyptian cotton sheets and draped four-poster beds, in a house dotted sparingly with 1930s furniture and local crafts.
3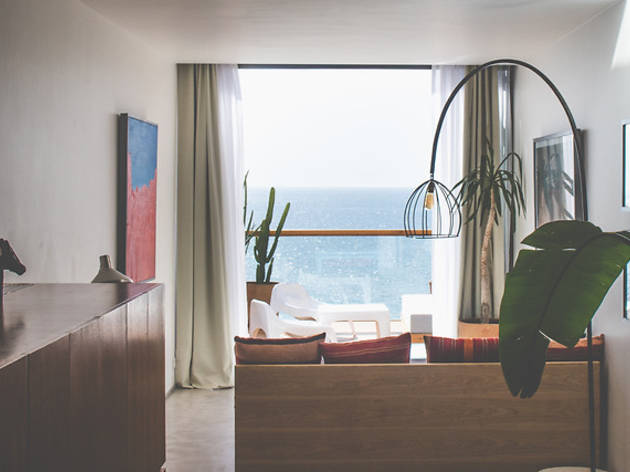 Photograph: Amouage
Amouage By Surf Maroc, Taghazout
If you're looking to escape the crowds while having a decidedly modern, North African break, try this Brit-owned seafront yoga and surf hotel about an hour's drive from Agadir. Taghazout is a laidback, hippie-ish surf town but the vibe at Amouage is more slick and stylish than boorish backpacker. There's an infinity pool, an outdoor cinema, a pool table and a bar, as well as cracking views from the yoga deck. Given all this, you might not want to prise yourself away, but seeing as wetsuit and board hire are included in packages, most guests tend to make the most of the swells.
If you're looking for bygone era charm, this 10-room country house, perched on a hill overlooking Tangier and the straits of Gibraltar, has colonial glamour in spades. Built by a Times correspondent who is said to have been one of the inspirations for Indiana Jones, it was subsequently home to a Duke and a Pasha, though is now popular with a-list creatives looking for a soignée hideaway near bustling Tangier. There's a well-regarded French restaurant but mainly it's about hiding under a straw hat by the pool and penning your '40s spy novel.
5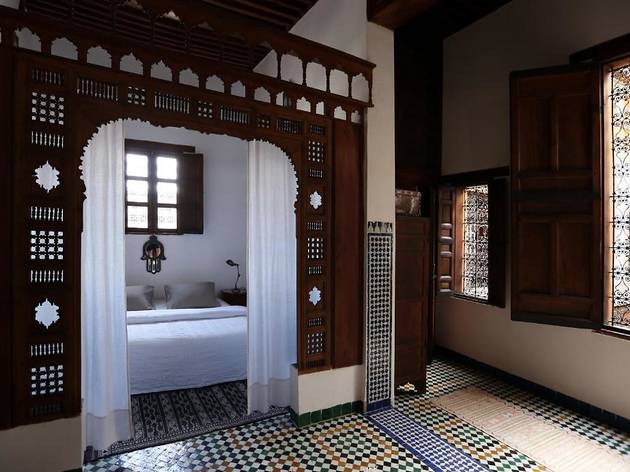 Booking.com
You won't find a pool or a spa at this six-room, 600-year-old house in the heart of Fez's medina, and really, that's the point. What you will find is a meticulously renovated labour of love, whereby the owners Kate and Alaa undertook a seven-year careful refurbishment, filling the guesthouse with treasures from the surrounding souk as well as crisp white sheets on the beds and beautiful Berber rugs on the floors. Special mention goes to the extensive breakfasts and dinners, which are eaten communally on the roof.
6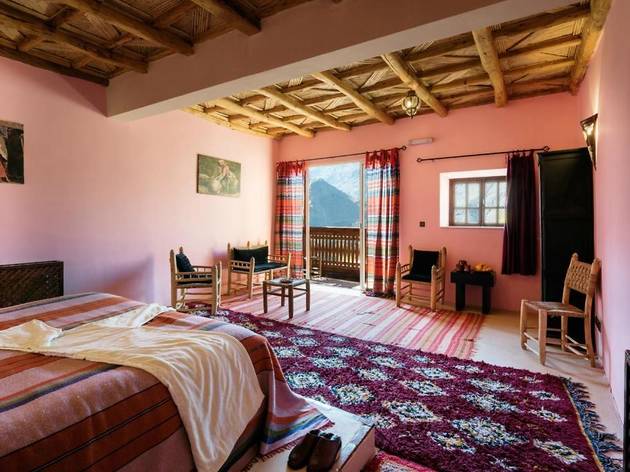 Booking.com
Kasbah du Toubkal, High Atlas Mountains
This eco guest house in the Toubkal National Park is an inspiring, award-winning example of sustainable, ethical tourism in action. In a beautiful setting and more mountain refuge than hotel, it's a prime spot for hiking the surrounding High Atlas mountains, though you're welcome to stay put and read, drink tea and meditate on the extensive terraces that overlook the local village and surrounding reddish mountains. Note that some exercise is unavoidable though: you have to walk the15 minutes from the local village to the hotel as there's no road, (though mules do the hard work of carrying your bags).
7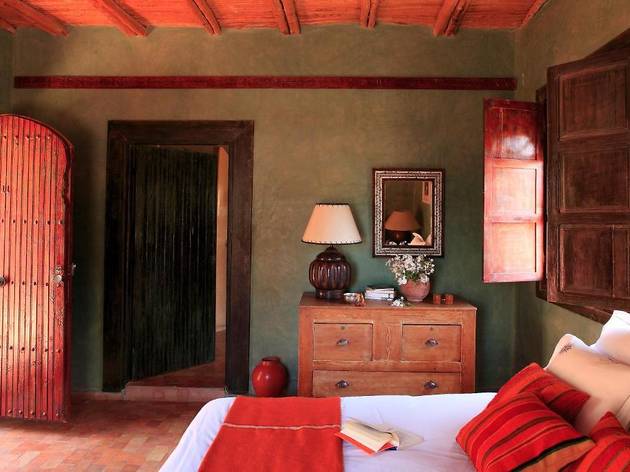 Booking.com
Le Jardin de Douars, Essaouira
The seaside town of Essaouira on the Atlantic coast has long been popular with travellers longing for hippie-tinged seaside charm. More recently, Easyjet flights and notoriety as a Game of Thrones location have meant it's gotten busier, but it still manages to retain a certain mystical, salty charm. If you want to explore the medina but also have some quiet time, the Jardin de Douars is a good option. Peace is what it's about here: you won't find TVs or wi-fi in most of the rooms, and there are adults-only areas, including one of the two pools and a dining room, meaning that you can escape both the real world and its offspring. Come instead for international cooking, a fine spa and some beautiful spots in which to enjoy the weather (sun hats are available to borrow).
8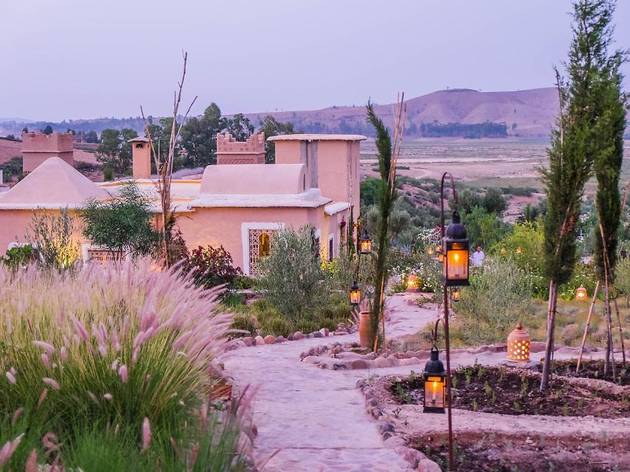 Booking.com
Kasbah Beldi, Atlas foothills
Another rural gem, this time just under an hour's drive from Marrakech, is this stunning lakeside Kasbah at the feet of the Atlas mountains. There are 30 rooms, two pools (plus a kids' pool), a couple of restaurants and a spa, but really, it's the surrounding countryside that's the draw here, with hiking, horseriding or Berber cooking classes all on offer. Service and attention to detail are top-notch: from candles dotted about the gardens at night to rose petals in your bathroom after returning from a sticky afternoon walk, nothing is been forgotten.
9
Booking.com
Dar Les Cigognes, Marrakech
This is one of the few hotels in Marrakech's medina that has direct street access, which means that a taxi can drop you right outside – not to be balked at when the alternative is navigating the maze-like streets upon arrival. Inside you'll find a spa and hammam, and subtle, modern design that pays homage to the building's history. It's well located for sightseeing, being just at the gates of the Royal Palace, and foodies rejoice: this dar, or house, has won awards for its cookery school, so if you're keen to knock out a decent tagine back home, you know where to come.
10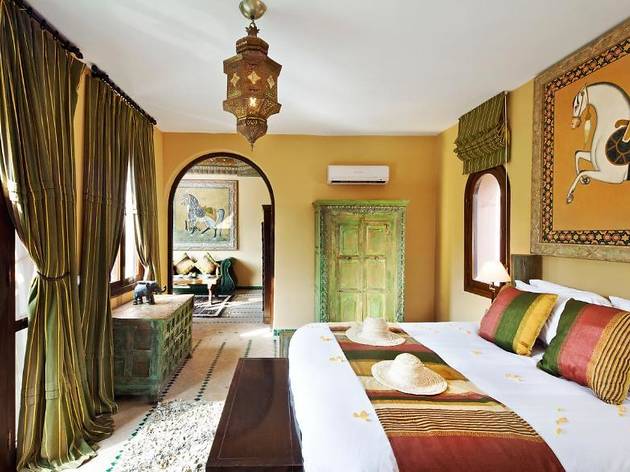 Booking.com
Kasbah Tamadot, Atlas Mountain
Richard Branson's Moroccan castle in the Atlas mountains is everything you'd expect from a celeb-owned hotel. There's a gym, spa, tennis courts, indoor and outdoor pools and intriguing, local objets a-plenty (the previous owner was an antique dealer/interior designer, and it shows). Rooms (28 of them) range from the Aman, which has its own pool, to six luxurious Berber tents with private whirlpool baths. If you want to venture out – and with views like this you should, despite the difficulty you'll have tearing yourself away – bring your walking boots and do some trekking… accompanied by the hotel's resident mules.