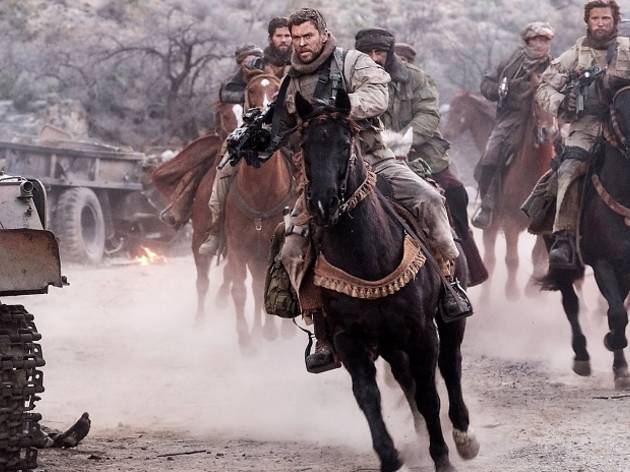 Time Out says
Chris Hemsworth tackles the Taliban in a workmanlike War on Terror western.
If it looks like a western, trots like a Western and neighs like a western, it must be a western. '12 Strong' comes from real life – specifically a covert Green Berets operation that went down in Afghanistan shortly after the Twin Towers fell – but the movie plays like the squarest of John Wayne cowboy flicks, riding tall in the saddle with a minimum of casualties. Snappily directed by Nicolai Fuglsig, the mission is presented excitingly enough: Drop into country from a high altitude at night (the near-sci-fi influence of 'Sicario' is never far from mind), meet with a surly local Afghan general and gain his trust, ride on horseback for miles, then do battle with the Taliban. It's early days in the War on Terror, so the long slog of entrenchment isn't on anyone's mind. Afghanistan is the 'grave of empires', we hear twice in the movie, yet that wisdom doesn't seem to register all that much.
Chris Hemsworth looks persuasive enough on horseback as the squad's captain; he's got Michael Peña, Trevante Rhodes ('Moonlight') and nine other indistinguishable actors to lead into battle. Movies like 'The Magnificent Seven' and 'The Dirty Dozen' once pulled this off much better, giving each character an identifying trait (knife-throwing, being Ernest Borgnine, etc.) to help us pick them out when the action gets hairy. No such luck here. Perhaps ironically, it's the allied Afghan warlord (played by an intense Navid Negahban) who comes off most charismatically. 'You don't have killer eyes,' he tells Hemsworth's soldier, and you can't help but agree with him. But Thor eventually gains his trust – and a modicum of fierceness. If you want to feel good about a war with no end, this one's for you.
Details
Release details
Rated:
15
Release date:
Friday January 26 2018
Duration:
130 mins
Cast and crew
Director:
Nicolai Fuglsig
Screenwriter:
Peter Craig, Ted Tally
Cast:
Chris Hemsworth
Michael Peña
Michael Shannon
Trevante Rhodes