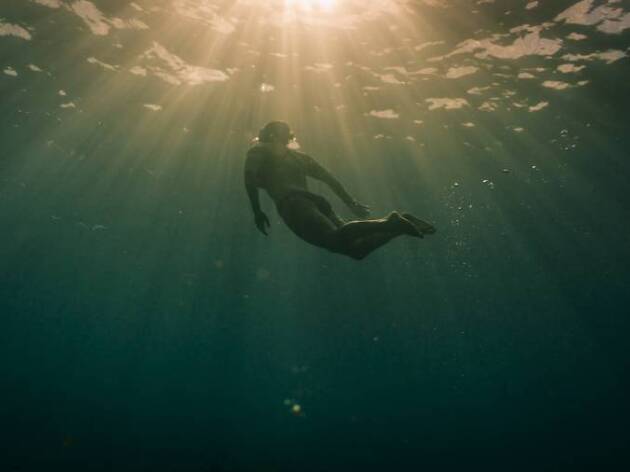 Time Out says
There's no shortage of raw courage in an oceanic doc that charts the fine line between determination and obsession.
If you thought swimming the English Channel was worthy of serious brownie points, wait until you hear about Oceans Seven: a marathon swimming challenge that takes in seven terrifying open sea channels across the world, from New Zealand and Hawaii to Japan and Northern Ireland. Suddenly the English Channel starts to look like your local lido.
This doc follows Somerset single mum Beth French as she attempts to swim all seven routes in one year, followed by just a small boat and a willing helper in a canoe. If you've ever wondered 'what's the point' of trying such a thing, that's the question this 'Oceans 7' tackles head on. What drives someone to take to shark-infested waters and swim for hours and hours against dangerous currents in the pitch black? For Beth, her relationship with her young son, who might be on the autistic spectrum, is one of the motivating factors – but is this swim bringing them closer together or driving them apart? The scenes of the swims themselves are tense and engrossing, even if Beth herself remains a mystery by the end. Some key questions to do with her back story and her motivations for taking to the waters remain unanswered. But the film swims in some unexpected and challenging directions nonetheless.
Details
Release details
Rated:
12A
Release date:
Friday May 17 2019
Duration:
88 mins
Cast and crew
Director:
Stefan Stuckert