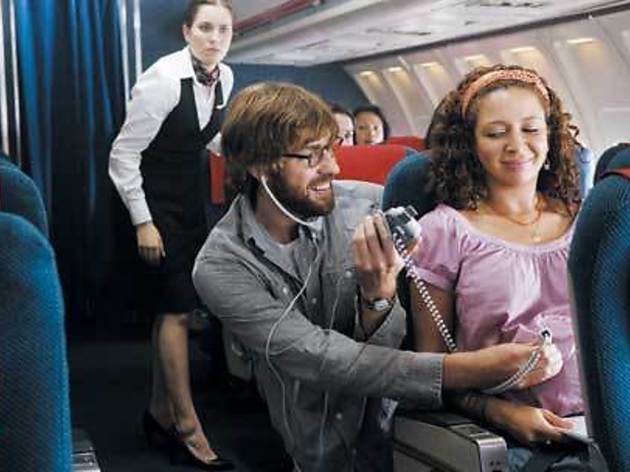 Time Out says
For those of us wondering what it would look like if a Kubrick imitator directed Garden State, we have our answer in Away We Go. Director manqu Sam Mendes and word-slinging power duo Dave Eggers and Vendela Vida are the creative minds behind this bit of navel-gazing malarkey, which tells the U.S.- and Canada-traversing tale of thirtysomething couple Burt Farlander (John Krasinski) and Verona de Tessant (Maya Rudolph). Verona's newly pregnant; Burt's feeling aimless; and they're both looking for a place to settle down, so they hit the road to visit friends and relatives all over the upper western hemisphere as a sort of hometown audition process.
This presages all manner of broadly comic and twee dramatic encounters with everyone from shrill, sun-browned Allison Janney to mooning, mystical Maggie Gyllenhaal. But the tipping point for Away We Go comes when Burt and Verona's Canadian pal, Munch Garnett (Lynskey), performs an amateur-night pole dance to the Velvet Underground's "Oh! Sweet Nuthin'."
Munch somnambulantly dips and sways with the music, like a plain-Jane Cyd Charisse conveying the mysteries of the universe through movement, la Nicholas Ray's Party Girl. Indeed, Lynskey is so raw and emotionally invested that it initially seems as if Mendes, Eggers and Vida will allow the actress's actions to define her character's emotional pain. Yet none of them trust in the power of implication, so Munch is ultimately reduced to an insert-shot punch line, her troubles explained away by her tear-stained husband Tom (Chris Messina). That's Away We Go in brief: the endless promise of profundity trampled by dime-store psychologizing.—Keith Uhlich
Opens Fri.
Details
Release details
Cast and crew