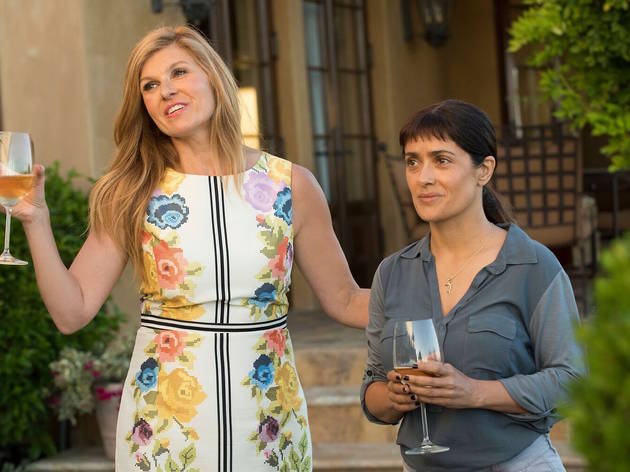 Time Out says
This savage, timely conversation piece—a showdown between a Mexican masseuse and a boorish real estate tycoon—will occupy your mind long after the lights go up.
In our moment of big, beautiful border walls, "bad hombres" and extreme vetting, this bleeding-edge satire's premise seems as timely as the nightly news. A savage Buñuelian comedy, Beatriz at Dinner pits an oily variation on Donald Trump (John Lithgow in one of the juiciest performances of his career, which is saying something) against soulful Mexican masseuse and healer Beatriz (Salma Hayek) who, for all her gentleness, might end up murdering this douche bag over dessert. Beatriz isn't exactly on the guest list; her car has broken down, and her white-guilt–stricken employer invites her to eat. But as soon as Lithgow's real estate developer starts talking about his safari trips and the animals he's bagged, pure vengeance shoots out of Beatriz's eyes.
Screenwriter Mike White channels his inner rage and gets a surprising amount of it on the page. Together, White and his Enlightened director Miguel Arteta have an almost magical way with light-touch verbal sparring, an art that's become lost in today's broad, banter-filled comedies. The film gets so many exquisite details just right—the vacuous party guests, Hayek's slightly self-righteous pose, the happy clink of the wine glasses—that it's a letdown to realize the movie doesn't have a proper ending. You take it home with you and argue about it.
Follow Joshua Rothkopf on Twitter: @joshrothkopf
Details
Release details
Cast and crew
Director:
Miguel Arteta
Screenwriter:
Mike White
Cast:
Salma Hayek
John Lithgow
Chloë Sevigny
Connie Britton