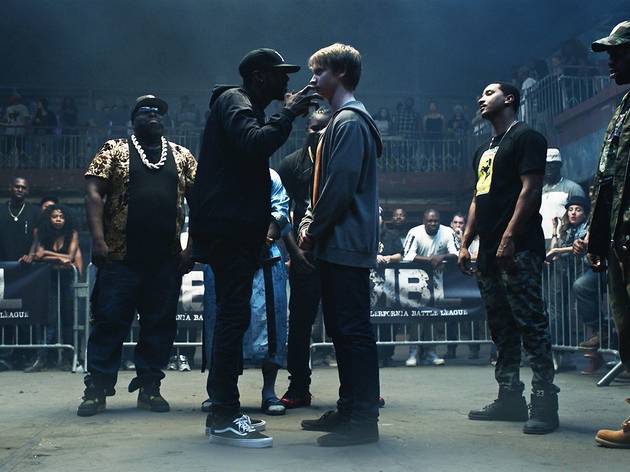 Time Out says
Battle rap unleashes a beast in an unsettling comedy that confronts white entitlement.
Director Joseph Kahn has a hyperactive camera style, laden with asides and fillips; as evidenced by his vapid 2011 meta-horror film Detention, it can sometimes feel like a walking, talking case of OCD. Since then, he's taken a full seven years to rethink the long form (not unprofitable ones, filled with Taylor Swift videos). Now Kahn reconnects with a story that lends his technique a purpose: Bodied is a deliriously rude provocation, maybe the most daring race-related movie since Spike Lee's Bamboozled. It's about a brainiac grad student, Adam (Calum Worthy), who, for his thesis, dives into the semi-underground world of battle rap, where he stands out. Almost accidentally, Adam is called upon to participate and—wouldn't you know it?—he's not so bad (Kahn gets a lot of use out that "you just got dissed" air-horn sound effect). But Adam's newfound confidence leads to racial insensitivity and worse.
It's easy to seize upon the factoid that Bodied is produced by Eminem, but the film is no mea culpa—there are way too many sophisticated ideas in it. (8 Mile already got the job done anyhow.) Worthy is a marvel, transitioning from pasty wallflower to a glowering, unencumbered threat. There's a terrific role for Adam's dad (Anthony Michael Hill), a celebrated lit-theory prof swarming with coeds who, back in the '90s, did some cultural appropriating of his own; Adam's girlfriend and liberal enclave also come in for some nose-tweaking. But Bodied's slyest aspect is the way it begins throbbing like the veins in Adam's head, the rhymes infusing every scene, even during Kahn's most incidental moments (Alex Larsen's script is ingenious). Some of Adam's antagonists are cartoonish, but this isn't a plot that wants to solve itself for your own peace of mind. While you're grappling with it, you can savor the poetic genius that would pair Harry Potter and Jeffrey Dahmer.
Follow Joshua Rothkopf on Twitter: @joshrothkopf
Details
Release details
Cast and crew
Director:
Joseph Kahn
Screenwriter:
Alex Larsen
Cast:
Calum Worthy
Jackie Long
Anthony Michael Hall
Rory Uphold