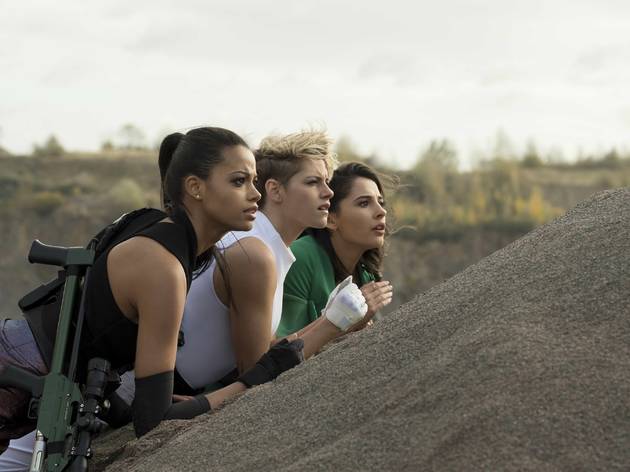 Time Out says
No one was clamouring for a reboot, and this one is a mess.
Invented by men as pure escapism, the original 'Charlie's Angels' TV show had sexism baked into its concept: three gorgeous female private investigators, each with her own hair color. That's it. Correcting this pitch – whatever that might entail – seems like a fool's errand, so it's excruciating to watch Elizabeth Banks, as sharp a comedian as Hollywood has, be that fool. Serving as screenwriter and director for this forgettable sequel, Banks somewhat dials back the butt-ogling goofiness of McG's 2000 and 2003 entries (both films play like borderline-offensive relics now), turning Bosley into a generalised rank, not a boss, and playing the role herself. She also has kohl-eyed cypher Kristen Stewart as the newly invented spy Sabina, whose scowl can either be interpreted as complex toughness or the actor taking a mental note: Must have talk with agent.
For all of its #MeToo heavy lifting, though, the film still doesn't work, mainly for the same reasons as before: Constructed as symbols (not human beings), these characters have too much spy stuff to do and yet, not quite enough. Naturally, we get two other angels, just to keep the IP lawyers happy – neither Naomi Scott nor Ella Balinska make much of an impression – and the trio chases down a clean-energy MacGuffin while doing battle with a procession of sexist pigs. (Come back, Crispin Glover, all is forgiven.) Action scenes are chopped into a dizzying mush, impossible to follow. The movie's most fun moment is too brief: Stewart and Balinska hit the dance floor to unleash some choreographed posing to a squelchy pumped-up remix of Donna Summer's 'Bad Girls', after which they commandeer the party's photo booth for a limb-entangled series of snaps. It's both millennial and ironically close to the 1976 game plan.
Details
Release details
Rated:
12A
Release date:
Friday November 29 2019
Duration:
119 mins
Cast and crew
Director:
Elizabeth Banks
Screenwriter:
Elizabeth Banks
Cast:
Elizabeth Banks
Kristen Stewart
Naomi Scott
Ella Balinska
Patrick Stewart