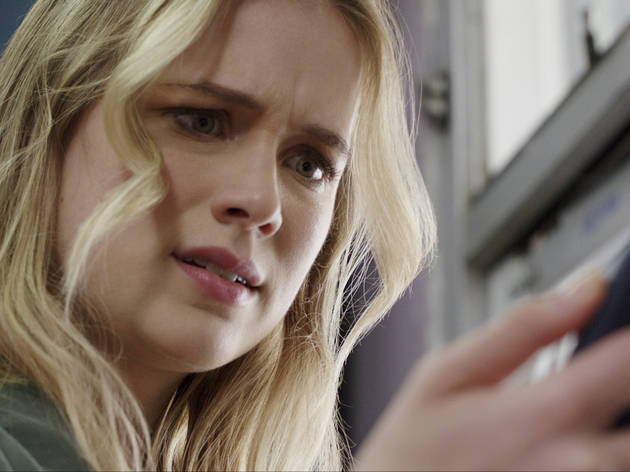 Time Out says
Download the app and you die, in a semi-diverting supernatural tech thriller.
Why do people go to the movies just to look at their phones? If the generic, not-entirely-unscary 'Countdown' doesn't quite answer that, it at least distracts us: now we go to the movies to watch other people look at their phones. Several comically glib teens download the title app – its Satan-via-Steve-Jobs icon is the funniest thing in the film – which tells them when they're going to die, to the second, with scary accuracy. You can't delete it or swap phones; the app will find you. (It's a shame that writer-director Justin Dec didn't think to address the real scourge of smartphone use: swiftly draining batteries.) And when the moment of truth comes, it's over in a flash of demonic-yet-PG-13-safe violence.
As proven by Mary Elizabeth Winstead in 'Final Destination 3' or the spunky Jessica Rothe in 'Happy Death Day', these fate-driven, high-concept horror flicks can be redeemed by a committed central performance. 'Countdown's Elizabeth Lail, as a nurse who wants to get to the bottom of things, joins their company; she's got a certain Jennifer Lawrence scrappiness. (Dec once made a comedic short about the Oscar winner.) Creatively, the script throws several complications at our hero, including a dead mother, a rebellious younger sister and a handsy doctor who corners her in a dark room. The script is loaded with supporting caricatures – wacky curse-obsessed clergyman, geeky tech expert, etc – and it ultimately feels distracted by its own ticking clock. But even while it sets up a sequel, it doesn't outstay its lifespan.
Details
Release details
Rated:
15
Release date:
Friday October 25 2019
Duration:
90 mins
Cast and crew
Director:
Justin Dec
Screenwriter:
Justin Dec
Cast:
Elizabeth Lail
Jordan Calloway
Peter Facinelli
Talitha Bateman