Dead in a Week (Or Your Money Back)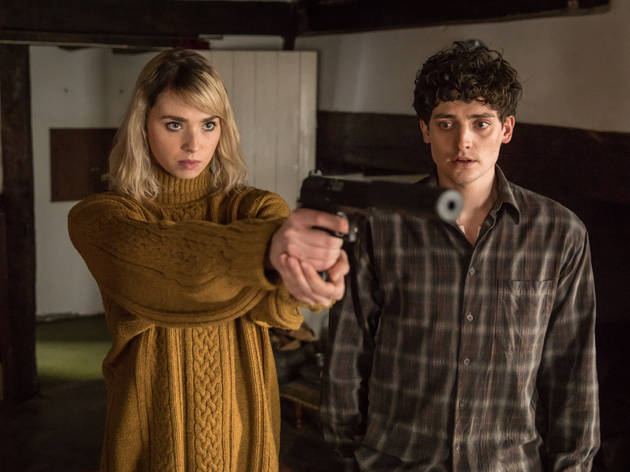 Time Out says
This mirthless hitman comedy is no 'A Fish Called Wanda'.
Killing himself is just one more thing failed writer William ('Dunkirk's Aneurin Barnard) isn't good at. Jaded by the senselessness of existence, he's attempted suicide seven times ("Ten, if you count the cries for help"), and just can't seem to do himself in, so he's thrilled when budgerigar-fancying hitman Leslie (Tom Wilkinson) offers to off him within a week. He's also inspired to write a book about it, which not only hooks the attention of a major publisher, but also romantic possibilities with his editor (Freya Mavor). But just as he has – you guessed it – everything to live for, he discovers that his contract killer's contract is binding.
The premise could set the stage for a classic Britcom in the tradition of 'A Fish Called Wanda'. Alas, 'Dead in a Week' is just one more of those dispiriting British 'comedies' that has somehow found its way into cinemas. Wilkinson, a veteran of both 'The Full Monty' and 'The Best Exotic Marigold Hotel', couldn't give a bad performance if his life depended on it, and Christopher Eccleston jolts the film momentarily to life as the hitman's potty-mouthed cockney boss. Perhaps the film might have survived the tortuous plotting, sub-sitcom jokes and drab direction if it wasn't for Barnard's woefully misjudged, wet blanket performance, but it's highly doubtful. It'll be dead in a week – and you'll want your money back.
Details
Release details
Rated:
15
Release date:
Friday November 9 2018
Duration:
90 mins
Cast and crew
Director:
Tom Edmunds
Screenwriter:
Tom Edmunds
Cast:
Aneurin Barnard
Christopher Eccleston
Freya Mavor
Tom Wilkinson