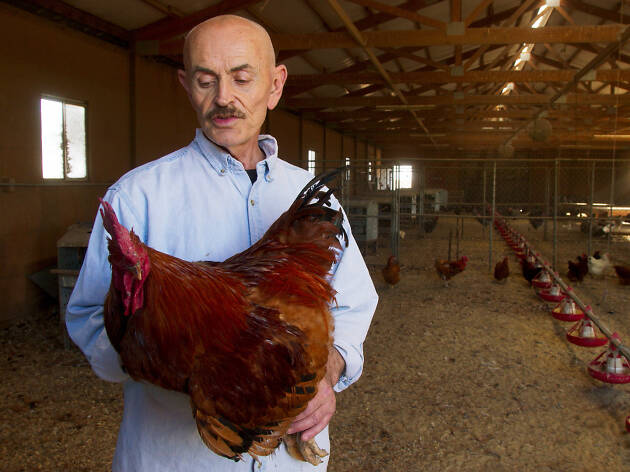 Time Out says
Worried about what you're putting on your plate? This even-handed, eye-opening doc about our food supply is here to help.
Meat might well be murder, but it doesn't have to be torture as well. That's the message of this documentary, which showcases the efforts of small-scale American farmers to raise rare-breed pigs, chicken and turkeys with compassion, in stark contrast to the brutal standards of factory farming. Clandestine filming of the horribly euphemistic Concentrated Animal Feeding Operations (CAFOs) – huge sheds where juiced-up poultry and pigs balloon like their corporate masters' profits – is distressing enough to turn you vegan. However, this adaptation of Jonathan Safran Foer's 2009 treatise doesn't set out to put you off your pork chop. Instead, producer Natalie Portman's articulate narration guides us towards more informed choices about what we put on our plates.
On the one hand, director Christopher Dillon Quinn captures bucolic footage of hand-raised happy porkers and frisky turkeys providing high-quality fare for high-end consumers. Meanwhile, factory farming pumps America's rivers full of shit, commits myriad cruelties against animals and traps farmers in contractual servitude. What's more, legislation now makes it a felony to film inside CAFOs, preventing the public seeing how its food is produced. 'Eating Animals' encourages us to seek a better way of doing things, whether via veggie meat substitutes or paying more for ethically sourced produce. It's vital viewing for concerned carnivores as well as vegan converts.
Details
Release details
Rated:
12A
Release date:
Friday June 7 2019
Duration:
95 mins
Cast and crew
Director:
Christopher Dillon Quinn