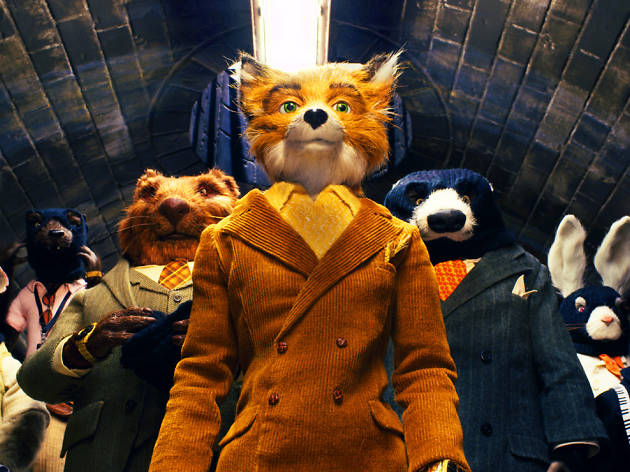 Time Out says
Take a few seconds to think back over Wes Anderson's films and imagine how a stop-motion animated version of Roald Dahl's Fantastic Mr Fox might look and sound if directed by this Euro-leaning, Texan caricaturist. Would it, like The Life Aquatic... and Rushmore, offer a hyper-realistic uniform of sets and costumes? Would it, like The Darjeeling Limited and The Royal Tenenbaums, explore an eccentric family, with a father figure looming large and relatives at loggerheads? Would the soundtrack include the Rolling Stones? Would there be a role for Bill Murray? Jason Schwartzman? Owen Wilson? Would it be hip? Would the comedy have a gentlemanly sophistication and even be wilfully exclusive? Would it trade in emotions but feel distancing at times?
Of course, as anyone familiar with Anderson's films will know, the answer to all these questions is yes. So it turns out: this is an animation, but it's also a Wes Anderson movie. The difference is that it's light on its feet compared to the heavy machinery of The Life Aquatic... or the ponderous comedy of The Darjeeling Limited. It's also a kids' film, which allows Anderson and his gang – is there another director so collegiate? – to have fun. Anderson himself voices a fey estate agent, and the film has the pace of a caper.
What remains to be seen is how audiences, especially children, will react to the jolty, bristling look of stop-motion animation in the age of CGI and digital 3D. The loving, handmade, purist look of the film, reminiscent of Gondry's The Science of Sleep, sees towelling as fields, cellophane as water and cotton wool as smoke, and will probably excite adults more than their kids who will be more taken by the constant, active missions of the plot – elements that, in turn, grow a little tedious if you're a grown-up.
Dahl's book was a short, sharp affair illustrated in pen and ink by Quentin Blake, whose drawings don't have much bearing on Anderson's version: his colour palette takes its cue from the autumnal hues of fox fur. The main characters in Dahl's book were Mr Fox himself, a dapper chap trying to protect his family from danger, and his foes, three cider-swilling farmers, Boggis, Bunce and Bean. Anderson and co-writer Noah Baumbach (who directed The Squid and the Whale) have fleshed out the story so that there are more characters (Willem Dafoe's jive-talking rat is genius) and the Fox family has more personality: Mrs Fox (Meryl Streep) is the voice of reason to her husband's impetuousness, while their son Ash (Schwartzman), a needy, moody teen, is pitched against a kung-fu-kicking cousin, Kristofferson (Eric Anderson), who comes to stay.
Mr Fox, voiced so appropriately by George Clooney, flits between human behaviour (buying a house, starting a career) and animal instincts (stealing chickens, attacking his food). The push and pull between the tame life and the wild one is the unifying theme. It's all very transatlantic – the setting and baddies are English; the animals are hip Americans. This is one crafty fox – in every sense.
Details
Release details
Rated:
PG
Release date:
Friday October 23 2009
Duration:
87 mins
Cast and crew