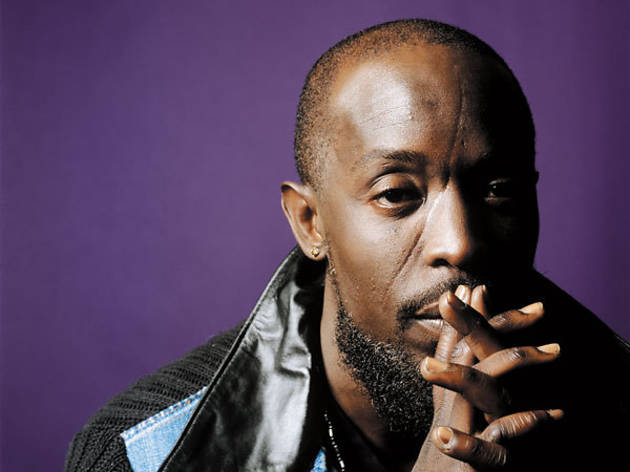 Time Out says
Tough Break
The Wire's meanest thug tries to make it beyond the box.
By Michael Freidson
Michael Kenneth Williams, a.k.a. The Wire's Omar, the charismatic gunslinger who robbed the hardest gangstas in inner-city Baltimore, who strutted around in a signature trench coat, who was gay yet hard-core street, is on the roof of midtown's Second Stage Theatre, welling up. Shit, I made Omar cry.
"Man, thank you, first of all," he says, after I tell him his fans are rooting for him, post-Wire. We're sitting in patio chairs and he looks away from me. "I'm in a transition right now, personally, and I needed to hear that. Thank you, thank you, thank you."
Maybe he was tired from the night before, out partying with friends ("We started at this bar downtown, and then I don't know what happened…"). But more likely, he's suffering from every actor's dream—and nightmare. For six years, he's been Omar—beloved by white journalists, real-life gangbangers, homosexuals and Barack Obama. And now…what? He's got a few small roles in big fall movies, yet… "I just want to keep this going," says Williams. "It's scary, I'm not gonna lie. To come this far, I don't want to go back."
God forbid. Raised in the projects of East Flatbush, Williams, 42, smoked his first joint at age nine. By 12 or 13, he was a drug addict and "totally lost." By 17, he had moved on to coke, staying awake days in a row. He wasn't laughing anymore. "By the time I got out of hand with it, I was getting high for a whole other reason," says Williams. "I was self-medicating. A lot of things I was dealing with, a lot of issues. I was never a tough guy—never a thug—but I had a real good knack for stepping in huge turds of shit. Around my 25th birthday, within one month, I had been arrested for grand theft auto twice and got cut in my face"—he runs his finger over his famous scar—"and my throat almost slashed."
You don't need more than that to wake up.
"Actually, I needed a couple more things to wake me up," he says with a rueful laugh. "Yeah, I did. I sleep hard."
Rehab followed, but it was Janet Jackson who saved his life. Inspired by her Rhythm Nation dances, Williams got a job dancing with Kym Sims, who had a hit with "Too Blind to See It." "I was like, I'm coming!" says Williams. "I'd sneak into Broadway Dance Center and work on my routines and they'd kick me out. It was the first thing that held my attention."
He transitioned into acting, taking thug parts in TV shows and music videos. By 2002, he was ready for Omar. "I knew I had an ace in the hole, which was Omar's sexuality: I was like, This dude is gay. I'm going there! The writers would write: 'Omar rubs his head. Or Omar caresses his lips.' And I'm like, 'When does Omar fuck his dude?!? When?!?"
Beloved as they are by fans, the Wire cast members have struggled since the show ended earlier this year. "The reality of the fact is, it's over, it's basically back to the drawing board," says Williams. "That's what I was talking about earlier, with my transition. I'm at a point in my life—you work so hard, do so much, I realized it's been four years since I've had my own place, I have a family that I need to start to spend more time with—it's like, is this really going to sustain me? As we all know, I dropped out of college. There's no papers on the wall. There is no plan B, really."
This fall, he's in the Spike Lee joint Miracle at St. Anna (Sept 26) and Cormac McCarthy's The Road, costarring Viggo Mortensen (Nov 14)—"Viggo is the coolest cat. The dude has a chocolate fetish. We're on this postapocalyptic set and he's handing out chocolate." Williams was also slated to star in the Off Broadway drama Wig Out!, about a family of drag queens, until he quit the day after this interview "for personal reasons."
That was faintly disturbing news, given his raw emotionality in our talk. But it brought to mind the last thing we spoke about: Williams's work with the Christian Love Church in Newark. "I am just now learning the real process of loving myself," he says. "If I can get myself to a place where I truly love me, I can help other people. I could easily get off track, but I just got back in the fold and it feels good."
NEXT: Smile for the camera Happy-Go-Lucky star Sally Hawkins turns in an Oscar-worthy role, playing the most unusual character: a content one.»
More in Film
Tough Break | Smile for the camera | Nuclear options | Political Discourse | The odds
---
ART | BOOKS | CLASSICAL | CLUBS | COMEDY | DANCE | EAT OUT | FILM | MUSIC | THEATER
DOWNLOAD ALL EVENTS: GOOGLE CAL | for iCAL
DOWNLOAD PDFs: November | October | September
Smile for the camera
Happy-Go-Lucky star Sally Hawkins turns in an Oscar-worthy role, playing the most unusual character: a content one.
By Melissa Anderson
Photograph: Nick Briggs/Clerkenwell Films for Masterpiece Theater
Take a look at the splashy, award-winning roles for women in the past five years and you'll notice a sorority of ladies with big problems: Marion Cotillard's Edith Piaf in La Vie en Rose and Charlize Theron's Aileen Wuornos in Monster are just two of the more high-profile turns in the sisterhood of the traveling rants. Yet the revelatory performance of Sally Hawkins as Poppy, a preternaturally sunny London primary-school teacher in Mike Leigh's Happy-Go-Lucky, prompts the question: What's so bad about feeling good? Awarded the Silver Bear for Best Actress at the Berlin International Film Festival in February, Hawkins shows that lauded, breakthrough performances need not always involve addiction, no-good men and abject misery. In fact, in an era when "prestige" roles for women often entail stunt weight gains and/or prolonged scenes of screaming, Hawkins proves that playing it easy-breezy may be the more daring move.
Leigh, who had worked with Hawkins twice before in All or Nothing (2002, the actor's screen debut) and Vera Drake (2004), made Happy-Go-Lucky with the sole purpose of having her at the center. "She is an extraordinary actress," the director, reached at his office in London, gushes. "She's incredibly versatile, she has a great passion, she's highly intelligent, she has a massive sense of humor, she has a bounding energy and vitality and is a consummate artist in her own right."
Although American audiences may have witnessed Hawkins's talents before—earlier this year, she played Colin Farrell's girlfriend in Woody Allen's Cassandra's Dream, and starred as Anne Elliot in PBS's Persuasion—her role as Poppy in Happy-Go-Lucky is unlike any in recent memory. Buoyant and compassionate without ever being simple or sappy, Poppy is also capable of great anger—particularly during a harrowing scene with her rage-filled driving instructor, played by Eddie Marsan—and concern, displayed when one of her pupils begins to hit other students. "Poppy was on the brink of being a bit of a laugh all the time, like a bubble," Hawkins, 32, says by phone from Dublin, where she's currently on set for the romantic comedy Happy Ever Afters. "When I was playing her, I didn't really know that she'd come across as particularly happy or nice; she's more than that. She's very bright and she thinks very deeply about things. I think people tend to dismiss those who have a happier outlook on life as slightly ditzy or not thinking very hard, and I think the opposite is true of Poppy."
For some critics (this one included), a thoroughly sanguine character onscreen takes some getting used to; in Happy-Go-Lucky's first scene, I wondered whether Poppy was mentally ill. Whether this says more about the disposition of reviewers or the shock of seeing such a joyful lead is open for debate. Soon, however, I began to realize just how complex Poppy is. "The job is to create people in a three-dimensional way," Leigh says, referring to his practice of intense improvisation with his actors. "We created Poppy over six months, interacting with all the other characters and exploring their situations long before we came to shoot anything. It's organic; we explore and make somebody real."
Sometimes that exploration takes its toll. "When you're working with Mike, you're working so closely and intensely with your character," Hawkins says. "What was hard was that Poppy feels so deeply, and when you're in a character like that for so long, you're feeling every pulse and you're locked in with their soul and their spirit. [After the wrenching scene with Marsan], I remember coming home and being quite upset about it. But what's great about Mike is his ability to step away; he's still disciplined about the character, that you are not your character, however close you may be."
Of course, one must always separate the dancer from the dance. But does Hawkins have exceptionally exuberant qualities that made the role of Poppy so perfect for her? "One has to be very clear that Sally is Sally and Poppy is Poppy," Leigh notes. "But certainly that kind of positive, open generosity is there in Sally. I mean, you couldn't do a Poppy with a mean-spirited or misanthropic actress."
Happy-Go-Lucky opens Oct 10.
NEXT: Nuclear options Family meltdowns heat up the fall.»
More in Film
Tough Break | Smile for the camera | Nuclear options | Political Discourse | The odds
---
ART | BOOKS | CLASSICAL | CLUBS | COMEDY | DANCE | EAT OUT | FILM | MUSIC | THEATER
DOWNLOAD ALL EVENTS: GOOGLE CAL | for iCAL
DOWNLOAD PDFs: November | October | September
Nuclear options
Family meltdowns heat up the fall.
By Joshua Rothkopf
The film:
Rachel Getting Married (Oct 3)
The interloper:
Anne Hathaway, in a heartbreaking performance certain to turn heads, plays Kym, just out of rehab and not exactly ceding the spotlight to sister Rachel (Rosemarie DeWitt) on the eve of her nuptials.
Family Royalty:
Debra Winger, absent from Oscar-bid-type movies for way too long, brings the house down as Kym and Rachel's estranged mom, Abby.
Bringing it all home:
Director Jonathan Demme will always be revered for the creeptastic The Silence of the Lambs. But here he returns to the warmer, multiculti style that made his critical reputation in the 1980s.
The film:
A Christmas Tale (Nov 14)
The interloper:
Mathieu Amalric, also the new Bond villain in this fall's Quantum of Solace, plays a menace of a different sort—an ostracized family member defying the wishes of his simmering sister (Anne Consigny) by returning home after years.
Family Royalty:
Catherine Deneuve, France's legendary lioness, is this fam's frosty matriarch, in need of a related donor to combat a rare blood disease. Guess who it might be?
Bringing it all home:
French helmer Arnaud Desplechin stunned critics with 2004's Kings and Queen, a domestic drama of equal deftness and complexity. Good to see he's still working at the top of his game.
The film:
Humboldt County (Sept 26)
The interloper:
Jeremy Strong, lonely, uptight and flunked out of med school by his own dad (Peter Bogdanovich), finds himself randomly on the road with a hippie chick. He is soon reluctantly sucked into her pot-growing clan, living off the grid in the Redwood forest.
Family Royalty:
Brad Dourif, still just as crazy as he was in Deadwood, plays Jack, a dropped-out physics professor turned king of the forest.
Bringing it all home:
The director-writers, Darren Grodsky and Danny Jacobs, are newbies, so let's give props to their obvious inspiration, the 1970s, and that decade's relaxed, offbeat charmers like Five Easy Pieces and the work of Hal Ashby (Harold and Maude).
NEXT: Political Discourse Three upcoming portraits of famous figureheads bend the rules.»
More in Film
Tough Break | Smile for the camera | Nuclear options | Political Discourse | The odds
---
ART | BOOKS | CLASSICAL | CLUBS | COMEDY | DANCE | EAT OUT | FILM | MUSIC | THEATER
DOWNLOAD ALL EVENTS: GOOGLE CAL | for iCAL
DOWNLOAD PDFs: November | October | September
Political Discourse
Three upcoming portraits of famous figureheads bend the rules.
By David Fear
Political biopics usually stick to a strict set of genre commandments: Thou shalt start with the first stirrings of significance and end with the final hurrah. Thou shalt portray the major victories with appropriate majesty, or treat the career-crushing events (Waterloo, Watergate) as character flaws writ large. Finally, thou shalt not grant these men—and they're almost always men—such cinematic tributes until they're six feet underground.
Given that the season will host a charged presidential election, it isn't shocking to see that politically informed true-life tales will soon be gracing multiplexes and local film festivals. The surprise is that the three upcoming big-budget films centering on (in)famous figureheads have each found ways to deftly skirt these unofficial rules, or break them altogether. Oliver Stone's W. (Oct 17) finds the director of JFK and Nixon profiling a sitting President. The mere thought of American cinema's political provocateur delving into Bush 43's wild Yalie youth, his contentious relationship with Pa Bush, and those less-than-impressive foreign-policy choices is enough to send partisans on both sides into conniptions. Yet Stone has said that his aim isn't to vilify the divisive leader of the free world but to look at him as a human being. We'll admit that casting Josh Brolin as the commander in chief (with Thandie Newton as Condi Rice!), however, gives the fortunate son a masculine makeover.
Coincidentally, Brolin will be doing controversial-biopic double duty this autumn: He'll be playing Dan White in Gus Van Sant's Milk (Nov 26). Van Sant's long-gestating project on the life and times of Harvey Milk, the first openly gay American to be elected into a significant political office—San Francisco city supervisor—traces the "Mayor of Castro Street's" ascent and his assassination by White's hand in 1978. The film's structure mirrors the usual let-us-now-praise-famous-men narrative, yet if anyone out there thinks that Milk isn't a bold step beyond the norm, we invite you to name another studio-sponsored biopic about a gay activist who helped forward the movement so significantly. (Go ahead, we'll wait.) The notion of Van Sant and his star, Sean Penn, giving their subject the "Great Man" treatment will be looked on as wrong by the close-minded, of course; yet celebrating the achievements of people like Milk is the reason biopics exist.
Finally, though Steven Soderbergh's mammoth Che has yet to nab a distributor as of press time, local cinephiles will be able to catch the complete four-hour, two-part megillah when it plays at the New York Film Festival (the event runs Sept 26–Oct 12). Soderbergh is never one to shy away from formal experimentation. His $60 million character study splits the rise and fall of the Latin American firebrand (viva Benicio Del Toro!) into two separate entities: one widescreen, Lawrence of Arabia–style epic and one nitty-gritty Battle of Algiers–type docudrama. After the movie's premiere at Cannes, debates between Che's defenders and perturbed detractors could be heard all along the Croisette; if the biopic is half as revolutionary as it sounds, we'll personally reward Soderbergh with his very own iconic T-shirt.
More in Film
Tough Break | Smile for the camera | Nuclear options | Political Discourse | The odds
---
ART | BOOKS | CLASSICAL | CLUBS | COMEDY | DANCE | EAT OUT | FILM | MUSIC | THEATER
DOWNLOAD ALL EVENTS: GOOGLE CAL | for iCAL
DOWNLOAD PDFs: November | October | September
ODDS
95% That Robert De Niro and Al Pacino will each scowl and/or look agitated at least a dozen times during Righteous Kill (Sept 12).
.0005% That Beverly Hills Chihuahua (Oct 3) will unseat Citizen Kane as the greatest movie ever made.
75% That Religulous (Oct 3) will offend almost everyone, including the nonreligious.
85% That The Family That Preys (Sept 12) will have several ludicrous plot twists but still reconfirm Tyler Perry as the most criticproof director working today.
98% That Diane English's remake of The Women (Sept 12) won't be as witty, catty or gay as George Cukor's original.
5% That Angelina Jolie's role in Changeling (Oct 24) will revive an interest in roller-skating telephone operator as a viable profession.
99.4% That, despite getting offed two installments ago, Tobin Bell's gravel-voiced killer will return for Saw V (Oct 24).
84% That the new Bond theme song for Quantum of Solace (Nov 7)—sung by Alicia Keys and Jack White—won't be half as interesting as any act committed by Amy Winehouse, who was originally supposed to do it.
More in Film
Tough Break | Smile for the camera | Nuclear options | Political Discourse | The odds
---
ART | BOOKS | CLASSICAL | CLUBS | COMEDY | DANCE | EAT OUT | FILM | MUSIC | THEATER
DOWNLOAD ALL EVENTS: GOOGLE CAL | for iCAL
Details
Release details
Cast and crew