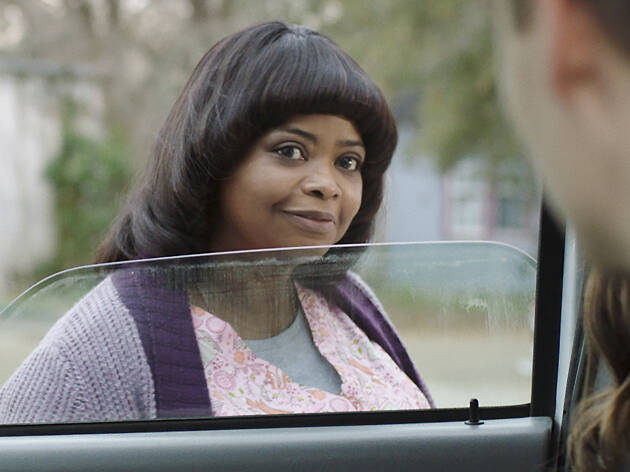 Time Out says
Octavia Spencer gets mean in a thriller that offsets its obviousness with a sense of dead-end desperation.
Trashy movies aren't good for you, but sometimes they burn with an unexpected honesty that feels more earned than the stuff we're supposed to prefer. Such is the case with Ma, a scuzzy and brutal revenge thriller set in some hard-luck, blue-collar town (never named) filled with uneasy stares and kids making dumb choices. It's an unusually potent atmosphere for a quickie Blumhouse horror project; you can't say this one is elevated by the presence of Octavia Spencer—it's more that she allows herself to descend to the crazy-eyed pleasures of being monstrous. She plays Sue Ann, a never-not-suspicious local who buys the teens cases of booze and lets them party in her basement. There are ulterior reasons for her friendliness. You know exactly what they are from the start (the coy '80s-set flashbacks to Sue Ann's own high-school trauma are extraneous).
Call it a welcome surprise that Tate Taylor, the director of Spencer's brassy turn in The Help as well as the underrated James Brown biopic Get on Up, seems to be harboring an inner Wes Craven. When Ma breaks bad, it breaks bad hard, with some real wince-inducing moments of bodily harm. The film's bland young hero, Maggie (Diana Silvers), doesn't seem to have a chance in Sue Ann's abattoir, but Taylor distracts us with juicier details on the periphery, like Maggie's mother, a divorced cocktail waitress (Juliette Lewis, exuding abandonment). There's an undertone of rage to Ma, a stink. It's a film in which co-workers snipe at each other and strangers call each other bitch. You wonder why Sue Ann ever wanted to belong to this community in the first place, and that's Ma's one subtle idea: In her America, getting even is a coping strategy.
Follow Joshua Rothkopf on Twitter: @joshrothkopf
Details
Release details
Rated:
15
Release date:
Friday May 31 2019
Duration:
0 mins
Cast and crew
Director:
Tate Taylor
Screenwriter:
Scotty Landes
Cast:
Octavia Spencer
Juliette Lewis
Diana Silvers