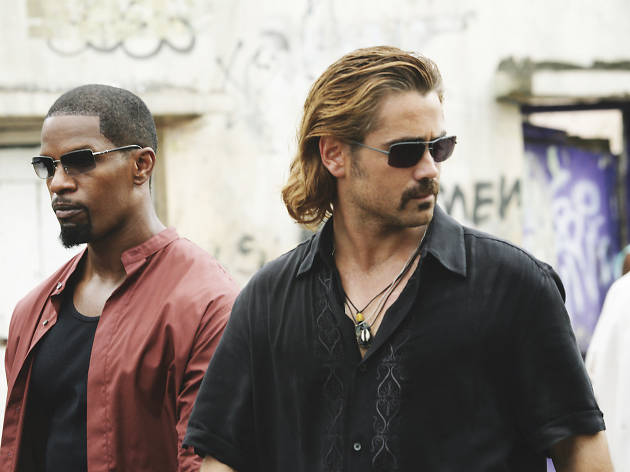 Time Out says
For many years, Michael Mann was better known as the name on the brash credits of TV's 'Miami Vice' cop series than as the director of four barely released but for the most part exceptionally fine features; only with 'The Last of the Mohicans' and 'Heat' did he finally reach the cinemagoing public he deserved. Since then, of course, he's made up for lost time with prestigious titles like 'The Insider' and 'Ali'. So when it was announced that his next film would be a feature-length 'Miami Vice', with Colin Farrell and Jamie Foxx replacing Don Johnson and Philip Michael Thomas as Sonny Crockett and Ricardo Tubbs, some – especially those disappointed by the relatively straightforward genre trappings of his last outing – were moved to ask the question: 'But why?'
They need not have worried. 'Miami Vice' the movie bears a far stronger resemblance to Mann's feature work than to the TV series. Yes, Crockett and Tubbs are still a tight law-enforcement duo working the photogenically neon-lit mean streets and waterways of one of the most spectacularly designed cities on the planet; and yes, their rapid-reaction antics with weaponry and vehicles are performed in (more discreetly) cool kit to the expertly edited accompaniment of music both excellent and less so (what is this thing about Lynyrd Skynyrd?). But where the series – what little I recall – was mainly about style, the film, in both narrative and thematic terms, is properly substantial.

First encountered on a club stakeout, Crockett and Tubbs – members of a Miami-Dade County PD vice squad that includes, memorably, a woman who's an expert sharpshooter – are distracted from their immediate task when a suicidal phone call from an informer alerts them to an FBI investigation into the drug trade. Unconvinced that white supremacists are the brains behind the operation, and deputising as Feds, they go undercover as traffickers in an attempt to infiltrate a Haitian cartel moving merchandise from Malaysia and Colombia via Florida to New York. From the first meeting with Jose (John Ortiz) and Isabella (Gong Li), it's clear they're putting their lives at risk; only later, however, do they realise how far they've also imperilled those they love.
So, again we have Mann deploying generic material to create suspense aplenty while treating his abiding themes of professional/personal codes of honour, conflicting responsibilities, means and end, trust and betrayal. An aura of authenticity is ensured by the script's meticulous attention to detail and by the bold, fluid direction and editing. At the same time, Mann goes way beyond realism, Dion Beebe's often gritty handheld digital camerawork also serving to produce images at once intricate in their expressionist eloquence and mythic in their noir poetry. Amber nocturnal skies (think 'Collateral'), a silent night raid on a house where a hostage is held ('Manhunter'), rooms overlooking azure seas (passim)… even the final shot echoes the opening of 'Heat'. In short, it's business as usual for Mann. Truly terrific.
Details
Release details
Rated:
15
Release date:
Friday August 4 2006
Duration:
133 mins
Cast and crew
Director:
Michael Mann
Screenwriter:
Michael Mann
Cast:
Colin Farrell
Jamie Foxx
Naomie Harris
Gong Li
Ciarán Hinds
Justin Theroux
Barry Shabaka Henley
Luis Tosar
John Ortiz
Chris Astoyen
Elizabeth Rodriguez
Domenick Lombardozzi