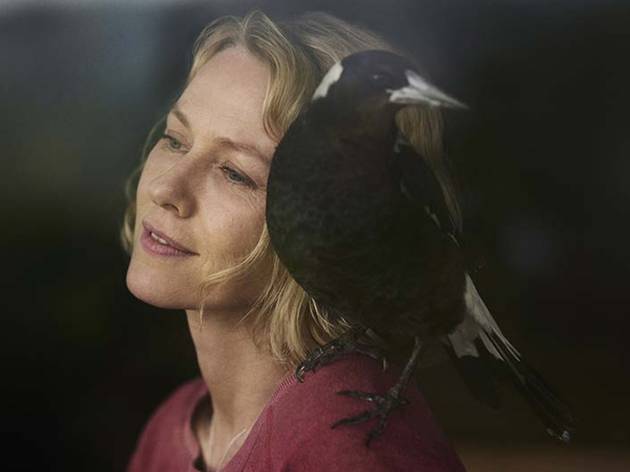 Time Out says
Naomi Watts is magnetic as a mum trying to put her life back together in this heart-tugging true story
Sometimes it's the simplest images that stand out. There's a forlornly affecting moment in director Glendyn Ivin's Penguin Bloom that sees his fellow Aussie Naomi Watts slowly but surely nudge a honey jar off her kitchen workbench. Playing real-life Sydneysider Sam Bloom, the neuroscience nurse and mother of three young boys found her blissful life on the city's northern beaches shattered by a terrible accident while on holiday in Thailand.
The oozing amber contents on the tiled kitchen floor of course mirror her picking up the pieces after that fateful plunge. The metaphor echoes outwards when the boys return home with an injured magpie they call 'Penguin'. Soon, their feathered friend finds itself stuck in the upturned contents of another broken jar.
Initially resistant, Sam finds herself caring for the wounded animal during their great spells at home alone together. You'd be forgiven for fearing that their symbiotic recovery process might be a little too schmaltzy. But it's a credit to Watts's performance and Ivin's understated direction that this woozy vision of emotional and physical healing sings.
Adapted from the memoir co-written by her husband Cameron (here played by The Walking Dead's Andrew Lincoln) and TV presenter Bradley Trevor Greive, Penguin Bloom focuses on Sam's complex emotional response. She's on record saying this isn't inspiration porn, because she wishes every day that the accident had never happened. Instead, it's about how you reconcile yourself with the new normal. Held firmly in her perspective, that comes right down to cinematographer Sam Chiplin's wheelchair-height camera angles. The DP dreamily captures this Australian idyll.
There is an almost fairytale quality to the story, and a warm-hearted family feel to its account of an adult's painful journey aided by a chirping counterpart. It's the sort of movie you can take your grandparents to. It also makes room for small but perfectly formed appearances by Watt's fellow Australian luminary Jacki Weaver, and Hunt for the Wilderpeople star Rachel House. But for all their deftly delivered turns, you'd guess the all-star cast would be spewing at the cadre of maggies standing in for Penguin. Scene stealers, the lot of them.
The film opens in Australian cinemas on January 21
Details
Release details
Cast and crew