Precious: Based on the Novel Push by Sapphire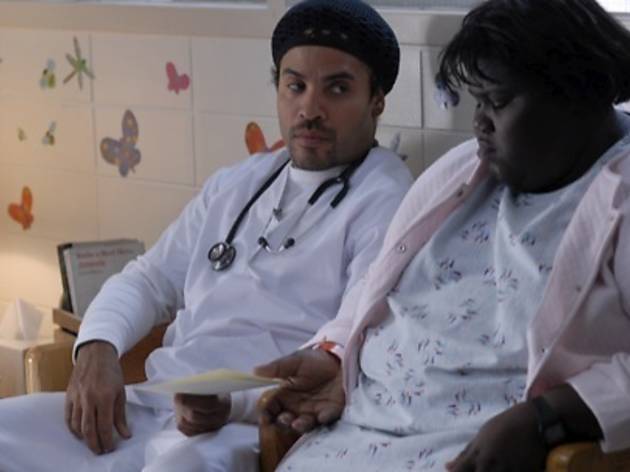 Time Out says
Given the months-long hype, what's most bewildering about Sundance sensation Precious is its overall shrug-worthiness. You'd think the litany of horrors that befall Harlem teenager Clareece "Precious" Jones (Sidibe)—illiteracy, rape, domestic abuse, Mariah Carey—would register with some piercing and perceptive effect. Instead, they pass by with the glazed-over, lookie-lookie luridness of a Law & Order: Special Victims Unit episode.
And yet, at the film's center is a fully lived-in performance by newcomer Gabourey "Gabby" Sidibe, who will hopefully go on to better things and not be cast aside, Slumdog-style, in the post-awards season. The actor holds her own with such scene-stealers as Mo'Nique—dangling her cigarettes with Oscar-baiting malevolence as Precious's mom, Mary—and navigates the neorealism-lite trappings with brazen, always arresting confidence.
The film's best scenes take place in a literacy class headed by a tough-love educator (Patton). It's here that Precious finds the means to express herself in ways reminiscent of Celie, the uneducated heroine of Alice Walker's novel The Color Purple. Indeed, director Lee Daniels seems to be aping Steven Spielberg's adaptation of Purple (specifically the sequence where Celie discovers a long-hidden pile of letters from her sister) in the moment when the camera circles Precious while video images of Martin Luther King, Malcolm X, et al. are projected around her. The meaning is the same—history floods the consciousness of both Celie and Precious and powerfully widens their worldview—but Daniels's methods are decidedly cruder. It's hardly surprising that, in another instance, he emphasizes the revulsion of incest by cutting to a pan of sizzling eggs. Even the worst behaviors, he appears to be saying, have to go over easy.—Keith Uhlich
Opens Fri.
Watch the trailer
Details
Release details
Rated:
15
Release date:
Friday January 29 2010
Duration:
109 mins
Cast and crew