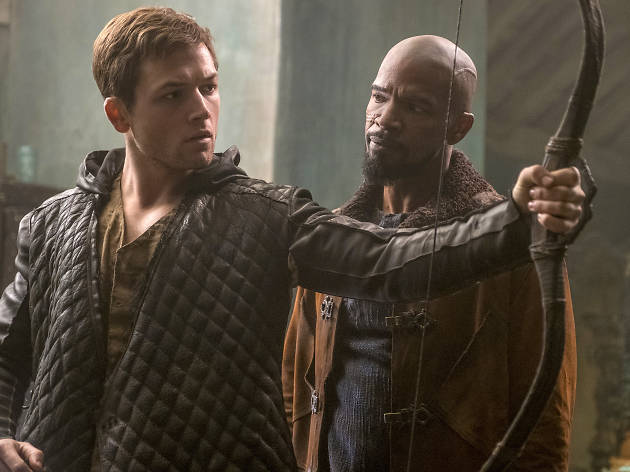 Time Out says
The legendary outlaw has returned more times than Spider-Man. This outing will make you side with the Sheriff of Nottingham.
'This isn't a bedtime story,' a narrator insists early in 'Robin Hood'. It certainly feels like one, but only in terms of making you yearn for your pillow. Several shades of dull, this umpteenth retooling of the outlaw legend wants you to think Christopher Nolan has had something to do with it (he hasn't). It boasts a pounding, 'Dunkirk'-like score, and a script that stresses the 'Dark Knight'-like dual nature of its hero: sometimes Robin of Loxley is a Crusades-era version of Bruce Wayne; elsewhere he's the 'Hood', a mysterious archer causing panic among the ruling class. Both personas are embodied by a charisma-free Taron Egerton.
Making sense of the busy plot – involving paedophile priests, villagers in revolt and a scowling Sheriff of Nottingham – is a fool's errand. Go-to bad guy Ben Mendelsohn plays the sheriff in a slick grey coat that seems to be wearing him. But even as your eyes dull at the listless action scenes, there's distractions to be found marvelling at all the anachronisms. Eve Hewson's Marian and Jamie Foxx's Little John character are too modern-feeling to be persuasively medieval – and what's with all the fitted leisurewear? Was that a T-shirt we just saw? Some people may appreciate the creative license, but that's a thin thread to hang two hours of entertainment on. The only thing this Robin Hood is stealing is your time.
Details
Release details
Rated:
12A
Release date:
Wednesday November 21 2018
Duration:
116 mins
Cast and crew
Director:
Otto Bathurst
Screenwriter:
Ben Chandler, David James Kelly
Cast:
Taron Egerton
Ben Mendelsohn
Jamie Foxx
Eve Hewson