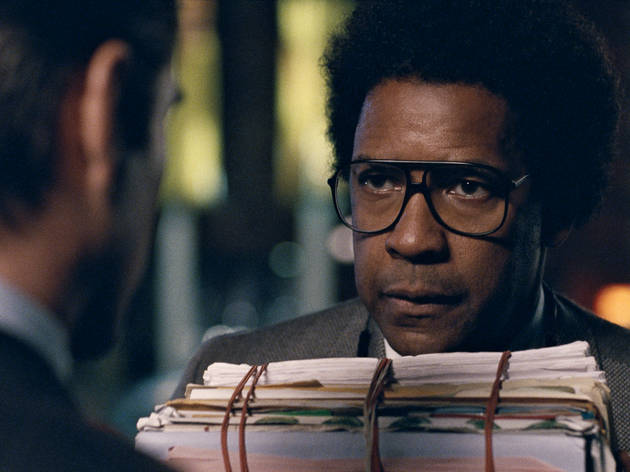 Time Out says
A committed Denzel Washington is wasted in a legal drama that never gets around to making closing arguments.
Writer-director Dan Gilroy made one of the most dazzling debuts in years with 2014's Nightcrawler, a deliciously soulless black comedy about a TV bottom-feeder (Jake Gyllenhaal) who rises in power the more vicious he becomes. Flipping the script less successfully, Gilroy now follows up with a story about a frizzy-haired do-gooder who's decidedly out of sync with today's ethics-free lawyerscape. Making a meal out of verbal and physical tics that situate his character somewhere on the spectrum, Denzel Washington plays the tunnel-visioned title hero, a Los Angeles attorney and relic of the fist-in-the-air 1960s who's never been good with people but possesses an encyclopedic mind for research. He honks out responses in endless speeches, doesn't own a car and lives a lonely existence eating peanut-butter sandwiches and listening to vinyl.
The guy deserves his own television show, or at least a screenplay that understands we should ultimately be in a courtroom, where Roman's cranky Columbo-like pronouncements coalesce into unlikely wisdom. But Gilroy fumbles the setup badly: After Roman's protective law partner falls into a coma, the firm is set to be dissolved by a corporate-minded hatchet man (Colin Farrell with slicked-back hair) who nonetheless sees the value in retaining this office fixture with no social skills. Their tension never really develops the way you want it to; where are the ethical fireworks of The Verdict or …And Justice for All?
Predictably, Roman is uncomfortable selling out, even as he takes some private reward money and buys a few new suits. The movie can't bring itself to push its central iceberg of a character into hotter water—which is too bad, because that's exactly where Washington thrives.
Follow Joshua Rothkopf on Twitter: @joshrothkopf
Details
Release details
Cast and crew
Director:
Dan Gilroy
Screenwriter:
Dan Gilroy
Cast:
Denzel Washington
Colin Farrell
Carmen Ejogo