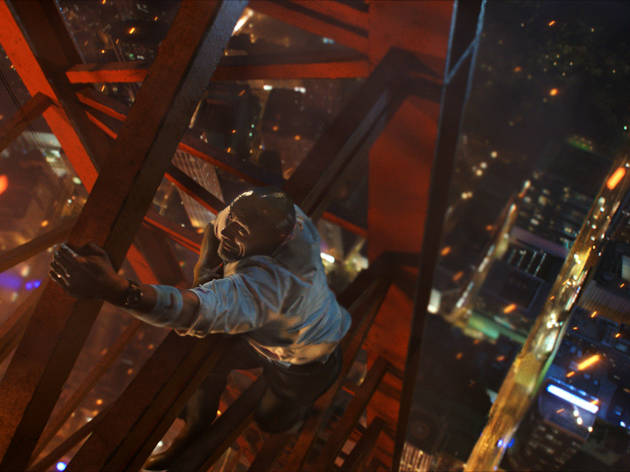 Time Out says
This Irwin Allen-lite disaster movie has the Rock, but not too much else going for it.
'Skyscraper' is a cacophonous blockbuster, in the Die Hard wannabe (plus obligatory 3D and pricey special effects) mold, the likes of which you've probably seen (or perhaps avoided) many times over. Dwayne Johnson plays Will Sawyer, a former FBI Hostage Rescue Team leader currently on assignment in China with his family, in his new job as skyscraper safety assessor. It's no spoiler to say that this skyscraper, a tech-laden, phallic monstrosity, doesn't turn out to be so safe, and the film quickly turns into an occasionally tense but mostly predictable tale of a man taking risks to save his family from explosions, devious suits and terrorists. Johnson is obviously a bankable star, and his charisma lightens up a few moments, as when he makes creative use of his character's prosthetic leg to save himself, and has a satisfied reaction.
For the most part, though, touches of humanity are largely absent. Sawyer's two children are cute, but they're pretty much pawns in the action scheme here, and we know Johnson will serve a big heroic ending. Sawyer's wife, Sarah, is largely depicted as a woman in peril–which is a shame, given that she's played by Neve Campbell, who brought such shrewdness to roles in 'Scream' and 'Wild Things' back in the '90s. Campbell is given a couple moments to shine (as when she shows she knows Chinese, to the surprise of the officers helping her), but they're few and far between. The most egregious moment in 'Skyscraper' just might come during a fight scene set in the building's high-tech hall of digital mirrors. The setup suggests the iconic shootout in 'The Lady From Shanghai', but with all the CGI flames, boorish violence, and explosive sounds here, this sure ain't anywhere near Orson Welles territory. The visual reference could be clever, but instead it grates – 'Skyscraper' is summer blockbuster product through and through. You can search for something original in the building's countless floors, but you'll probably come up empty.
Details
Release details
Rated:
12A
Release date:
Thursday July 12 2018
Duration:
103 mins
Cast and crew
Director:
Rawson Marshall Thurber
Screenwriter:
Rawson Marshall Thurber
Cast:
Dwayne Johnson
Neve Campbell
Pablo Schreiber