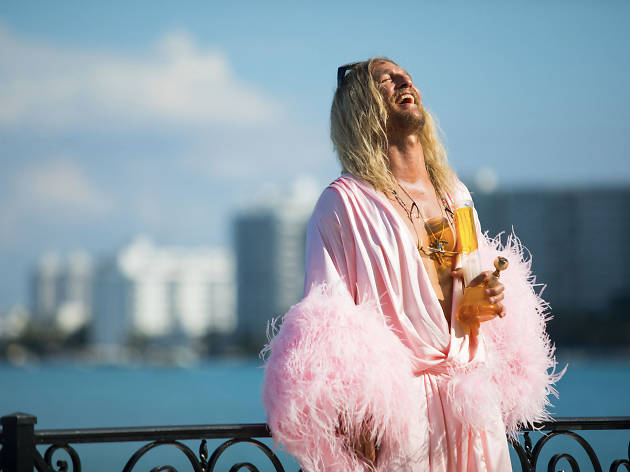 Time Out says
A fully out-there Matthew McConaughey is having a blast in this Harmony Korine stoner comedy – but you probably won't.
How you feel about watching 'The Beach Bum' will have a lot to do with how you feel about spending 90 minutes with a stoned, loud, failed poet-novelist called Moondog – a cheery Key West soak riding high in the Florida sunshine on the wealth of his equally hard-partying wife (Isla Fisher). Moondog (whose name sounds like a hip IPA) is played by a gleeful Matthew McConaughey. He's the sort of guy who rocks up half-cut to his daughter's wedding and everyone thinks it's cute. Oh, and at the same wedding, he finds his rapper friend Lingerie (Snoop Dogg) officiating at the ceremony, surrounded by bodyguards with guns.
Don't expect all this to make sense. As with 'Spring Breakers', director Harmony Korine creates a scuzzy beachside universe, although this one lacks the intoxicating buzz of his 2012 gonzo crime thriller. There's a one-man performance-art piece lurking at the heart of it: it feels at times like Korine has let McConaughey loose among a bunch of ragged non-professionals, or handed him the improvisation keys in scenes with Jonah Hill and Zac Efron, who each have cameos. There are things to enjoy in the film's genial, non-judgmental approach to bad behaviour, and all power to McConaughey's commitment to the character. But you'll need a lot of patience – or weed, or tranquillisers – to stick with Korine's paper-thin, larky portrait of a literary bum in crisis.
Details
Release details
Rated:
84
Release date:
Friday October 25 2019
Duration:
94 mins
Cast and crew