"The Bolero"/"In Search of Czanne"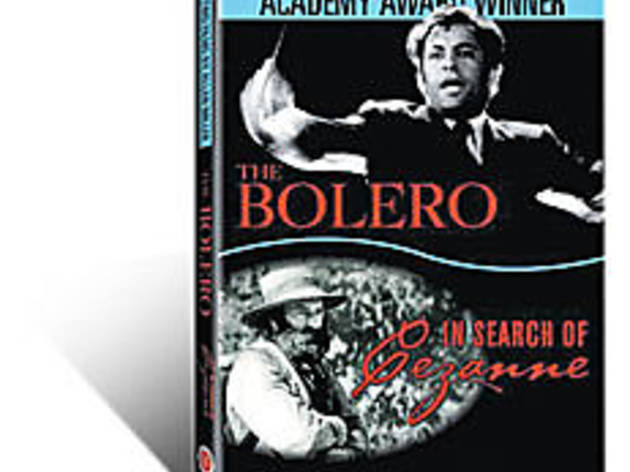 Time Out says
Allan Miller, the symphony conductor turned filmmaker who made 1981's From Mao to Mozart, produces documentaries about great art and artists that are both accessible to the uninitiated and interesting enough to keep experts watching. First Run Features has packaged two Miller films together on DVD: 1973's Oscar-winning documentary "The Bolero" and 2002's previously unreleased "In Search of Czanne."
Unfortunately, "Czanne"—produced, written and directed by Miller—is a misfire: a hybrid documentary-drama in which a young filmmaker known only as Martha (played by Jacqueline Kim of Charlotte Sometimes) travels from New York to Provence, France, to learn more about painter Paul Czanne. Along the way, she talks with art historians, collectors, painters and Czanne's own great-grandson-, hoping to understand why people are drawn to particular artists. The information is sound, but the "audience surrogate" device is pointless, and the incessant reaction shots of Kim distract from the film's mission.
Luckily, the disc also contains "The Bolero," about a Los Angeles Symphony Orchestra performance of Maurice Ravel's opus. It's one of the greatest films ever made about the art and craft of music. Directed by William Fertik, and anchored to the insights of conductor Zubin Mehta, the movie snowballs in power, just like Ravel's piece does. It starts as a straightforward documentary about an orchestra rehearsing Bolro (and discussing the physical challenge of playing it well). Then it segues into a real-time, multicamera account of a studio performance, isolating players and orchestra sections as they add sonic layers to the work, and showing how Mehta guides them with gestures, glances and expressions. The astounding last few minutes--—which abandon documentary conventions for a style that suggests an ecstatic, monumental, dreamlike music video-—are by themselves worth the price of this disc. — Matt Zoller Seitz
Details
Release details
Cast and crew