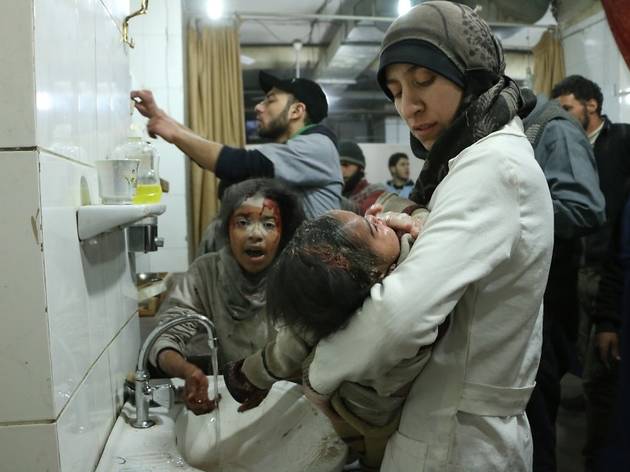 Time Out says
Beneath the bombing in Syria, an underground medical unit struggles to stanch the human toll in this immersive documentary.
It's hard enough for surgeons to work in optimal conditions; add in the constant boom of pounding Russian airstrikes, iffy electrical power and an overload of critical patients, and the work of Syria's underground doctors is close to superheroic. The Cave, an urgent, mostly no-frills documentary by Feras Fayyad (who also did the Oscar-nominated 2017's Last Men in Aleppo), shows us the day-to-day functions of the title subterranean hospital, an establishment with its own "C" logo on walls and scrubs. Its medical team is lead by the coolly capable Amani Ballour, a woman under 30 with a preternaturally calming way with children. For someone so young, her power position is doubly unusual for the Arab world: She's often yelled at by nervous dads, but her skills speak loudest.
Ballour's presence makes Fayyad's film inspiring, even as we cringe for her safety with every overhead explosion. A profile in courage under fire, The Cave sometimes relieves its enervating tension with occasional MASH–like interludes of levity: a surprise birthday party, some bickering over rice recipes, thoughtful drags on cigarettes. There's a surgeon who plays classical music on his phone while operating, creating an ironic culture clash (one that's slightly overemphasized via Fayyad's on-the-nose deployment of Mozart's Requiem). Elsewhere, a chemical attack is paced like a skillful horror sequence: a mysterious illness is observed among the new arrivals, protective masks come out and the fear seeps in. For moments like these—mostly theoretical for Western audiences who haven't seen such crimes onscreen—The Cave demands attention.
Follow Joshua Rothkopf on Twitter: @joshrothkopf
Details
Release details
Release date:
Friday December 6 2019
Duration:
95 mins
Cast and crew