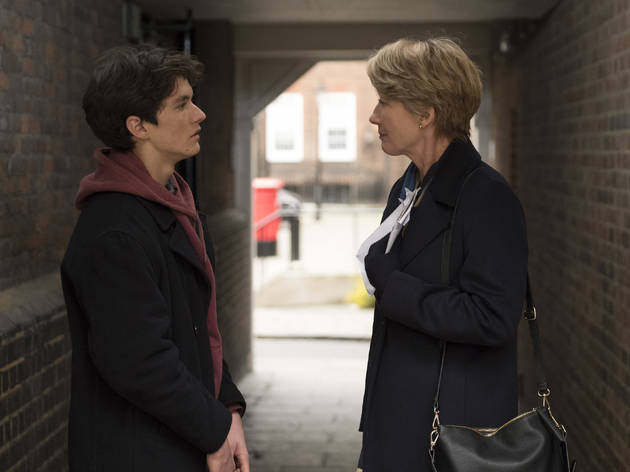 Time Out says
Emma Thompson shines in the Ian McEwan adaptation.
If you want someone to play a compassionate, conflicted High Court judge, look no further than Emma Thompson – heck, she could probably become one if she put her mind to it. The actor is a triumph in this Ian McEwan adaptation. She plays Fiona Maye, a judge who must decide whether to force a blood transfusion on a young patient who's refusing the treatment on the grounds of his beliefs as a Jehovah's Witness. Taking the unconventional decision to visit Adam (a terrific Fionn Whitehead) in hospital, she forms a bond with the leukemia sufferer that proves to be unwise. Whitehead builds on his 'Dunkirk' success with a charismatic, thoughtful performance, but we're left wanting to know more about Adam's motivations in a story that has other tales to tell.
'The Children Act' isn't just a courtroom drama; it's also a portrait of a marriage in crisis. Feeling pushed out by his workaholic wife, Fiona's husband (Stanley Tucci) is open about his desire to have an affair but conflicted by his devotion to her. It's not the kind of relationship we often see on screen but McEwan's screenplay flits between home, courtroom and hospital without feeling clear in its direction. Each scene is beautifully performed and there are moments of profound emotion, but it stops short of the brilliance of Richard Eyre's 'Notes on a Scandal'.
Details
Release details
Rated:
12A
Release date:
Friday August 24 2018
Duration:
105 mins
Cast and crew
Director:
Richard Eyre
Screenwriter:
Ian McEwan
Cast:
Fionn Whitehead
Emma Thompson
Stanley Tucci