The Gangster, The Cop, The Devil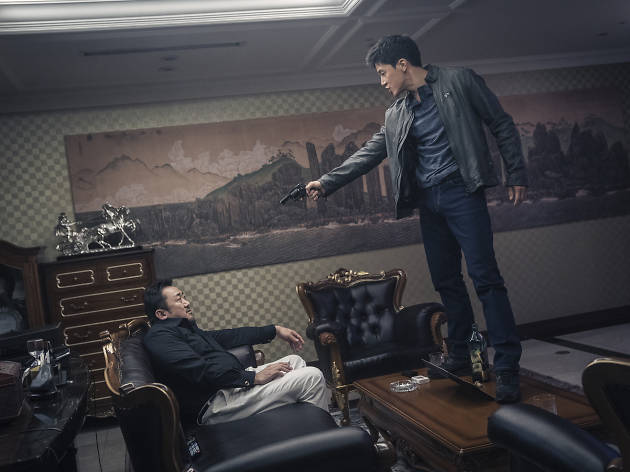 Time Out says
This muscular South Korean crime thriller is neon-lit catnip for fans of the genre.
Sylvester Stallone was impressed enough to commission a US remake of this niftily plotted Seoul-set crime movie. Not only that, but he's signed its burly Korean lead Ma Dong Seok to reprise his starring role as a gang boss hunting down the serial killer who nearly offed him. The part is the kind of brawny showcase that might have been suited to Sly's own skillset – here's a guy who can pull out a rival's front teeth with his bare hands – which gives a hint of the impact Ma makes. The Korean-American former mixed martial arts trainer boasts a steely-eyed, barrel-chested charisma endearing him more to the audience than the story's nominal hero cop. This ambitious low-ranking detective has connected a series of seemingly random fatal knifings, but needs the ganglord's help to identify the perpetrator, and the latter's myriad henchmen to work the case.
There's a strong element of contrivance here, but we go with it, drawn in by the don's determination to seek vengeance on the miscreant who's tarnished his daunting reputation. Underworld enmities spark significant collateral carnage along the way, including one mass rumble with blades and iron bars that's seriously hair-raising. Meanwhile, lurid splashes of neon illuminate the Seoul backstreets, delivering visual allure for fans of Korean genre fare. Rumination over the whys and wherefores of legal punishment compared with the crime fraternity's own ruthless methods proves fairly superficial, though with his chillingly creepy smile Kim Sung Kyu is an undeniably hissable villain. A solid, if not quite exceptional, time-passer.
Details
Release details
Rated:
15
Release date:
Friday November 15 2019
Duration:
110 mins
Cast and crew
Director:
Lee Won-tae
Screenwriter:
Lee Won-tae
Cast:
Ma Dong-seok
Kim Mu-Yeol