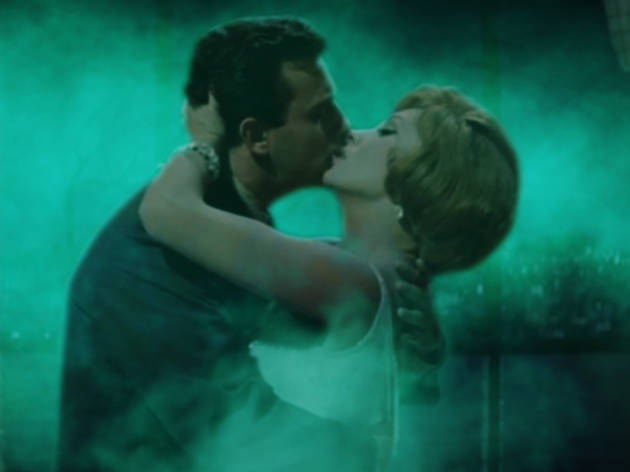 Time Out says
Experimental filmmakers evoke Vertigo in an eerie, often funny remake wholly composed of footage lifted from other movies and TV shows.
Swirling with mystery, obsession and extremely high vantage points, Alfred Hitchcock's Vertigo is the ultimate San Francisco film, one that hints at a multitude of other Bay Area movies, even those made before 1958. As if hoping to prove that point (a somewhat obvious one), The Green Fog remakes Hitch's masterpiece, using only footage from other films and TV shows. The experience of watching it is disconcerting and suitably dreamy. All of the unrelated dialogue has been stripped (the Kronos Quartet provides a nerve-scraping string score), and several faces reappear: Clint Eastwood in the Dirty Harry movies, businessmen from '70s soap operas having three-martini lunches, Glenn Close in Jagged Edge and dozens of confused others.
This is high-level Film Geek Studies for sure, and a return to Vertigo will be helpful in advance. But the playful codirectors—a trio that includes the retro-fetish genius Guy Maddin (Careful)—pepper the flow with plenty of laughs (e.g., a furious Nicolas Cage in The Rock). They get at the essence of Vertigo, haunting us via ghostly transmissions.
Follow Joshua Rothkopf on Twitter: @joshrothkopf
Details
Release details
Cast and crew
Director:
Evan Johnson, Galen Johnson, Guy Maddin