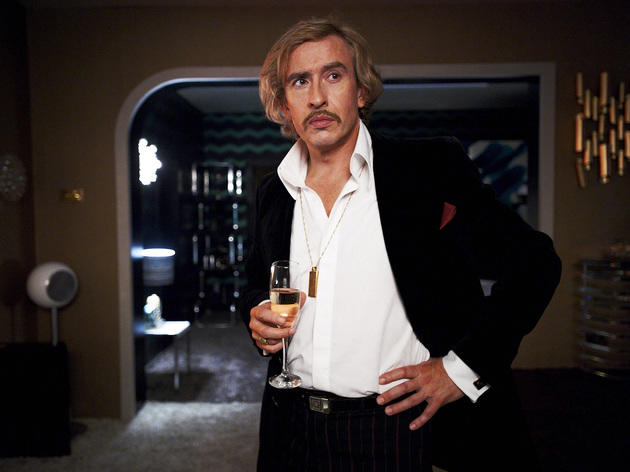 Time Out says
You might not know his name, but if you were a teenage boy any time from the 1970s to the '90s you may have sweatily fond memories of his magazines – Men Only, Escort and Mayfair. He is Paul Raymond, the man who opened Britain's first strip club in 1958 – making a fortune in razzle mags and Soho property. In this comedy biopic from Michael Winterbottom, Steve Coogan plays Raymond, who died in 2008, with a hilarious whiff of Alan Partridge: he's naff, arrogant, narcissistic, a bit pretentious (pronouncing his surname in a vaguely French way, Ray-monde) and kind of irresistible. 'We've got dolphins pulling off girls' knickers. What's not to like?'
The script by Matt Greenhalgh ('Control', 'Nowhere Boy') takes in a big sweep – too big probably – from the 1950s to the early '90s. We meet Raymond in '50s Soho, pushing boundaries of taste and decency with nipple-tasselled exotic dancers at his night club (think 'The Hour'). The tabloid hacks love him. Even his missus (Anna Friel) turns a blind eye to his shagging. When she finally gives him the elbow, Raymond makes his teenage daughter Debbie (Imogen Poots) heir to his empire. The underlying story here is the rise of the porn industry (harder, faster, nastier), fuelled by coke. And it's Debbie, a failed singer, who's the casualty in a brilliantly brittle poor-little-rich-girl performance by Poots.
The film is Coogan's brainchild, and you can see the appeal, since his comedy creations often look like exaggerated versions of himself. Like Coogan, Raymond hailed from humble northern roots (born plain Geoffrey Quinn). Coogan intelligently gives the early Raymond a kind of self-consciousness about his working-class background, a fear of exposure – varnished over in later years with a clipped Home Counties accent. Behind the one-liners, it's an impressive, subtler-than-it looks performance.
Winterbottom and cinematographer Hubert Taczanowski lovingly evoke the look and feel of London through the decades. Still there's something a bit over-familiar here – in a solidly entertaining, made-for-telly, nothing-we-haven't-seen-before, way. And given that the last time Coogan and Winterbottom worked together it was on the genius-funny road-trip comedy series 'The Trip', you can't help wishing for something a little sharper.
Details
Release details
Rated:
18
Release date:
Friday April 26 2013
Duration:
101 mins
Cast and crew
Director:
Michael Winterbottom
Cast:
Imogen Poots
Steve Coogan
Anna Friel
Tamsin Egerton