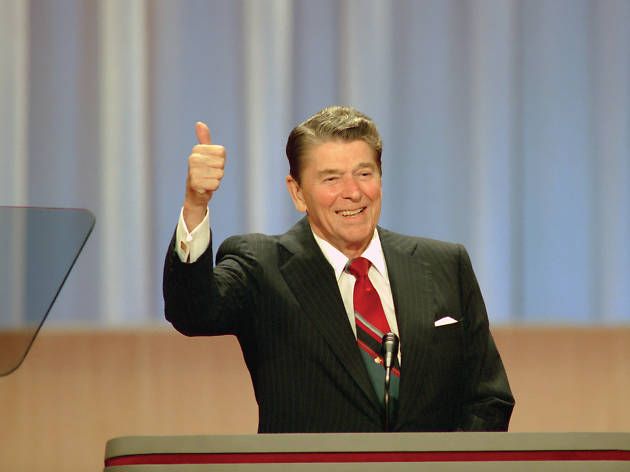 Time Out says
Smartly judged in terms of scope, this documentary takes a found-footage approach to the president's iconic potency, which was carefully finessed.
Doesn't the idea of a 'Hollywood president' seem quaint now? This masterful documentary is built entirely from Ronald Reagan's press and TV appearances (and the steady throb of Beethoven's ominous 'Seventh Symphony'), resulting in a fascinating takeaway. The man's carefully orchestrated image – fortified with 'High Noon'-style rectitude – and his political power were one and the same. Behind the smile was a more thoughtful person, haunted by TV's 'The Day After' and the existential threat of nuclear holocaust. (With those same tensions escalating once again, it's redemptive – and a little odd – to find sobriety in Reagan, a man hounded by charges of shallowness and mental decline.)
Before wading into the meat of their film, co-directors Sierra Pettengill and Pacho Velez include entertaining appetisers: clips of Ronnie and Nancy horsing around on a ranch or bantering in front of the camera like the old married couple they were. Not so secretly, they were milking every staged press opportunity for momentum. When the global stakes escalate, the film deepens into a fascinating study of political gamesmanship. An oblique history of '80s disarmament laden with revealing off-camera asides, 'The Reagan Show' makes the glossy surface profound. It's the most crucial and unique doc of the moment, apart from the one that's unfolding on the news every night.
Details
Release details
Rated:
PG
Release date:
Friday October 6 2017
Duration:
74 mins
Cast and crew
Director:
Sierra Pettengill, Pacho Velez