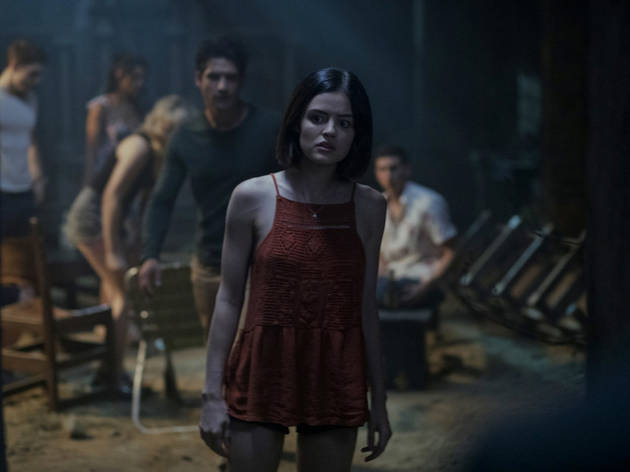 Time Out says
An obvious bit of horror nonsense that could have been a lot more daring.
You played the party game in junior high, your stomach full of butterflies and wine coolers. Watching 'Truth or Dare' won't bring back any of those feelings, unless your experience was one of crushing boredom and unintentional amusement. The latest horror joint from Blumhouse, a genre-minded indie studio that likes to take risks ('Get Out', 'Happy Death Day', the 'Paranormal Activity' films), 'Truth or Dare' falls into an uncanny valley of dumbness, as its group of blandly pretty collegians are preyed upon, one by one, by a demon that invades their PG-13-rated spring-break festivities. Actors Lucy Hale and Violett Beane, as the movie's central pair of besieged BFFs, commit to every turn of the film's silly screenplay, putting them in the steel-jawed company of 'Final Destination 3's Mary Elizabeth Winstead (who at least had a better premise to submit to).
The main innovation here is a creepy facial expression – wide smile, head tipped forward like Jack Nicholson's in 'The Shining' – that takes over a person's features whenever the malevolent spirit is speaking through them. It's 'like a messed-up Snapchat filter', says one of the victims, echoing the movie's pitch meeting. Those brief bits of digitally inserted spookiness are the only glints of interest in a plot that otherwise makes more Mexican border crossings (it's where the game starts) than an alarmist Trump speech. Diving into petty boyfriend jealousies and one riotous sex scene required by the demon, 'Truth or Dare' ultimately plays like soap-opera trash, making you wonder if these onscreen possessions weren't scripted by bored kids grown tired of their own party games.
Details
Release details
Rated:
15
Release date:
Friday April 13 2018
Duration:
100 mins
Cast and crew
Director:
Jeff Wadlow
Screenwriter:
Jeff Wadlow, Jillian Jacobs, Michael Reisz, Christopher Roach
Cast:
Lucy Hale
Tyler Posey
Violett Beane