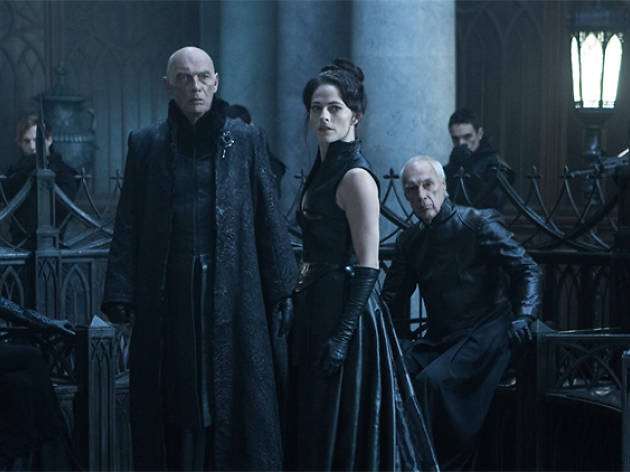 Time Out says
If you like sexy vampires or ferocious werewolves, you can do much better than this exhausted, computerized sequel.
"Time for a change?" a minor character asks Kate Beckinsale's vamp in Underworld: Blood Wars. "Vampires never change," she snipes back. Some franchises never change either. Even with installments called Underworld: Evolution (2006) and Underworld: Awakening (2012), this series has never developed past its own moribund origins: boring blue-toned cinematography, cat-suited vampires facing off with snarling CGI werewolves, and action sequences that play like the videogame console you junked 10 years ago. Whatever's vibrating on your phone is more interesting than what's onscreen.
Proving for a fifth time that it's possible to take the two sexiest horror subgenres (plus a stunning actor in Beckinsale) and grind them into pabulum, the new film exists primarily to set up dull conversations of political intrigue between elder bloodsuckers, strutting around in high-collared black coats like former Rocky Horror cast members. Gated castles are ominously approached in SUVs (but who goes to the gas station?). Vials of blood are downed like Red Bulls. And will someone's precious blood strain be obtained? I lost track around the time that Beckinsale's Selene pulled a lycan's spine right out of his back as if she were deboning a red snapper. Time for a change, Kate.
Follow Joshua Rothkopf on Twitter: @joshrothkopf
Details
Release details
Rated:
15
Release date:
Friday January 13 2017
Duration:
91 mins
Cast and crew
Director:
Anna Foerster
Screenwriter:
Cory Goodman
Cast:
Tobias Menzies
Theo James
Kate Beckinsale