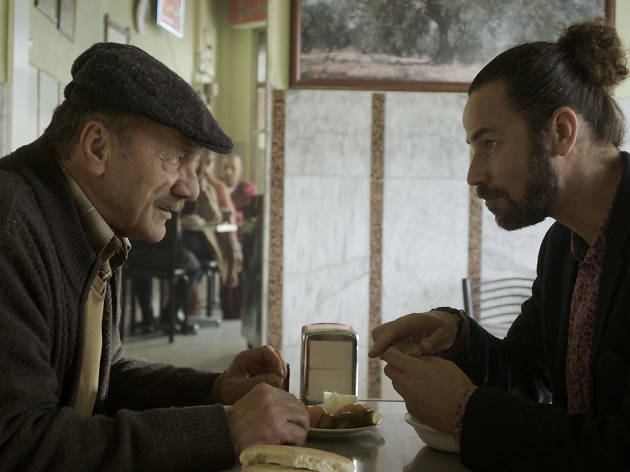 Time Out says
Big ideas and the everyday frictions of family elide in this sensitive, impressive Palestinian drama.
It's almost Christmas in modern-day Nazareth, and ageing Abu Shadi and his grown-up son Shadi, who's fresh off the plane from his very different life as an architect in Rome, have some family skeletons to deal with in this low-key, sharply observed and lightly played Palestinian drama. As the pair (played by real-life father and son Mohammad and Saleh Bakri) drive around town in dad's battered old Volvo, fulfilling a tradition by delivering invitations to Shadi's sister's upcoming wedding, old tensions brew and new ones emerge. It's a classic prodigal-son set-up: Shadi finds so much about his hometown that's both familiar and alienating; meanwhile, Abu rolls his eyes at so many of his son's life choices and opinions. As for us, we're stuck in the middle, silent on the back seat of this thoughtful urban road movie.
The car journeys and brief visits to various homes are a great chance for writer-director Annemarie Jacr ('Salt of the Sea') to craft an often amusing and always endearing portrait of the town's Christian Arab community as we meet various friends, relatives and gossiping acquaintances along the way. Politics rumble under the surface. Back in Italy, Shadi is dating the daughter of an old PLO leader; meanwhile, his father, a much-liked local teacher aspiring to become a headmaster, has a more let's-just-crack-on-with-life approach to Israeli-Palestinian tensions. But it's family politics that's the main interest: the long-ago separation of Abu and Shadi's mother threatens to become a live issue again as the wedding day approaches. There is the odd awkward on-the-nose moment in 'Wajib' (which means 'duty'), but mostly this is a smart study in the push and pull of home, with big ideas about politics versus everyday reality explored at street level with sensitivity and intimacy.
Details
Release details
Rated:
15
Release date:
Friday September 14 2018
Duration:
96 mins
Cast and crew
Director:
Annemarie Jacir
Screenwriter:
Annemarie Jacir
Cast:
Mohammad Bakri
Saleh Bakri