Heads up! We're working hard to be accurate – but these are unusual times, so please always check before heading out.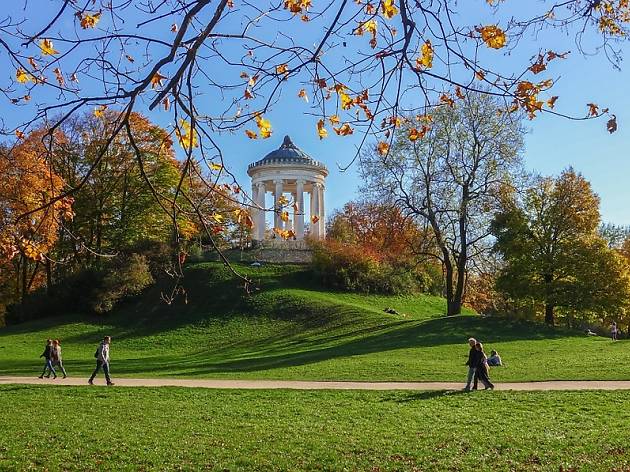 The 10 most-Instagrammable places in Munich
Step up your Instagram game with shots of these historic landmarks, panoramic views and hidden gems around the city
Munich is a city with no shortage of scenic vistas, natural beauty, architecture both quaint and impressive, and of course, one can't forget to note the local costumes and food items that make for a truly Instagram-worthy snap. With Munich's lack of central skyscrapers and one of the world's largest urban parks, there's a plethora of green spaces that can charm at any time of year. The traditional landmarks like the Marienplatz plaza with its famed Glockenspiel clock are always a classic, or you can opt for a close-up of your massive Milchkaffee (Germany's version of a latte macchiato) at one of the sleek coffee spots opening in up-and-coming parts of town.
It's just too classically Munich to pass up: in the center of the wonderful Viktualienmarkt—Munich's excellent year-round open-air farmer's market—is a large Maibaum, or Maypole, a common sight around Bavaria; but this Maypole is particularly large and attractive and is the perfect meeting point in the center of town. (By the way, traditionally Maypoles can be stolen by rival towns, and the successful thieves must have a party thrown for them in order to get their Maypole back.) Grab a fresh juice or cup of coffee from one of the nearby stands, or perhaps a wurst or a giant pickle, get in front of the Maypole (if it hasn't been stolen!) and strike a pose.
If you want one of the more unusual, albeit popular sights in Munich, check out the surfers at the Eisbach on the Isar river. Yes, that's right—Munich has several artificial waves on the Isar that local surfers love to ride, no matter the weather. There are a couple of other smaller waves in Munich as well, but the Eisbach is by far the most famous and popular. Decked out in full body wetsuits (the Isar is not exactly a Hawaiian beach in terms of temperature), these daring guys and gals ride waves daily, and the moment captured on camera is a rather unique and special souvenir of your time in Bavaria.
View from St. Peter's Church tower
For a stunning panoramic view of the city, it's hard to beat the elevated view at the top of St. Peter's church tower, smack dab in central Munich. It does require some exercise—you'll need to ascend 299 steps to reach the viewpoint—and you will have to pay a small entrance fee (telescope viewing is also extra). It's well worth the small fee and the exercise, though, as you'll have an excellent vantage point for observing Munich. On a particularly clear day, you may be able to see all the way out to the snow-capped Alps.
Walking Man sculpture
Tucked away in the Schwabing neighborhood and relatively undiscovered by visitors (though well known by locals), the enormous 17-meter tall sculpture of—you guessed it—a walking man, has echoes of an ancient Cycladic sculpture, only done in white and with no decoration at all. Walking Man shows Munich's playful side; it's not all castles and museums. Its architect, Jonathan Borofsky, is noted for his other larger-than-life sculptures around the world partaking in various activities from hammering to clown ballet. The piece is instantly striking, especially against a black night sky. Grab a coffee from one of the many nearby trendy cafes and grab a shot walking with Walking Man.
One of Munich's many folk festivals
Sure, Munich's got Oktoberfest, but it's also jam packed with folk festivals throughout the year, and if you're looking for a classic, photogenic Munich moment, you can't ask for anything better. There's a more low-key version of Oktoberfest in the spring (Fruhlingsfest); the smallish and charming Auer Dult which specializes in selling household wares; and the Starkbierfest (strong beer festival) in late winter, just to name but a few. With traditional clothing like lederhosen and dirndls a-plenty, jolly attendees toting around large mugs of beer and blue and white Bavarian flags proudly displayed, you'll have yourself a visual feast of riches for both you and your camera.
Munich Zoo
Munich's Hellabrunn zoo has got to be one of the loveliest zoos in Europe, with plenty of space for animals—including itinerant peacocks, who love to stroll with reckless abandon. Beautiful and subtle landscaping with plenty of trees and topiary makes you feel much more like you're out in nature and not at a city zoo. A small bridge over the Isar river near the zoo's entrance covered in love locks is a photographable moment of its own, and inside the park, a parade of international animals, a massive playground, a petting zoo and several beer gardens (because this is Munich, remember?) awaits visitors. Note: the zoo can be quite crowded on summer days and on weekends, but off-season weekdays are usually very calm.
Deutsches Museum underground mine exhibit
The Deutsches Museum is one of the world's most elaborate and famed science museums, containing probably enough Instagrammable material to fill several albums. Exhibits range from astronomy and electricity to musical instruments and include a vast array of interactive pieces and even a planetarium. Of particular note, though, is the fantastic underground (you must descend a number of stairs) exhibit on mining, which contains extremely realistic representations of tunnels, mine cars, salt mining and much more. Visitors truly get the feel of what it might be like to be in a mining atmosphere right in the middle of a city.
Handworkers' houses in Obergiesing
Here's a locale that visitors are almost guaranteed to miss—the absolutely charming state-protected handworkers' houses in the friendly Obergiesing neighborhood, not far from the city center. Many of the homes were built in the 1840s and still maintain a very village-esque and charming nature, lending the neighborhood an atmosphere of historical Bavarian farmhouses. If you can get a perfect blue sky or a stunning sunset, or perhaps the Heilig-Kreuz cathedral skyline in the background, you've got yourself a special Munich memory with a very timeless feel.
Monopteros in the English Garden
Located inside the vast English Garden park—one of the world's largest urban parks that can be traipsed through for hours—the iconic Monopteros is the perfect structure for your park pics. A small classical Greek-style gazebo without walls looks out on a popular section of the park in the Schwabing district; in the summer, you may even see some folks practicing Freikorperkultur—otherwise known as naked sunbathing. Horse-drawn carriages, Frisbee players, summertime picnickers and wintertime snowball fights provide great background for an action-packed selfie or two.
Old Slaughterhouse (Alter Schlachthof)
One of Munich's locations that has been entirely transformed from its original purpose, the old slaughterhouse grounds in the up-and-coming Dreimuhlenviertel neighborhood are well worth the visit. Built in the 1870s as one of two of Munich's slaughterhouses, about two-thirds of the structure was destroyed in World War II. Nowadays, it's a site for whimsical fairy-tale festivals in the spring and wintertime, and the remaining parts of the structure are covered in colorful murals and graffiti art; on neighboring streets visitors can check out some of Munich's more alternative cafes, restaurants and small boutique shops. Many international visitors in Munich never end up here, giving it a hyper-local atmosphere.
Now for some more views worth posting
Munich's architecture is an intriguing blend of the highly traditional and the recent trends in building of the past several decades, and the following buildings are the city's ten most beautiful, in our humble opinion.