There's a crackly tapping noise coming from David Byrne's line. "Hello, can you hear me?" repeats the New Yorker over the phone. It sounds like Morse code or some kind of beat, and, to me, it's a fittingly weird introduction to a guy who has pushed the rock envelope since the 1970s. "I'm not nostalgic at all," the former Talking Heads frontman says when the connection clears and I ask about the CBGB days. "I don't feel like there was any great era or golden moment. It all flows, one thing to another, and things weren't better back then." That ethos led to American Utopia, his first solo album since 2004, and it's a mind-set that keeps him busy, taking him around the world and to four hometown gigs, starting this weekend at Panorama. "I got home around 1:30am last night," he says, laughing, "which is very late for my bedtime."
Byrne has reason to be tired. For one thing, he's in the midst of staging his most stunning live show since the mid-'80s. American Utopia was written two years prior to the most recent presidential election, but now, after Donald Trump, it feels like it was a premonition. "It's somehow reflective of this moment we're going through," he admits. "I'm not advocating for a real utopia. It's not a utopia of people running naked through the woods. Almost all utopias have failed; they get perverted."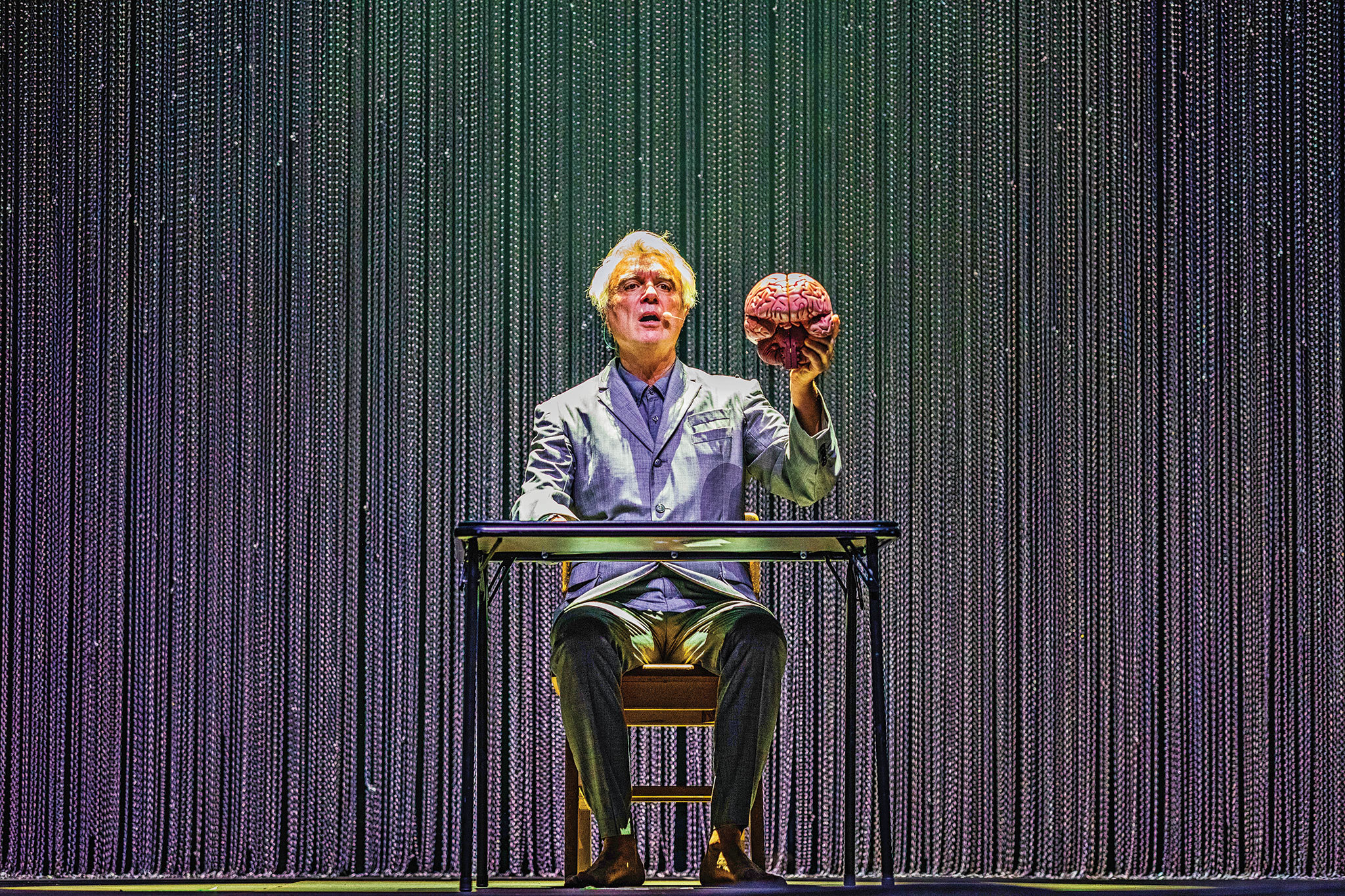 Photograph: Shutterstock
His use of utopia has more to do with the notion that we're constantly striving to find our place. (Born in Scotland but living in America since the age of eight, Byrne finally became a U.S. citizen in 2012.) "We can't escape this urge to imagine the possibility of something better," he explains. "It's a hard thing to crush." Instead, Byrne makes it his mission to highlight the good around us. This spring, he initiated a series of talks, titled Reasons to Be Cheerful, which he's been touring like a one-man traveling TED Talk, exploring our similarities as a species rather than our political differences.
Byrne seems to have a permanent itch to create. The published author and Rock & Roll Hall of Famer has dipped his toes into too many arty projects to name, like designing bike racks for BAM or rendering the Battery Maritime Building into a musical instrument. And at 66, he maintains his zest for writing music by hiring the young. For the funky American Utopia, he sought the white-hot London producer Rodaidh McDonald (the xx, King Krule, Adele). "Some people come to my songs and contribute something that they think would be a David Byrne thing or a Talking Heads thing," he says. "That's not what I want. I want something new and unexpected." Even working with longtime collaborator Brian Eno was full of surprises. Instead of bringing in melody, Eno simply came to Byrne with drum tracks. The result is a record that's a danceable yet cerebral attempt to find sense amid the chaos. It's playful, funny and—like Byrne himself—fraught with questions.
Byrne's quizzical nature lends itself to a refreshing lack of hubris, even in sticky situations. When he was called out for his blog post that thanked the 25 men—and not a single woman—who worked on American Utopia, he apologized on Instagram, describing the gaffe as "ridiculous" on his part. "It wasn't in the forefront of my mind," he says of the gender inequality. "I was blind and unaware, sunk into the songs. Even if we think that we're not a person who would discriminate that way, sometimes we do!"
Photograph: Everett Fitzpatrick, David Bryne at Coachella 2018
At this year's Coachella, I watched his band kill its slot. Byrne walked onstage like a lecturer. His fellow suited musicians went through synchronized choreography. There were six drummers, each of whom executed an isolated part of a full kit (one played the snare, one the hi-hat, and so on). "This is going to sound very immodest," he says of the onstage setup (pictured above). "No one's ever done a show like this before. The entire band is mobile. It's been a lot to figure out, but it's working." Even at early preview shows, the audience was animated from the get-go. "They stood up on the third song and never sat down!" he enthuses. "That was a shock."
He's hopeful that more guitar-based bands will follow suit, echoing his earlier point that all of us—rockers included—should look forward instead of back. "Rock musicians are lagging way behind hip-hop and R&B artists as far as rethinking a live show," he says, noting gigs by Kendrick Lamar, Solange and Chance the Rapper that have inspired him to think wider. "You go, 'Come on, rockers better step up their game!' These artists have projections, dancers, giant triangles—whatever they wanna have. Playing music live onstage doesn't mean you have to just stand there."
Looking for more sweet summer concerts? We've got you covered with our list of killer gigs at NYC's best live music venues.
Byrne performs at Panorama on Sun 29, Forest Hills Stadium on Sept 15, and Kings Theatre on Sept 16 and 17.