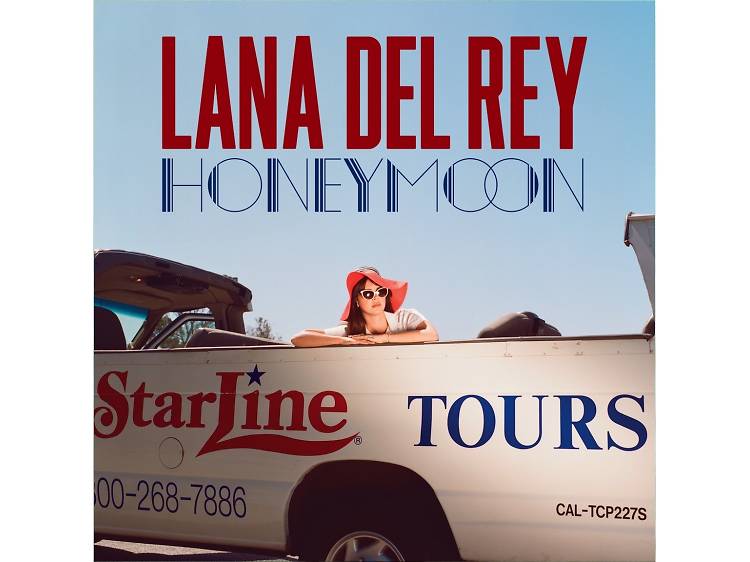 Lana Del Rey – 'Honeymoon'
'I've got nothing much to live for ever since I found my fame,' Lana Del Rey sings on 'God Knows I Tried', a typically wistful song from her impressive new album. If anything, the enigmatic singer born Elizabeth Woolridge Grant has only become more elusive since 2011's 'Video Games' made her a sensation, though her work rate remains enviable. 'Honeymoon' is her fourth collection of new material – three albums and an EP – in as many years.
Though it's glossier than last year's grungy 'Ultraviolence', this album is no more commercially-minded. With Del Rey co-producing throughout, 'Honeymoon' unfolds languidly over 65 minutes in a familiar swirl of cinematic strings, twangy guitars and exquisitely miserable melodies. A handful of tracks feature trap-inspired beats and there's a dash of jazz on 'Art Deco' and 'Terrence Loves You' Del Rey always refines her formula cautiously. When she ruins her cover of Nina Simone's 'Don't Let Me Be Misunderstood' with some cheesy horror film organ riffs, it's a rare lapse in taste that makes you appreciate her usual flair for crafting elegantly melancholy dream-pop.
The singer's submissive doomed romantic persona remains troublesome, especially when she swoons over a man with a 'history of violence' on the title track, but 'Honeymoon' also contains welcome hints of something spunkier. 'You could be a bad motherfucker, but that don't make you a man,' she tells a disappointing lover on 'High By the Beach', while 'Salvatore' finds her delaying an Italian Lothario so she can enjoy some gelato. She may be elusive, but Lana Del Rey remains as strangely mesmerising as ever.